A Phrase Book For L&D Partners
For decades, design thinking has helped product and service designers invite users to the table—and gather their feedback over the course of multiple iterations. And because learning is both a product and a service,[1] design thinking is a great tool for creating relevant, rewarding learning.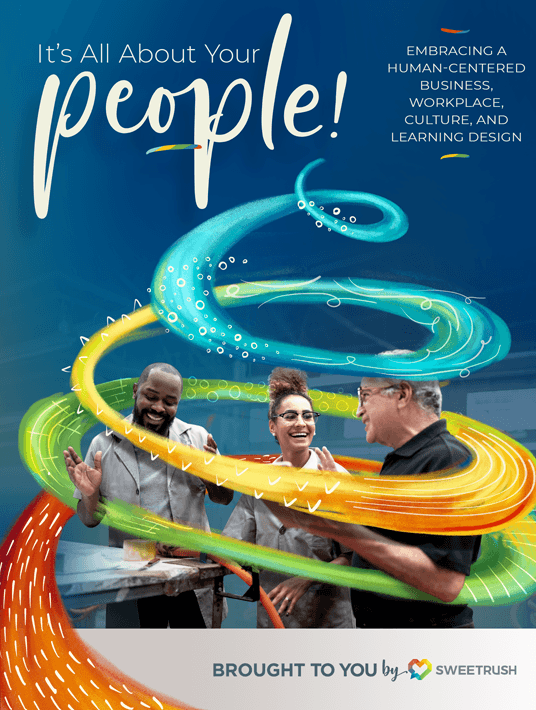 eBook Release
It's All About Your People! Embracing Human-Centered Business, Workplace Culture, And Learning Design
Get inspired by these lessons from SweetRush's 20-year adventure as a human-centered organization!
We call our particular brand CoDesign℠—an agile, 100% virtual process that allows us to arrive at solutions more quickly by getting all the right people together.[2] Of course, learners are high on our guest list: We invite a representative cross-section of our audience into every step of CoDesign.
Today, we'll zoom in on the first step: Connect, known as Empathize in many design thinking models. In this foundational step, our goal is to understand our learners' needs so that we can build solutions learners will actually use—and even enjoy!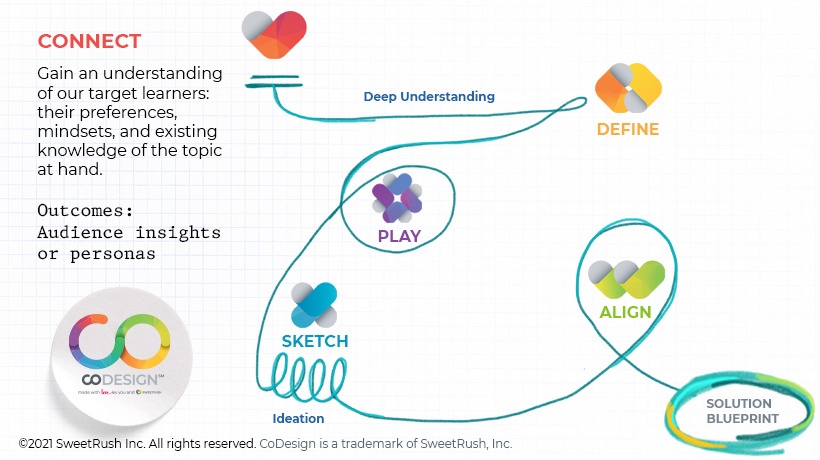 Empathy Interviews: Breaking Down The Language Barrier
We love to meet our learners and, well, connect with them on a human level. And we have plenty in common! We're all humans who want health, security, and the best for our loved ones. We all get frustrated by unnecessary procedures and systems that don't work properly.
But here's the caveat: L&D folks are a specialized crowd, and we don't always speak the same language as our learners. And though our learners are experts on their roles, job tasks, priorities, and preferences, they may not be as conversant in the language of metacognition, or thinking about how they think and learn.
Who's responsible for breaking this language barrier?
L&D friends, we are.
We have the responsibility and the skill set to understand learner needs and translate them into recommendations—and eventually, solutions—for our stakeholders. To truly advocate for our learner audience, we need near native-level fluency in learnerspeak.
Learnerspeak: Mastering The Language Of LX
Learners might not be fluent in L&D shop talk (that's our job!), but the information they share is rich in meaning. This simple phrase book will help you translate their statements about their lifestyles and learning into potential learning recommendations.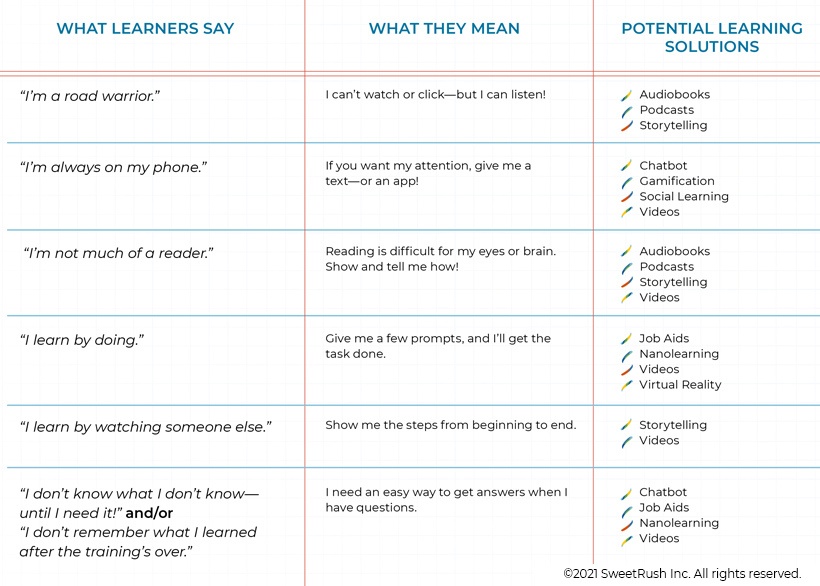 Learning Solution Use Cases
It's easy to go into learner empathy interviews with a solution in mind—and find confirmation everywhere. That's only human!
But it's in truly hearing what learners share about their roles, job tasks, priorities, and preferences—and matching the learner needs to the business needs[3]—that we add value as L&D professionals.
Let's delve a bit further into the business and learner needs that create a use case for each potential learning solution.

Audiobooks
Got an industry that's evolving at the speed of light? Audiobooks are a great way to share industry advances, talk through challenges, and present evolving approaches and mindsets.
A business that needs to share general information with an audience of geographically dispersed learners and/or frequent travelers may have a use case for this highly mobile, hands-free learning solution. Audiobooks can be a great springboard to launch a social learning experience (see below), such as book clubs or discussion forums.
Not least of all, this modality provides a friendlier option for learners whose bodies and brains experience reading as tiring or painful.

Podcasts
Like audiobooks, podcasts are a mobile learning solution that can easily reach a geographically diverse, frequently flying (or driving!) audience. Their serial nature makes them ideal for delivering quick, bite-sized information and updates at a regular cadence.
A business that needs to showcase different internal thought leaders and projects, deliver a digest of industry innovations, explain new techniques and challenges, or model communication strategies may have a use case for podcasts. Bonus points if guests are already lining up!
Podcasts are yet another friendly and portable vehicle for delivering new information to learners who don't love reading. They're also an authentic format to model conversations for learners whose roles revolve around communication, e.g., salespeople, managers, and HR professionals.

Storytelling
We've sung the praises of storytelling, or scenario-based learning, before: It's a proven method for developing empathy[4] and complex problem-solving skills—even for learners who just want the facts.[5]
A business that needs to teach its learners any of the following has a strong use case for storytelling:
Robust content
Responsiveness to complex situations
Emotional intelligence and interpersonal skills
Complex behaviors and attitudes
Scenario-based learning can be used with any modality to engage learners and help them retain skills and information. The story doesn't need to take place on the page: scenario-based videos, games, and even virtual reality (VR) experiences drop learners directly into the action.
Nanolearning
Also known as microlearning, nanolearning provides learners with a quick and easy how-to if (and only if!) they need it. Learners access these bite-sized solutions voluntarily, in the flow of work.[6]
Any business or department where time is money—e.g., sales, customer service, and manufacturing—has a use case for nanolearning. Nanolearning solutions are great for reinforcing tasks that learners perform infrequently, such as creating those pesky spreadsheet formulas.
Nanolearning solutions focus on a single task or skill; they're often delivered electronically (though they don't have to be!) and may be accessible as mobile learning solutions.
Here are a couple of common nanolearning modalities:
Job aids
These are usually downloadable, print-friendly documents—complete with plenty of images—but there's room for creativity! Job aids can also take the form of pop-up guidance screens on software or quick audio demos of a call or conversation.
Videos
If learners need to know how to make a repair, execute a physical task, or respond to a situation with complex cues, video can help them understand how those look in space and time. Videos are more immediate—and easier on many brains and eyes—than a text-based job aid. There's always an opportunity to offer closed-captioning, a transcript, or both.

Chatbots
Chatbots offer learners a long-term relationship with nanolearning. This mobile learning solution multitasks by delivering bite-sized content on demand and periodically checking in to assess learners' retention over time. Chatbots are versatile enough to be used to both push out knowledge checks and allow learners to search topics and resources when the need arises. If you've ever used a customer service chatbot, you've experienced this functionality!
A business that needs to share proprietary information with a large dispersed learner audience might find chatbots to be a less cumbersome option to a traditional learning management system (LMS). It also allows the business to maintain an open channel of communication with learners—and keep its messaging more succinct. (Think "quick hits" versus a lengthy email!)

Gamification
Whether it's a quick trivia challenge or a long-term quest, games can spark learners' desire for mastery and give them a safe place to watch how decisions and actions unfold. Gamification plays beautifully with story (and as a mobile learning solution) and can range in technical complexity from leaderboards to apps.
A business that wants to motivate learners—and offer a safe place to test skills without harming actual clients or colleagues!—might have a use case for gamification. In-game nanolearning pieces can help learners brush up and replay. Learners should also have access to this nanolearning outside the game environment—the last thing anyone wants is for the game to become a gatekeeper!
Social Learning
Here's the sunny side of social media: It can serve as a forum for knowledge transfer in departments or job roles where procedures and processes live in several experts' heads.
Plenty of experts enjoy turnkeying the lessons they've learned over the years to newer hires—and new hires appreciate the opportunity for expert feedback on their queries and quandaries. Seeing what success in their field looks like also helps them to stay motivated! With a bit of skillful moderation, a good social learning forum can serve as a modern, mobile-friendly apprenticeship.
A business with learners who have widely different levels of expertise in a given job function might have a use case for social learning. That's doubly true if the business needs a succession plan for specific roles, needs to bring knowledge from contractors in-house, or both.

VR
VR and scenario-based learning work together to immerse learners in real-world situations. Learners can face challenges, manipulate objects, and identify problems—in a virtual world that closely resembles their work environment. As they repeat and replay, they deepen their practice and boost their retention and recall.
Short of a day on the job, VR is the closest learners can get to real-world practice, with one key exception. In the headset, there are no distractions: Learners literally can't sneak a look at their texts!
A business that needs to teach learners to use soft skills or respond safely in rare, hazardous, or difficult-to-replicate situations, e.g., workplace threats or nuclear safety, might have a use case for VR. Like gamification, VR provides a safe space for learners to practice new skills without harming people or property.[7]
One caveat: VR requires a solid understanding of both technology and how it fits into the larger learning portfolio, which usually means a larger team and more moving parts. Data show that VR is worth the investment, with an ROI rivaling that of classroom instruction for a learner audience numbering 375 or more.[8]
Takeaway
A few fundamentals of learnerspeak can help us hear what learners are really asking for—and how their asks align (or don't!) with the business needs.9 Though some learners will dream big, you'll find many learner wish lists to be eminently reasonable—even modest. Your ability to bridge the language gap between learners and stakeholders will help you speak for everyone's best interests.
Deepen Your Empathy Practice: Embrace Human-Centered Life And Work
Love how empathy helps you advocate for learners? Bring the same care to your collaboration and communication with all of your fellow humans at work.
Our eBook It's All About Your People!: Embracing Human-Centered Business, Workplace Culture, and Learning Design will show you how to start conversations your entire team wants to join and re-create work as a source of resilience.
It's a curated collection of the best mindsets, practices, and lessons from our two decades together as a human-centered organization—and decade-plus as a fully remote team. Whether you're a leader, manager, or individual contributor, you'll find plenty of proven steps you can take today (or anytime!) to be happier and healthier at work.
References

SweetRush
Our job is to help you achieve your objectives and be successful. Engage us at any point, from analysis to custom development (including e-learning, mobile, gamification, and ILT) to evaluation.