Overcoming Corporate eLearning Hurdles With The Right Authoring Tool
Many organizations steer clear of the rapid eLearning "trap" because they think it will come at the cost of quality. They also think that using eLearning templates and pre-built assets is a "sloppy" way to create online training content which will ultimately lead to learner disengagement. However, choosing the best rapid authoring tool for your team can minimize the downsides and maximize the perks. Let's tackle each drawback one by one to see how the right eLearning software makes a world of difference in corporate settings.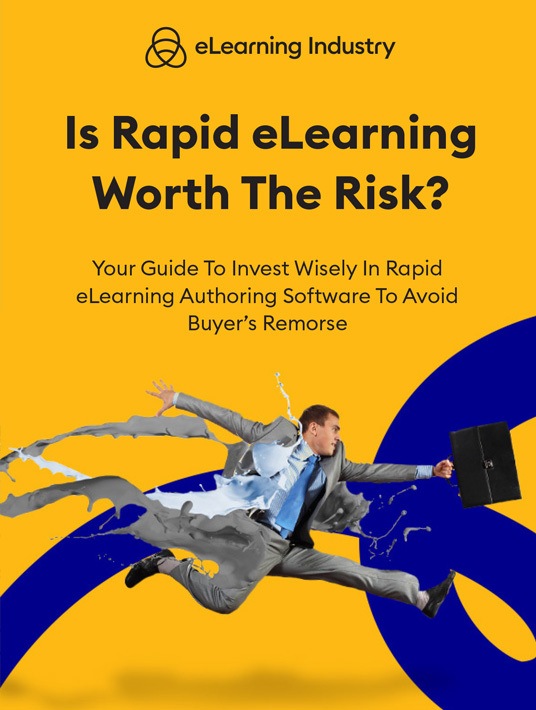 eBook Release
Is Rapid eLearning Worth The Risk?: Your Guide To Invest Wisely In Rapid eLearning Authoring Software To Avoid Buyer's Remorse
Is rapid eLearning the right approach for your L&D program? Discover insider tips to choose the best authoring software for your budget.
7 Drawbacks Of Rapid eLearning
1. Fast Turnaround Compromises Quality
Rapid development is usually synonymous with a cut-and-paste job. You're working quickly, which leaves more room for human error. However, the right rapid eLearning tool features assets, such as video clips, images, and graphics you can incorporate into your online training activities, that enrich your online training content instead of diminishing quality. The caveat is that you must clarify the online training objectives and create a realistic development timeline. That way, you stay on schedule without resorting to shortcuts. There must also be an in-house expert or SME on-hand for QA.
2. Employees Don't Get Emotionally Attached
Content created in haste won't have an impact on your employees. At least, not a favorable one. A rushed eLearning content development project will be evident in the design. Thus, your corporate learners can't form an emotional connection or absorb the key takeaways. Assess and survey your employees to find out what they need from the experience. Then use the rapid eLearning tool to create memorable content that aligns with their goals and preferences, for example, engaging videos that feature real-world challenges. Or visual stories that make them reflect on their performance and provide step-by-step task instructions.
3. Online Training Templates Lead To Cookie-Cutter Courses
Templates shouldn't be a dirty word in L&D circles. The trick is to personalize the content so that employees can't even tell it originated as a template. Rapid authoring tools give you the opportunity to add personal touches that go beyond branding elements. Therefore, you can adjust the color scheme, include relevant images, and modify the layout to make it memorable. Every course should align with your company image to improve cohesion. But it must also reflect the subject matter and the employee's interests to help them relate.
4. Lack Of Content Diversity
Every online course looks the same and has the same activities. The only thing different is the content that you plug into the placeholders. This drawback is the result of resource misallocation. The rapid authoring tool has assets you can use to create diverse content that caters to everyone's job requirements and skill gaps, as well as their personal preferences. Use built-in resources in different ways to stretch your budget and improve online training flexibility. For example, one video recording contains 5 clips you can repurpose for various online training courses. The editing tool allows you to break it up and add graphics. Although it might require some "out-of-the-box" thinking, the rapid eLearning software turns outdated resources into diverse online training content.
5. Limited Real-World Application
Many organizations assume that rapid eLearning is reserved for theoretical knowledge. For instance, developing a compliance course packed with rules and regulations. The eLearning authoring software makes maintenance a breeze, so it's intended for topics that require frequent updates or modifications. However, rapid authoring tools can facilitate real-world application, especially those that feature simulation and scenario templates. You don't need to hold a graphic design degree to create practical support tools that mitigate on-the-job mistakes.
6. Must Relinquish The Creative Control Of Your Online Training Content
You don't have to sign away your creative soul in order to use rapid eLearning development tools. It's not a one-or-the-other scenario. The right rapid eLearning authoring software gives you the creative freedom you need and makes it easy for you to develop content quickly. Think of the assets as building blocks you can use to produce meaningful online courses for your team. Of course, you still need to add a personal flair and make sure the complete package aligns with the brand's image. You must still create a framework and write content that connects with employees. eLearning authoring tools merely provide you with online training materials you use to realize your vision and achieve the company's objectives.
7. Compromises Knowledge Retention
Rapid eLearning can hinder knowledge retention if the quality or emotional connectivity isn't there. Or if it merely brushes on the topic instead of giving employees a complete learning unit. Effective rapid training must cover the entire task or challenge. Instead of fragmenting the information into different activities or resources to reduce development time. Or seat time, for that matter. Identify areas for improvement, clarify online training outcomes, then determine the best course of action. How can you develop an easily digestible eLearning activity or module that imparts the key takeaways? Which rapid eLearning authoring tool resources are right for the task? What information do employees need to know and what is the best delivery method? These questions help you reduce the risk of cognitive overload and development time using a rapid authoring tool.
Most of these rapid eLearning drawbacks are merely misconceptions or easily corrected mistakes. It just takes the right eLearning authoring tool to bring your content up-to-par, facilitate practical application, and retain creative control. Look for a platform with diverse assets and templates to get the most from your investment and increase employee engagement. Rapid eLearning isn't about shortcuts that diminish knowledge retention and ROI. The secret is choosing the best software for your team's skills and knowing how to use the built-in resources.
Download our exclusive eBook for tips to find the right rapid authoring tool for your team. Is Rapid eLearning Worth The Risk?: Your Guide To Invest Wisely In Rapid eLearning Authoring Software To Avoid Buyer's Remorse covers every step of the process, from vendor vetting to asset repurposing.