Unleash The Power Of LEAD Strategy For Effective Induction Training
Jim is the new hire orientation manager of a large banking organization. Recently, the organization hired 20 executives, fresh from Ivy League business schools. However, two weeks after the recruitment, five of them left the organization. Jim's boss demanded an explanation from him.
Jim is not alone. Many in the Learning and Development fraternity, responsible for training newly-recruited staff face similar situations. In most cases, induction training programs turn out to be ineffective. How can this problem be overcome? What does it take to ensure newly-hired employees remain loyal to their company and start delivering within a short period? How can you make new hire orientation programs successful?
You need to use the right Instructional Design strategies in online employee onboarding training programs, to facilitate effective knowledge transfer. One of the proven ways to impart good induction training is to use the Learning by Exploration and Discovery (LEAD) strategy.
What Is LEAD?
LEAD or inquiry-based learning is an Instructional Design strategy where the learner has the flexibility to "discover" knowledge by interacting with and exploring the learning environment. Unlike other instructional approaches, where learners passively absorb what is taught, LEAD facilitates the active participation of learners in the training program.
Why Should You Use LEAD To Impart Effective Induction Training?
1. LEAD Fosters Curiosity Among Newly-Hired Staff Members
William Arthur Ward, an American author, rightly remarked that curiosity is the wick in the candle of learning. LEAD goes a long way in helping newly-recruited employees know more about the organization – they can get a virtual tour of their global offices, meet top management (via videos), and more. The more new hires learn about the organization, the better will they understand and appreciate its vision and goals.
2. Learners Are Motivated To Participate In The Induction Τraining Program
LEAD is the ideal approach to motivate new staff members. Since learners have the opportunity to find information about the organization themselves, at their pace, it goes a long way in enhancing their motivation levels.
3. Information Can Be Retained Better
Proper retention of the information delivered in induction training programs plays a key role in enabling new hires perform effectively, and LEAD helps new recruits retain information longer. This is because it helps develop "episodic memories" which allow them connect their learning to work, thereby generating stimuli that facilitate better retention of information.
LEAD To Impart Induction Training Online – An Example
"Click-to-reveal" learning elements are ideal tools to educate new staff about your company. As their name suggests, a click-to-reveal element displays information when clicked. Here is a screenshot from one of our courses, which provides the learner (new hire) a complete overview of his organization.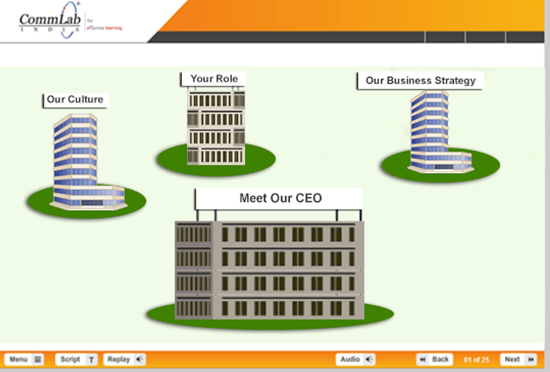 The image depicts the virtual campus of an organization, where each building "covers" a specific topic.
On clicking the first building, a learner is guided to the CEO's desk/room, where he "meets" the CEO who delivers a welcome message in the form of a bite-sized video.
On clicking the second building, the learner is taken to the culture room. Here he gets to know of the company's vision, mission, goals, purpose, and its culture. Likewise, on clicking the third and fourth buildings, learners will get to know about the services provided by the company, its organizational structure, their roles and responsibilities, opportunities for career development, and the company's policies on various aspects such as delegation of power, employee appraisal, leave encashment, and other employee benefits.
Imparting effective induction training goes a long way in reducing employee turnover and enhancing the performance of new staff members. Unleash the power of the LEAD instructional strategy to deliver effective, immersive training to your new recruits.
Instructional Design is the practice of designing content in a manner that assists learners to learn faster and better…and leave them happier. Good Instructional Designing goes a long way in making a digital course highly effective. Here is an eBook that is specifically designed to provide fundamental concepts that Instructional Designers need to know to design digital courses that are purposeful and meet instructional objectives efficiently.
CommLab India Rapid eLearning Solutions
Working with multiple outsourcing vendors can be stressful, and a waste of time & money. With CommLab India Rapid eLearning Solutions, all your online training needs are taken care of, rapidly and economically.