Top Guest Posts To Check Out Today
Every month we pay tribute to our top guest post contributors who've shared their tips, techniques, and insider know-how with our readers. From digital transformation to educational diversity, there's something for everyone on this list. Here are the best of the best guest authors for the month of May.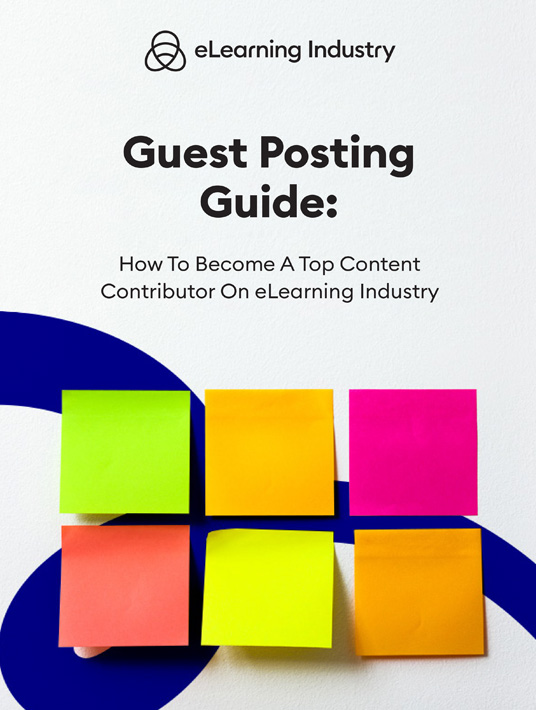 eBook Release
Guest Posting Guide: How To Become A Top Content Contributor On eLearning Industry
Discover what you gain by guest blogging and what are the basics of writing a guest post for eLearning Industry.
5 Articles To Broaden Your L&D Know-How
By creating a Learning and Development strategy, you'll position your company and your employees for success now and in the future. In this article, Ali Knapp explores the what and why of Learning and Development, as well as why L&D matters.
How is the Agile approach, typically used in IT software development, applicable in education and what impact does it have? Peggy Lim discusses what Agile development really is and why it's so effective in the field of learning.
User Experience usually takes the back seat when it comes to digital transformation, but it should not. In this post, Mohammad Ali offers actionable insights to improve User Experience during digital transformation, such as conducting UX research and creating wireframes.
Diversity is vital to many aspects of life. Higher education is no different. Ryan Ayers delves into why diversity is needed in higher education and what you can do to help, as well as how you can reflect and celebrate true diversity.
Data security is one of the trending issues to consider while developing an eLearning mobile app. Riya Sander shares tips that help you to reduce the chances of a breach.
Would You Like To Be Included In Our Next Showcase?
Congrats to all of our featured authors! We'll be highlighting our top guest author posts every month. If you'd like to be considered for our next list, submit an article to build thought leadership and connect with our eLearning community.
Are you an industry thought leader who'd like to be included in one of our eLearning Trailblazers Lists? eLearning Industry gives you a platform to share your perspectives and industry expertise.