6 Coronavirus Safety Training Tools You Need
The global pandemic has impacted every aspect of our lives. People have been forced to work from home, schools have shut their doors, and we're all preparing for the "new normal." But what does that mean for businesses? How can you ease employees back into their job duties and provide them with a safe workspace? It all starts with a safety training strategy and the right eLearning software. Platforms that help you bring staffers up to speed and create online training content that's relevant and relatable. Below are 6 essential Coronavirus safety training tools that are always worth the investment. You should consider these systems even if you plan to outsource online safety training as they allow you to maintain and customize the online training content to meet your evolving compliance needs.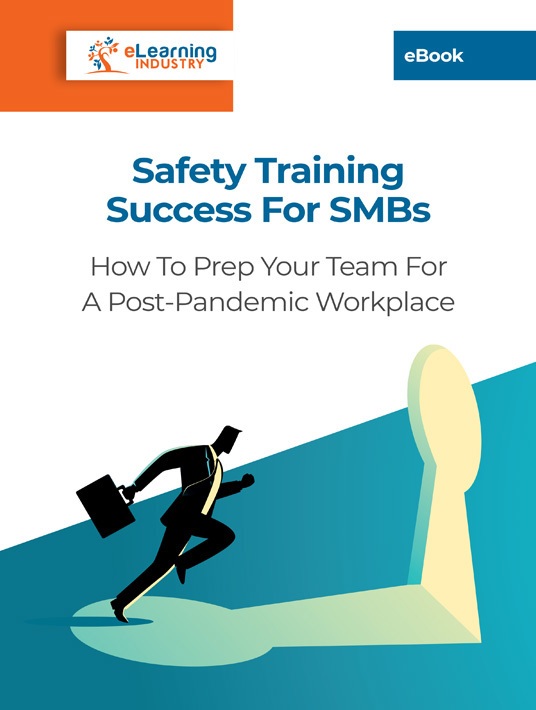 eBook Release
Safety Training Success For SMBs: How To Prep Your Team For A Post-Pandemic Workplace
Find out how you can implement a successful health and safety training strategy in your organization.
1. Compliance LMS
A compliance Learning Management System is responsible for content deployment and tracking. Some even have built-in eLearning authoring tools you can use to develop resources from the ground up. One of the crucial features to look for is reporting. You should be able to customize user groups, report delivery, and data visualizations to highlight patterns. There are 3 common types of LMSs to consider for your compliance program:
Locally hosted
Organizations install this LMS on their local system and typically pay a one-time licensing fee. The perks are greater customization and a set price that doesn't fluctuate over time.
Cloud-based
Cloud-based or SaaS systems are easy to scale, as they're hosted by the service provider. They typically involve a monthly licensing fee, which makes them ideal for SMBs with limited resources. The downside is that package prices may rise after your contract expires.
Open source
An open source system is free and fully customizable. The drawback is that you need a programming team for back-end coding. There's also the issue of limited vendor support.
2. Rapid eLearning Authoring Tool
As its name suggests, these eLearning authoring tools are all about speed. You can develop online safety training content quickly and cost-effectively, as well as repurpose existing online training materials. Most require minimal design experience, as they contain online training templates and themes to help you get started. Here are a few more features to add to your rapid eLearning authoring tool checklist:
Asset library
Many rapid eLearning platforms have built-in multimedia, character libraries, and layouts. This may also include interactions, video clips, sound effects, and background music.
Intuitive UI
A user-friendly interface is essential for safety training tools. You can't spend a month acclimating to the new platform. Your team must be able to launch the system, explore the features, and quickly develop new content.
Content compatibility
Your rapid eLearning tool needs to play well with other platforms and produce compatible content. For example, your eLearning authoring tool and LMS have to support the same delivery formats.
3. Web Conferencing Software
Web conferencing tools bring everyone together. Even if employees can't physically leave their homes or some choose to work remotely. This is your go-to software for live events, webinars, workshops, and team meetings. It should also have editing and recording features so you can add the session to your online training library. Some even come with special effects and transitions that allow you to polish the raw footage.
4. Project Management Platform
PM platforms are intended for remote collaboration. For example, your L&D team can share daily updates and revision notes. But they're also great for peer-based support. Employees log in to the system to exchange ideas, online training feedback, and safety training challenges. Another perk of Project Management platforms is boosting team morale. Nobody feels isolated from the group because everyone is part of the online community.
5. Video Editing Software
Some web conferencing tools omit recording and editing functions. In this case, you may need to invest in a separate video editing system. These tools may be more advanced, as well, which gives you more creative freedom. For instance, they feature a rich asset repository with multimedia and copyright-free clips to enrich your safety training demos.
6. Social Media
You might be surprised to see social media on a list of safety training tools. However, just think of how much time your team already spends on sites like Facebook, LinkedIn, and YouTube. Why not reach them where they are and launch a safety training social media group? They can ask questions, post resource links, and share insights. This also gives them a place to discuss their Coronavirus concerns and seek advice from more experienced staffers.
Insider Tip: Make The Most Out Of Free Trials
Many vendors offer free trials or demos so that you can test drive the platform beforehand. You generally have 2 to 4 weeks to evaluate all the features. So, how do you know if the tool is a good fit for your team? Create a sample project to assess the system's real-world performance. Is it easy for your L&D staff to use? Does it have an impressive asset library? Does the vendor offer advanced support services? Start with clear evaluation criteria so that you can compare your top choices. You might even develop a scoring system to assess their features side by side. Then submit RFPs to your shortlist and wait for vendor proposals.
Coronavirus safety training is just one part of your comprehensive compliance program. It wasn't even on our radar until it brought the world to a screeching halt. However, it has shed light on a deeper problem within the L&D sector which is the virus prevention and containment protocols. While many organizations strive to keep a clean work environment and minimize contagion, COVID-19 has revealed hidden pain points. Now, we must work together to stop the spread, flatten the curve, and safeguard employee and consumer health.
Health and safety training should be high on your list of L&D priorities, now more than ever. If you want to find everything you need in order to launch an effective safety training strategy for your organization, download the eBook Safety Training Success For SMBs: How To Prep Your Team For A Post-Pandemic Workplace and benefit from its valuable insights and best practices.