How And Why The Elucidat Design Team Starts With Design Concepts
Before committing time and resources to a detailed design project, consider the methods the Elucidat design team uses:
1. Capturing Needs By Shaping The Problem
Shaping the problem requires asking questions and is a standard at Elucidat. By asking several questions, the team gains clear insight to your project needs, including the experience type and activities required to bring your vision to life. This inquiry process helps increase the chance of creating successful content. Moreover, knowing more allows the design team to help you achieve success.
Here are some of the questions Elucidat design team asks:
What is the true goal of this project?
What is the learning trying to accomplish?
Who is part of the target audience, what are they like and what motivates and helps them?
Do all of your learners need to do the same activity as a result?
What type of experience is required for that change to take place?
2. Conceptualizing By Shaping The Solution
Broad concepts are mapped out using real paper and collaborative digital tools and documents. It usually takes about 30 to 90 minutes of truly focused time. Using this method provides for rapid prototyping and enables you to try different methods and identify the best one to use.
3. Upfront Content Creation For Great Content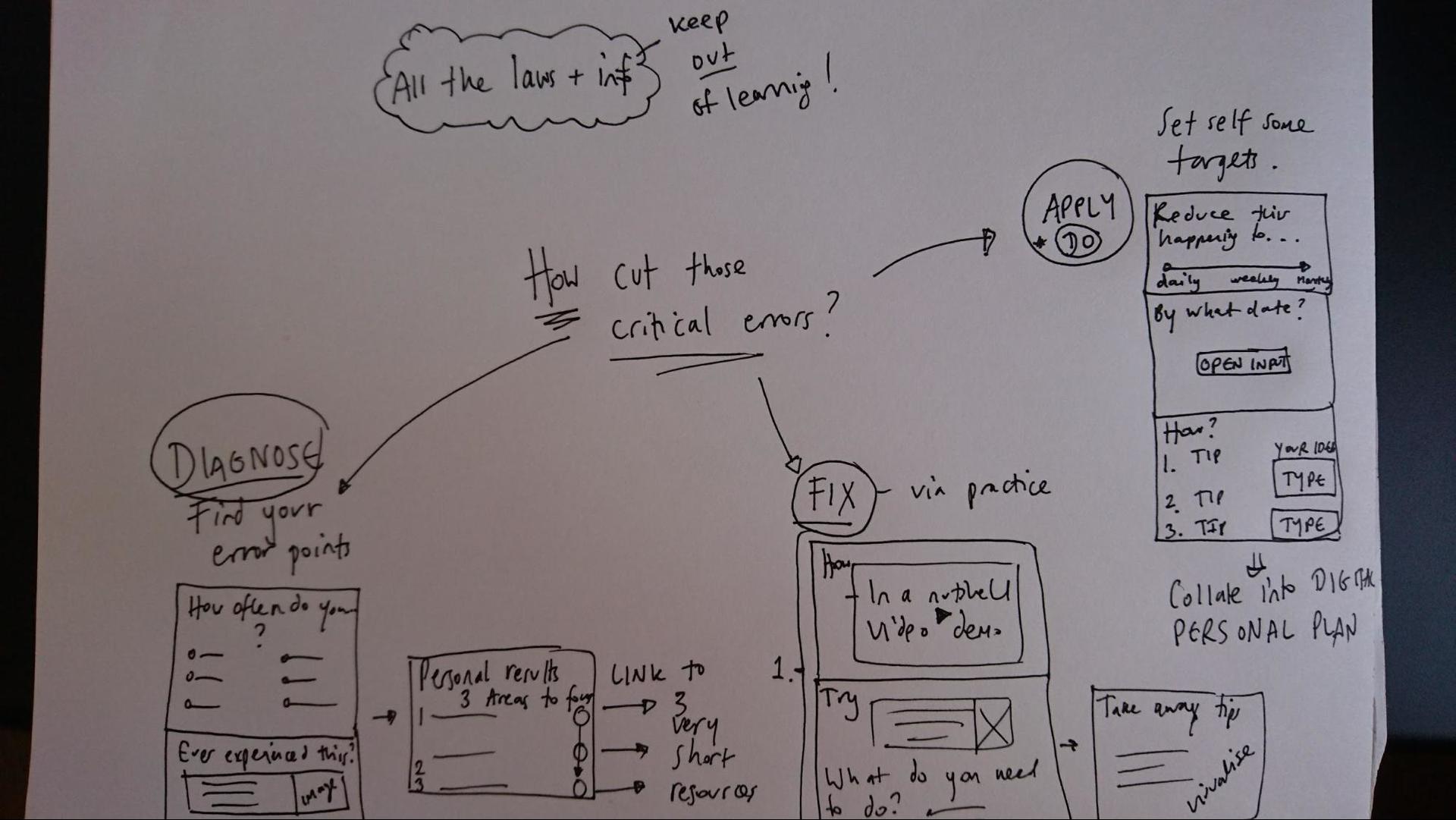 Creating content upfront helps the design team create great digital learning content. The team's sketchbooks and collaborative documents reveal their approaches, including mind-mapping, storyboarding, wireframing and visual styling. Elucidat's Branded Design Service helps to put together clients' visions with on-brand style and refinement once details are provided.
Here's how:
Fail fast, succeed faster.
Work on paper first. It can help you save time by helping you discount an idea in a matter of minutes – as opposed to spending hours building out a project.
Prototype upfront.
Get your team's differences of opinions out and upfront. People frequently respond to what they experience, see and feel. Utilize Elucidat for fast prototyping to maximize these responses and keep your team audience engaged and involved.
Solutions over content.
Before fixing minor details, provide a solution for the big issues that addresses your audience's issues and needs.
Universal alignment.
With a shared vision, your team can use collaborative tools more effectively. For agility and a quality experience, work together to produce a framework for the team to achieve.
Get real data!
Test out rapid prototypes produced in Elucidat with real customers, and get insights via the Analytics feature. Include a quick survey at the end to get feedback and statistics you can use. 
4. Prototyping In Elucidat
With Elucidat's Concept Creator Service, you can quickly breathe life into an exemplary approach. This cloud-based, collaborative authoring tool helps you quickly create a prototype that people can experience, including getting a sense of the flow, feel, look, content and structure of your learning content all in one central location. You're also not limited to publishing via a learning management system (LMS) to test out a concept with your learners.
While a design team often wireframes or storyboards, that's not always the case. The Elucidat pre-boarding example was directly created in Elucidat's elearning authoring tool without any wireframes or storyboards.
Final Thoughts
Being able to explore, structure and refine concepts is a crucial part of the creative process. Prototyping is also key to ensuring solid design before committing to detailed content authoring. With the right tools, testing out concepts and designs improves clients' opportunities for reaching their business and audience needs. By using these approaches, you can quickly create collaborative concepts and share, test and tweak them.
Related: