How To Create Better Learning With Elucidat's New Layout Designer 
It's important to empower teams to quickly produce better learning. At Elucidat, we have always offered a variety of interactions and layouts that work across all devices. However, we've pushed our product further so that you can now use Eludicat's brand-new Layout Designer to create pages however you want with a simple drag-and-drop interface.
Discover how to use Elucidat's Layout Designer and take control of your designs.
5 Ways To Use Elucidat's New Layout Designer 
1. Create Learning Your Way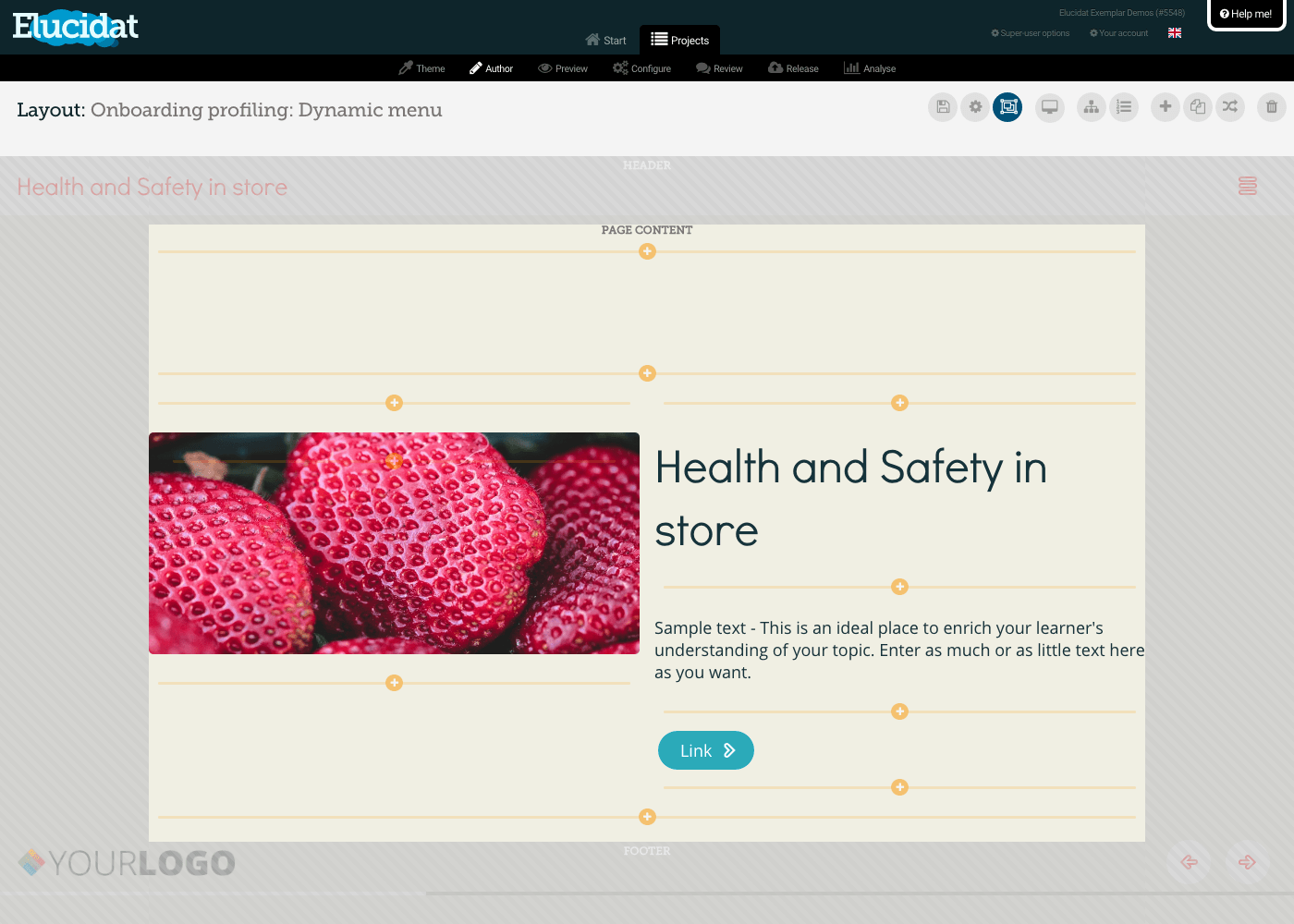 With Layout Designer, create a new page layout is simple. For example, with a drag-and-drop motion, you can add a poll next to a video you created to get instant feedback from viewers. You can also easily add text next to an image or combine interactions into a page to build a game, all without technical skills.
Experienced learning designers can also enjoy the advanced features of Layout Designer by producing custom branded templates to be used by your entire Learning and Development team. Use a ready-made layout or start from scratch. You can arrange your content layout in a smooth, continuous scrolling page or create an entirely custom design. It doesn't matter whether the content that you want to create for your digital learning experience is 30 minutes or 30 seconds long - you get to design the layout and decide how you want it to look and feel.
2. Improve An Existing Page In 60 Seconds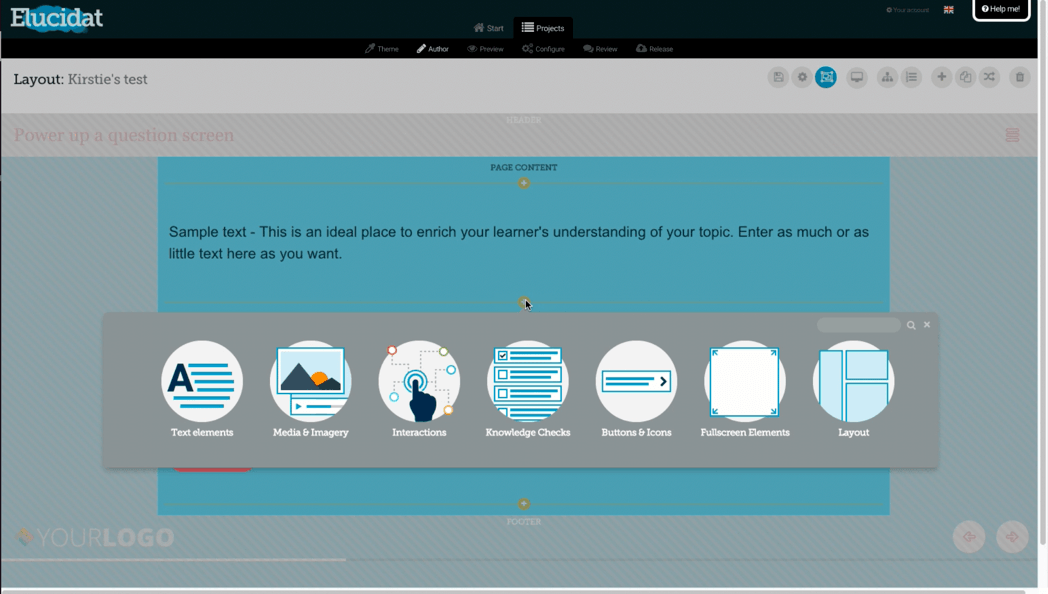 If you think it is difficult to create an experience that promotes social and reflective learning with polls that evoke the opinions of your learners, then think again. With Layout Designer, within 60 seconds, you can modify a typical Elucidat Likert Scale question to a custom layout that features a graphical introduction and audio. Moreover, this adjustment can be used in as many projects as you desire.
By making these changes with Elucidat Layout Designer, you can combine content, such as exemplary videos of conversations between managers and employees, to build in branching based on your learners' responses to the polls you created.
3. Save Your Layouts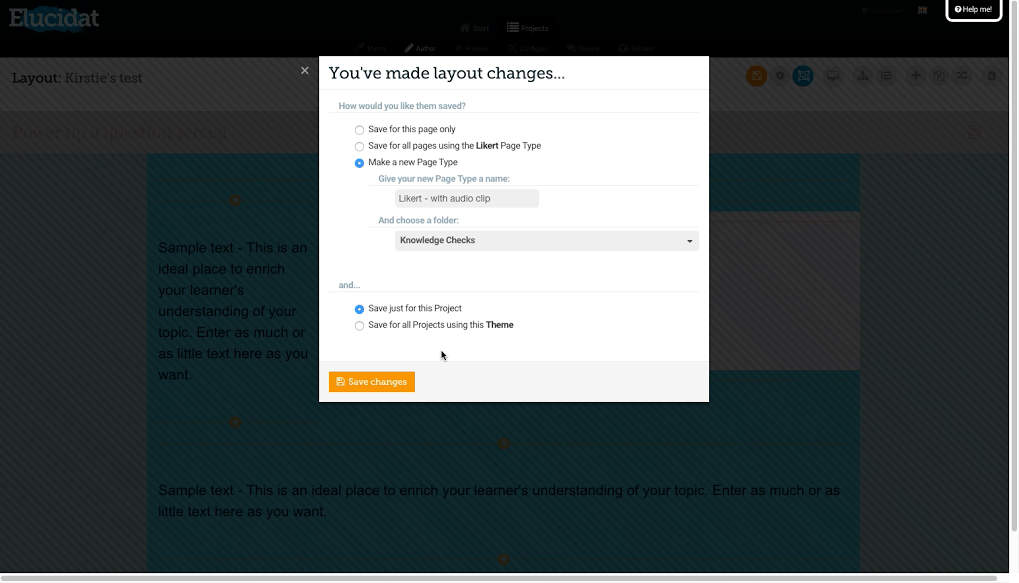 Take advantage of Layout Designer's smart save options. With Layout Designer, you can save the layout for just this page, every page type like this in your project, or give this layout a whole new name.
You can also decide whether to keep this layout just for this project or use it right across the board.
4. Tailor Your Design To Different Devices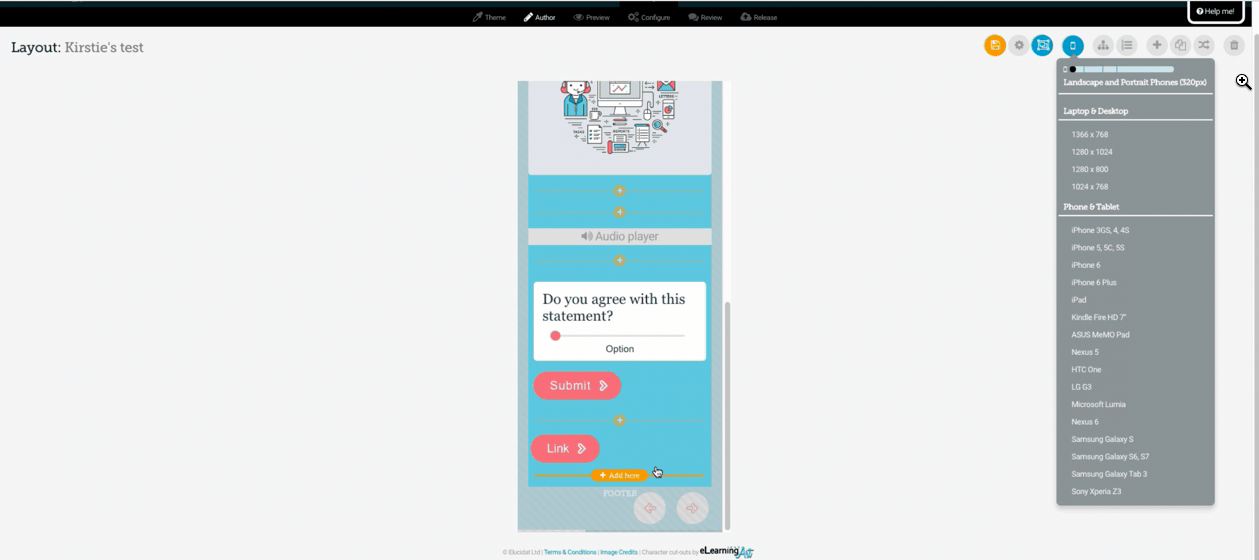 The Elucidat responsive scroll bar simplifies the look of your layout and design on multiple devices and facilitates design adaptation on other devices. For example, after dropping in an additional button on a mobile version and linking it to online support, you can add any form of branching, such as Rules. You can also add any type of scoring method. To tailor your design and keep your team current on how to use these design features on different devices, you can easily add comments to your layout.
5. Draw Inspiration From These Demo Projects
Check out these demo projects we created in under an hour by using Layout Designer.
How To Make A Cup Of Tea (open demo)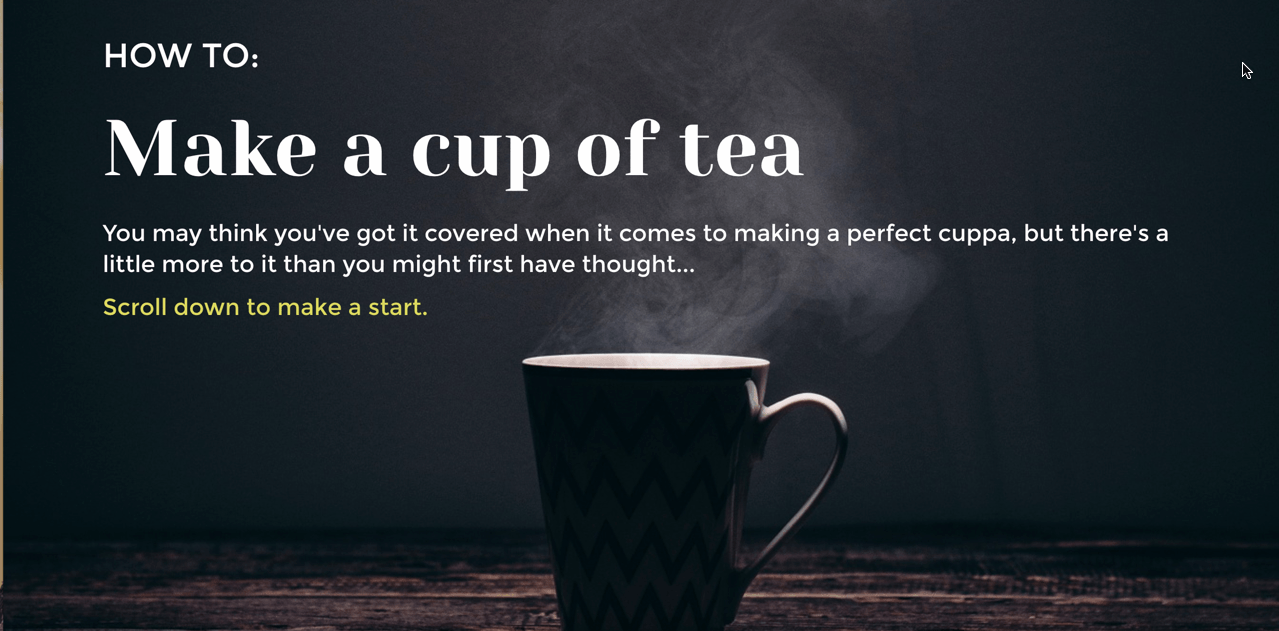 The Waste Challenge (open demo)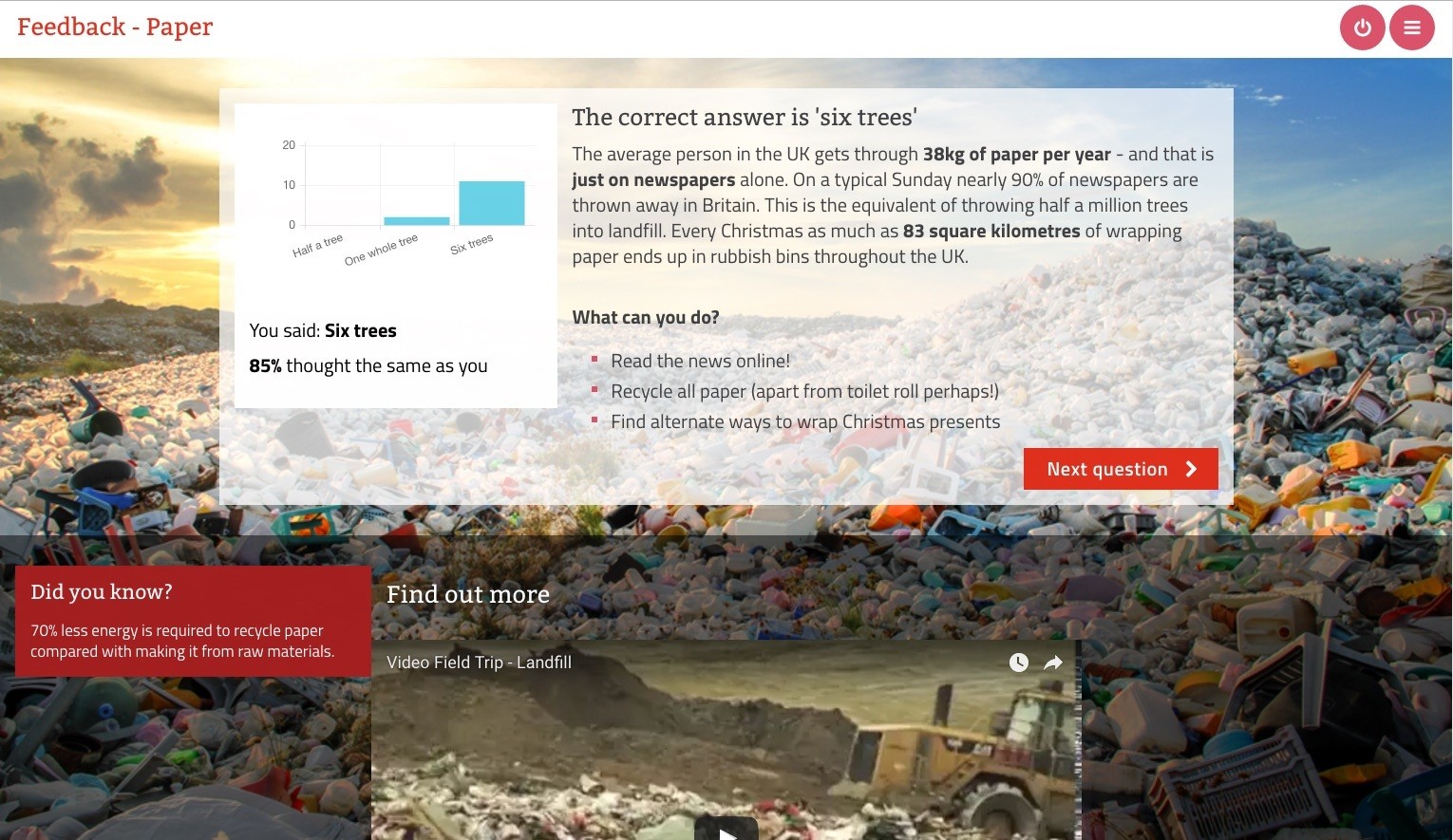 7 Empowering Ways To Power-Up Your Designs With Layout Designer
Layout Designer offers a multitude of ways to create smart custom designs without having to rely on third-party suppliers. Here are 7 methods for amplifying your designs using Layout Designer:
1. Gamify Learning. 
Creatively combine interactions into a competitive, playful layout while setting up tailored scoring methods.
2. Personalize Learning.
Use your learners' diagnostic or questionnaire answers to customize and create layout designs that meet their various needs.
3. Engage Learners By Telling Stories With A Seamless Design.
By setting up scrolling pages, create an alluring layout design to visually provide information with a story your learners will want to continue to read.
4. Freely Link A Variety Of Elements.
Use different elements to link to multiple resources, pages, and external content when you need them.
5. Create A Peer-Learning Experience Out Of Anything.
Ask for the opinions of your audience via polls. Display complete live results in your learning content.
6. Produce Custom Navigation Systems. 
Remove or add displays or buttons to footers and headers as you need them. You can even drop buttons for mobile displays.
7. Seamlessly Add Commentary From Experts.
Whether you need to explain a diagram that is complex or a brand-new process image, Layout Designer empowers you with the help of experts to save you time for development. Just drop in an audio explanation or a video produced by an expert or use this option to respond to questions.
Final Thoughts
If you'd like to get your hands on Elucidat and its new Layout Designer, click here to get in touch.
Already got Elucidat? Check out these fantastic support videos that demo how to get started with Layout Designer, or email our Support Team for help.
Keen to up your design game in general? You might like our new FastTrack Academy, where we provide expert-led design training and coaching to help you create the best online learning you can.