Are People At The Heart Of Your Business & Workplace Culture?
Every person who joins your organization brings their unique skills, expertise, and experiences with them. Though many organizations acknowledge that top talent is crucial for long-term success, they miss the mark when it comes to the HR perspective. Instead of seeing employees as human beings, they see them solely as assets. This lowers team morale, leads to burnout, and compromises the culture as a whole. This eBook can help you embrace a human-centered business and workplace culture, as well as create game-changing L&D programs that put employees first.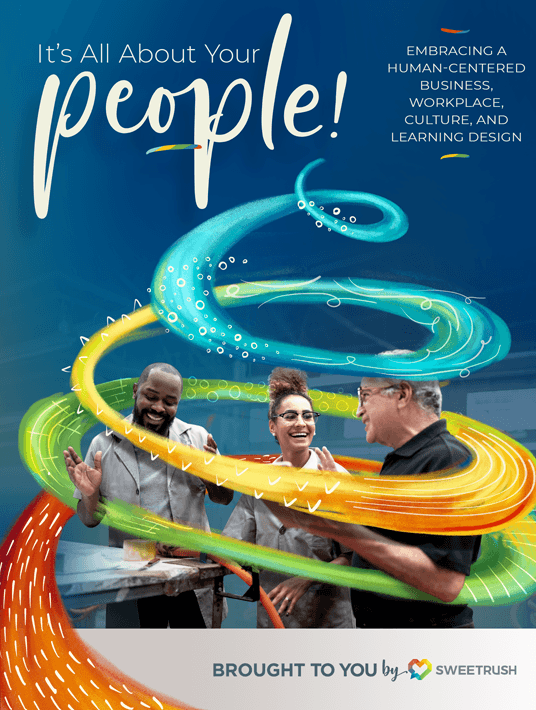 eBook Release
It's All About Your People! Embracing Human-Centered Business, Workplace Culture, And Learning Design
Get inspired by these lessons from SweetRush's 20-year adventure as a human-centered organization!
What It Means To Truly Embrace A People-Centric Culture
The secret to success isn't hiring the best people who can work autonomously if left to their own devices. It's all about nurturing your talent and making them feel like they're part of something meaningful and purpose-driven. They can stand behind your brand because they truly believe in its values and mission statement. First and foremost, a people-centric culture prioritizes wellbeing, which is crucial in times of uncertainty. Burnout is a real and present danger these days, as many organizations switch to remote or hybrid work environments. Employees may find it challenging to strike a balance as their work and home lives collide. However, making it "all about your people" gives you the chance to create a safe and supportive workplace. This fuels collaboration and lifelong learning.
The Power Of Diversity And Inclusion In A Human-Centered Business
Another key point that this guide touches on is diversity and inclusion in the workplace. Employees from different backgrounds and cultures offer their unique perspectives to your organization. Think of your workforce as a tapestry of talent. Everyone who's "on the payroll" brings something new to the mix. They weave their skills and competencies into the fabric of your company in a variety of ways. Thus, building a human-centered business and learning culture extends a warm welcome to every new hire and helps you retain top performers. Not to mention, it enriches your overall team dynamic.
Lifelong Learning And Personal Growth
Last but not least, one of the main takeaways from this eBook is how to foster continuous learning and personal development. While some organizations might settle for the status quo and skill stagnation, truly successful organizations make it their mission to fuel employee growth. Every member of the team is given the opportunity to pave their own path, chart their career trajectory, and pursue their professional passions. A lifelong learning culture puts individual goals front and center instead of focusing only on organizational objectives.
About This eBook
This inspirational guide can help you cultivate a culture that puts people front and center in every aspect of business operations, especially employee development. Here's a sneak preview of what's inside:
Foundations: Want to build a human-centered organization that supports happier, healthier, more resilient humans?
Culture: It is more than a motto; it's what we do and say every day.
Diversity, Equity, Inclusion, and Belonging: From recruitment to daily routines, human-centered leaders look for ways to boost representation, inclusion, and belonging.
Learning Design: Growth should feel invigorating, not dreary or draining.
Whether you're looking for creative ways to revolutionize your current L&D program or are just starting to build your organizational culture from the ground up, this eBook is an essential read. It offers insights to create a solid foundation that encourages employees to not just memorize your corporate values and beliefs but live them every day.
Conclusion
Download the eBook It's All About Your People! Embracing Human-Centered Business, Workplace Culture, And Learning Design to discover how to make an impact on your team and support them every step of the way.