eLearning For The Extended Enterprise With eFrontPro
No man is an island -- or so the saying goes. Well, it turns out no business is an island either. In fact some businesses are quite the opposite: Complex networks of subsidies and partners whose success depends on various levels of collaboration and synergy. That's especially the case with the so-called Extended Enterprise (also known in slightly more restrictive terms as a "supply chain" or a "value chain"), where several firms cooperate to provide products and services to the market.
This cooperation can take several forms, from McDonald's-style franchising to the complex agreements that a company like Apple has with suppliers, content creators, authorized resellers, accessory makers, and other business partners.
What remains constant though is the need for cooperation and coordination on a large scale -- which in turn necessitates some kind of shared training. That's where eLearning comes in, as the best way to implement an effective -in results and costs- large scale training program.
And that's also where eFrontPro comes in, as the industry leading Talent Development Platform for training at large.
In this article we'll have a look at eFrontPro's features that make it a good fit for Extended Enterprise learning and training.
It's Got All The Basics Covered - Not Just The Extended Enterprise-Specific Ones
For a Learning and Talent Development system to be good for extended enterprise training, it has to first be good for enterprise training in general. After all, there's no point in having all kinds of fancy extended enterprise-related features in your software if it doesn't solidly cover all online learning basics.
eFrontPro is a mature online learning and talent development product, with over a decade of development behind it, that has been adopted by some of the biggest global enterprises and organizations. It frequently excels in eLearning software reviews, and has repeatedly won important industry awards.
This means that you can be sure that it has got your back, with great support for all the fundamentals of eLearning, starting with its strong content creation and course management tools, and going all the way to a powerful reporting engine.
Strong Enterprise Support
Going beyond its powerful and flexible core eLearning and Talent Management tools, eFrontPro also offers all the kind of features you'd expect from a piece of software targeted at enterprise use.
This includes support for Single Sign On and federated login (through LDAP, Active Directory, SAML, etc.), powerful integration options (both built-in and through our support for the Zapier integration platform), branding and customization options, interoperability with several industry standards, from Excel/CSV file export to xAPI, and, last but not least, a full blown extension API for integrating it with any third party system or legacy server you might have.
It Lets You Branch Out
When implementing a training plan for the Extended Enterprise you want both central control and autonomy.
Central control so that there's coordination and reusability, and autonomy as different partners and different facilities have different needs, branding, regional languages, and schedules.
With eFrontPro's branches you can have both -- you get one single platform to administer, with a centrally managed and securable user registry, but multiple (as many as you want actually) "Branches" -- independent web portals with their own branding, learners, instructors, courses, language settings, and timezones.
With Branches you can give all your facilities or partners their own independent eLearning program, but still easily share common courses and other resources between them.
And if you have a really, really large Extended Enterprise network, or are paranoid about privacy between your partners, you can always install multiple eFrontPro servers for totally independent learning and talent management environments, or opt for multiple (managed) Private Cloud eFrontPro accounts.
It's Easy To Use
One issue that frequently comes up in Extended Enterprise training is the need to train all kinds of people, from PhD-yielding researchers to assembly line workers, and everybody in between.
Having an intuitive and easy to use Learning and Talent Development Platform can make all the difference between happily trained employees and frustrated learners, and eFrontPro has always been well regarded in this aspect, frequently praised by critics and customers for how easy it is to work with.
In fact, its user interface is so comprehensive, that an IT administrator could learn to operate it in a single day -- even without any external help.
After all, even if you are at NASA or Space X, that doesn't mean that your eLearning program has to be rocket science.
Social Learning Made Easy
Another important feature for modern enterprise learning is the social aspect. It can be equally, or even more, important in an extended enterprise setting, where allowing your partners to exchange ideas and share knowledge can foster collaboration and boost productivity.
eFrontPro not only comes with several tools (such as forums, messaging and support for teleconference) that encourage a social learning approach, but through the eFrontPro for IBM Connections software, it's a certified partner for IBM's industry-leading social workspace platform.
Conclusion
The modern enterprise is nowadays more than ever an extended one. In order to compete in today's markets, it's not enough to take care of your internal training and talent development needs -- you need to have a holistic training approach that encompasses your entire partner network.
eFrontPro can help you implement such a extended training strategy in a flexible, powerful, and cost effective way - just right for an Extended Enterprise.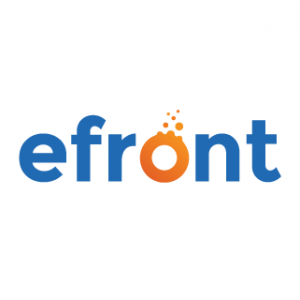 eFront
Train your employees, partners and customers with eFront, the powerful learning management system that shapes to fit your needs.