Training Companies At Work: An Exclusive Insight – 2017
At Administrate they love talking to their customers. They have customers based all over the world, and spanning a number of different industries, so everyone has always got a different story to tell. They decided to interview five of their biggest customers to see what it was like for them to get started in the training industry - either personally or as a business, how they continue to be successful, how they use Administrate to help them stay successful, and what they think the future holds for their business!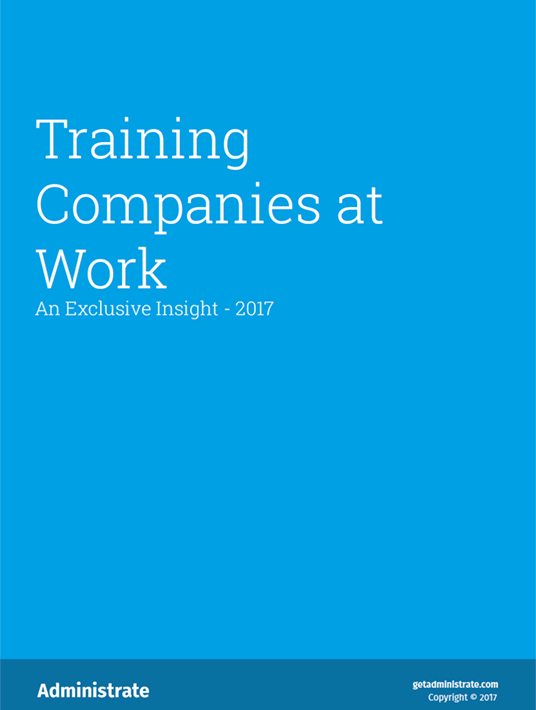 What This eBook Covers
The eBook is divided into 5 in-depth interviews, as detailed below:
Interview 1: Kevin Streater, Director, Global Training Sales At ForgeRock
ForgeRock was founded in 2010, and they aim to transform the way organisations approach identity and access management to make sure they can deliver the best customer experience possible. Kevin Streater joined ForgeRock in 2012, and his main focus is on building and strengthening ForgeRock's training channel and delivery partners worldwide, and driving ForgeRock training sales globally.
In this interview, Kevin talks about:
How he ended up making the to move to ForgeRock, after gaining experience at a number of other businesses.
How ForgeRock's training offering actually started, and how they only had one course for sale in the beginning, but now offer training all over the world.
How they battled the initial struggles of training to provide an effective learning offering to their students, and realised they needed to get more organised if they wanted to be successful.
How important tools and software are to make sure your business is running as successfully as possible.
Interview 2: Quentin Crowe, Managing Director And Founder At The Marketers' Forum
The Marketers' Forum was established in 2004, with their training and career development specifically aimed at marketing professionals. Quentin Crowe took over an already existing training company, and turned it into the successful business it is today. He has over 20 years marketing experience.
In this interview, Quentin talks about:
How he went from working in marketing and doing some guest lecturing, to taking over the business that would become The Marketers' Forum.
How he started off delivering a lot of the courses himself, but has now expanded to having about 25 people at any time delivering the courses to their customers.
What he thinks makes a good training provider, and how they pick the best tutors for their classes.
Interview 3: Steve Booker, Managing Director, Co-Founder, And Senior Instructor At Kentec Training
Kentec Training delivers a range of training courses, including Health & Safety, Workplace Safety, and Forklift& Plant. Steve Booker joined the family-run business, originally an equipment rental industry, and saw the opportunity to expand into the training world, and offer training that tied in with the equipment they rented.
In this interview, Steve talks about:
Making the move from equipment rental to training, and how they run both parts of the business alongside each other.
Purchasing Administrate to help put the training side of the business in order, because that's where they were struggling.
How they plan around things like seasonality to make sure the business stays successful as all times.
Interview 4: Sue Ellis, Managing Director Of Envesca
Envesca Training started in 1996, and provides training and consultancy services to both local and national business. Sue Ellis joined the business to help her husband get it started, and expanded their training offering to include things like First Aid and Fire Safety courses.
In this interview, Sue talks about:
Making the move from her job in Sales and Marketing to join Envesca and help her husband run the business.
Working together as a team, covering both the actual training and all the back office tasks to ensure the business works seamlessly.
Working with their awarding body the Chartered Institute of Environmental Health (CIEH) to provide an extensive list of courses.
How important it is to continue learning throughout your career, even if you're providing learning to other people!
Interview 5: FadiGanni, Chairman Of Morgan International
Morgan International offers professional certification programs and diplomas in fields such as Accounting, Auditing, Finance, and Marketing. FadiGanni has been with the business since it was founded in 1995, after spotting a gap in the market for CPA training in the Middle East.
In this interview, Fadi talks about:
How Morgan International got started, from one class in Beirut, to offering classes all over the world.
Focusing on the student's customer experience when they are taking courses with Morgan, to make sure they have a positive experience, and remember it for years to come.
The early successes for Morgan that made him confident they could make it as a training company.
Growing and expanding into different markets, all over the world.
To download this free eBook, click Training Companies at Work – An Exclusive Insight – 2017.
If you're looking to see if Administrate could help you run your training business like the customers mentioned in our eBook, please get in touch with them at [email protected]