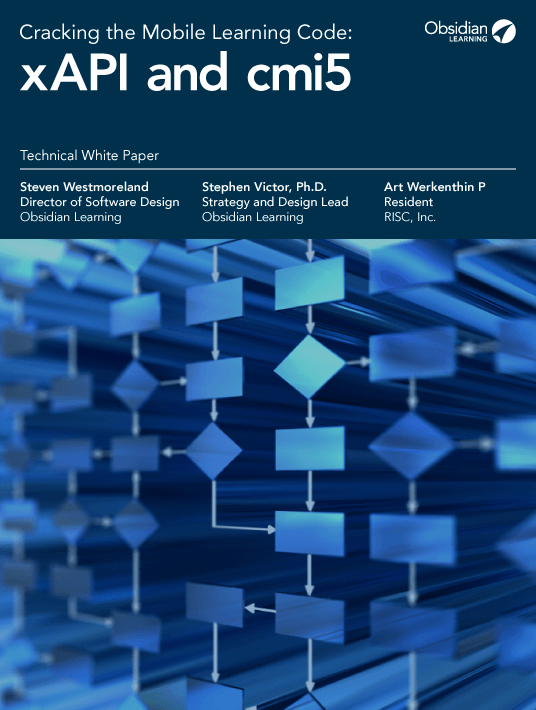 eBook
Cracking The Mobile Learning Code: xAPI And cmi5
eBook
Cracking The Mobile Learning Code: xAPI And cmi5
by Obsidian Learning and RISC, Inc. / Published: Oct 05 2017
What it's about
A white paper by Obsidian Learning, "Cracking the Mobile Learning Code: xAPI and cmi5", co-authored with Art Werkenthin of RISC, Inc., discusses how mobile technologies can support both formal and informal learning in instructor-led training (ILT), web-based training (WBT), blended learning experiences, and on-the-job performance support. It also addresses global trends in mobile technology use, and presents examples of novel applications of mobile learning. Finally, it provides a technical overview of xAPI and cmi5 and examines how these technologies can be used to capture the entire spectrum of learning, from formal to informal.
Key chapters
Mobile Technology

Rise in Technology Use 4Changing Social and Professional Expectations
Mobile Technology and Learning
Mobile: A Piece of the Distributed Learning Puzzle
Learning Context vs. Work Context

Supporting Formal and Informal Learning

Formal Learning
Informal Learning

Mobile Technologies for Learning

Mobile Learning Framework
Examples of Mobile Learning Experiences
Microlearning
Learning Video
Social Networking Technologies
Other Mobile Learning Experiences
Mobile Learning Development Tools

Tracking Mobile Learning: xAPI and cmi5

Overview of SCORM
Is xAPI the "New SCORM"?
A More Structured xAPI
What is cmi5?
cmi5 Goals
Sample cmi5 Rule
Benefits of cmi5

Case Studies: xAPI in Action

Case Study One: PDF Annotation in the Cloud
Research
RISC's Solution: The PDF Annotator Application
Integration with the VTA LMS
Future Plans

Case Study Two: Video/Microlearning

Obsidian's Solution
xAPI Statements
Items Tracked in the LRS
---
Recommend this read to your friends and #shareknowledge!
Get your copy now
---
Join other professionals like you, who have downloaded the eBook!
Other resources by Obsidian Learning and RISC, Inc.