Gamification Training Software Launching: What You Should Avoid
Gamified LMS usually incorporates customized activity points, badges, and leaderboards, which help employees feel a sense of accomplishment as they play and learn. But how do you make sure your investment in gamification development is worthwhile? Your team runs the risk of wasting development time and money if gamification techniques are used inefficiently. Inserting games into eLearning is not enough. You need to incorporate gaming into your online learning strategy to see the results. Setting clear online training objectives and explaining to your online learners how gamification supports learning goals will ensure you benefit from gamification training software. Launching a gamified LMS? Don't make these mistakes…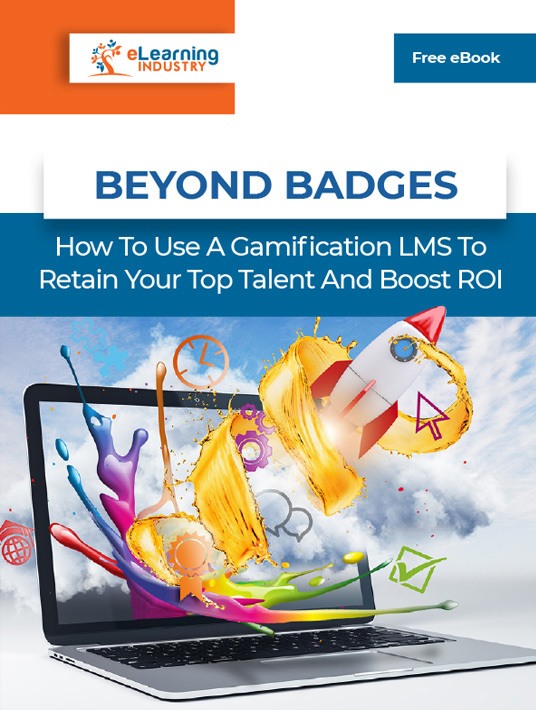 eBook Release
Beyond Badges: How To Use A Gamification LMS
Discover the surprising perks of investing in a gamification LMS for your online training program.
1. Gamifying Absolutely Everything
Don't get carried away with what gamification can deliver. It's easy to think that, because gamified LMS options are available, they are always the right choice. Make sure that the rewards and badges you add actually mean something, so they are worthwhile achieving. Another trap is ignoring other learning styles and preferences: remember that everybody is different, and some corporate learners prefer a simple quiz to a game. Offer alternatives so that online learners can take control of their own learning choices. The secret to successful gamification is personalization. Giving employees the power to not only focus on personal gaps but pursue rewards that matter most to them.
2. Failing To Deliver Online Learning Objectives
As with every eLearning deliverable, establishing clear online learning objectives from the outset is essential. The focus of the gamified online training experience should be on retention and adoption, not on gaining points or rewards. These are simply a helpful motivator in getting learners to engage and participate: not an aim in themselves. You risk confusing online learners by failing to outline why a game helps them learn, and what is expected of them. So, make learning objectives clear, and check back through the game to track progress against the online learning objectives. For example, include a brief summary at the beginning that highlights the real-world uses and benefits, as well as how it ties into their job roles.
3. Poor Game Mechanic Integration
Frustrating gameplay is a real turnoff for employees. The benefit of using gamification is that staff members get engrossed in the activity, and don't realize that they are absorbing new information and practicing new skills. If you fail to get the overall design right, then you are adding an unnecessary barrier to participation and adoption. This negates the benefits of a gamified approach.
4. Making Activities Too Difficult, Or Too Easy
As with all eLearning designs, a thorough analysis of your employees from the outset is important. You need to survey and understand the audience so that you can pitch the content at the right level. You want to get the balance right so that it is a challenge, but not off-putting. For instance, earning a badge should prompt them to build relevant skills and broaden their experience. But it shouldn't be next to impossible, to the point where they simply give up. Likewise, they must feel like they've accomplished something by the end of the activity.
5. Focusing On Competition Rather Than Collaboration
Some online training environments thrive on competition—but for some employee training participants, competition serves as a way to disengage. Most gamified training software will offer an impressive leaderboard functionality—but remember, leaderboards aren't always a good idea. If people feel disappointed and demotivated by competition, you should focus more on collaborative games or points and badges. Bring people together to play, and they can learn alongside building their interpersonal connections. You want to ignite friendly competition… not a full-fledged corporate war.
6. Mistaking Serious Games For Gamification
Some organizations are under the assumption that serious games are the crux of gamification. However, gamification is a much more intricate approach. You must embed game mechanics/rewards into your design to fuel motivation and engagement. That said, mini-games as part of a wider eLearning course can be an effective way to refresh skills or roll out up-to-the-minute skills training. You can even incorporate them into your existing gamification strategy by linking them to rewards. For instance, employees with the highest score earn bonus points or a top performer badge.
7. Forgetting To Include A Social Learning Element
Gamification provides a golden opportunity to benefit from social LMS technology. Include challenges, forums, and discussions so that online learners can learn from one another, collaborate, extend learning, and connect with SMEs. They can even share badges and pointers for how they earned them to inspire their co-workers. You should also ensure that your new gamification LMS gives you the ability to track these activities.
Deciding to invest in gamified LMS shows that you are keeping up with the latest eLearning trends. You want your employees to benefit from an interactive online training experience, that allows them to practice in a safe space. There is a risk, though, that you don't see the benefit from gamification of training. If you focus too much on the technology—not the experience—your online learners aren't central to the strategy. Ask the question: what does gamification add to the learning? How will retention of this particular topic be improved by adding game mechanics into the mix? How will gamification training software help deliver particular online learning objectives? And, most importantly, will your team understand why this style works for this topic? Variety is important, as is appealing to different learning preferences. Implement gamified LMS with care, to ensure each individual understands, and benefits from, the new approach.
Have you ever wondered if the advantages of gamification can be applied to online training? Read our eBook Beyond Badges: How To Use A Gamification LMS To Retain Your Top Talent And Boost ROI and find out the surprising perks of investing in a gamification LMS.