Use High-Impact Continual Learning To Help Your Learners Achieve Their Goals
High-impact continual learning is a process, and offering our learners continual learning opportunities along the journey will help them beat the forgetting curve. And irrespective of the format, for training to be effective, it has to be aligned with the business objectives. Cascading learning objectives from the desired organizational results and employee performance will ensure the training program will improve performance, helping learners solve problems, overcome challenges, or enhance their knowledge, skills, and attitude. First, let's explore how to facilitate continual learning that leaves a lasting impression, before moving onto integrating learning resources with an LXP to personalize the process.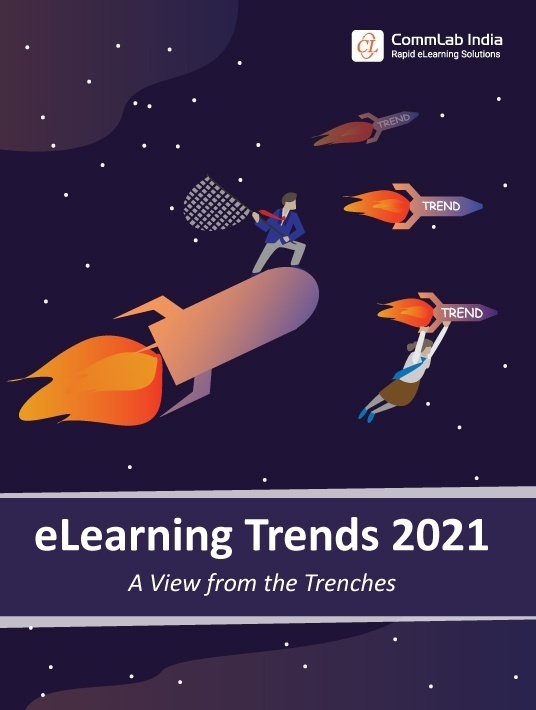 eBook Release
eLearning Trends 2021: A View From The Trenches
Explore 5 eLearning trends adopted by high-performing organizations you should be adopting to become an impact maker.
How Can We Facilitate Continual Learning?
There are a variety of training formats at our disposal that can be used to offer learners a blended journey that starts even before training (prepping them for the training) and extends after formal training (in the form of performance support job-aids).
Formats For Learning
High-impact continual learning can have various formats, such as:
Live Formats
Instructor-Led (classroom) Training
On-the-Job training
Social Learning
Discussion boards
Online forums
Virtual Collaboration/Synchronous
Live eLearning classes
eMentoring
Virtual Collaboration/Asynchronous
Email
Bulletin boards
Online communities
Self-Paced Learning
Web learning modules
Simulations, scenarios
Video
Performance Support Systems (EPSS)
Job-aids, how-to videos
Mobile applications
Performance/decision support tools
How Can We Deliver High-Impact Learning?
Guided Learning
Uses characters/avatars to accompany learners through an online course, letting them make their own decisions.
Sales training
Software training
Process training
Performance management training
Scenario-Based Learning (Problem-Based Learning)
Puts learners in situations where they learn by doing tasks or making decisions. It helps build critical-thinking skills and apply knowledge gained directly on the job.
Compliance training
Policies/legal training
Sales training
Code of conduct training
Behavioral training
Learning Through Exploration And Discovery (LEAD)
Provides learners the flexibility to discover and assimilate knowledge by interacting with the learning environment.
New employee orientation
Safety training
Product training
Site training
Game-Based Learning
Uses game elements to facilitate effective knowledge transfer, build an emotional connection, elicit responses from learners, foster competition, and help retain knowledge longer.
Information training
Code of conduct training
Sales/product training
Simulations
Provides learners a safe environment that mirrors the actual system to help them practice using the system/product without any repercussions.
ERP/software training
Product training
Safety training
Where Are You In Your Learning Journey?
An LXP can help you enrich the continual learning experience. However, before you consider integrating your learning resources with an LXP, ask yourself this simple question: Where are you in your learning journey? As you advance along the journey, having an LXP is a good idea to give learners autonomy over their learning and to consolidate the resources you have across multiple sites. An LXP is a content aggregator with the main focus on the experience of learners. An LXP can bring together content from different courses such as:
An off-the-shelf content library
LMS
Intranet
SharePoint portal
Collaborative platforms such as MS Teams
Contrasting The LXP, LMS, And LCMS
The LMS (Learning Management System) can host learning resources, with a focus on tracking learner progress and generating reports. An LCMS (Learning Content Management System) helps facilitators, Subject Matter Experts, and trainers create, publish, and share content—with version control. The focus is on efficient content creation and Just-In-Time delivery.
More About An LXP
Powered by Machine Learning and Artificial Intelligence, an LXP makes each learner the architect of their learning journey, builds individual learning paths, and offers truly personalized learning by bringing up learning resources based on preferences, skills to be developed, past choices, and more. This integration also helps learners avoid the hassle of logging into each individual site and looking for resources.
Here are some of the things that LXPs can do to help you with integrating your learning resources with an LXP:
Offer content with recommendations based on ML and AI
Curate and host any form of content
Offer personalized automated learning paths that lead to logical outcomes
Support social learning
Beyond High-Impact Continual Learning
Would you like to explore even more 2021 eLearning trends? Download the eBook eLearning Trends 2021: A View From The Trenches. It also features insider tips to use learning tech to provide a seamless online training experience.
CommLab India Rapid eLearning Solutions
Working with multiple outsourcing vendors can be stressful, and a waste of time & money. With CommLab India Rapid eLearning Solutions, all your online training needs are taken care of, rapidly and economically.