Top eLearning Trends In 2022 That Every L&D Pro Should Know
Keeping up with eLearning trends is no easy task, given the fact that every day seems to bring new methodologies, technologies, and strategies to enhance the learner experience. That said, it's imperative for L&D professionals to stay one step ahead in order to maximize ROI and engagement. Fortunately, this guide offers the inside scoop on hybrid learning and how to create high-impact programs this year. From gamification to the Metaverse, this eBook highlights the latest and greatest eLearning trends in 2022.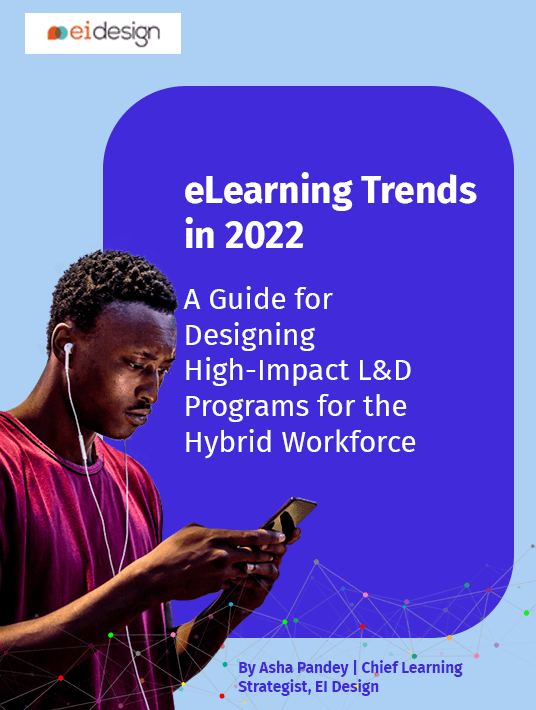 eBook Release
eLearning Trends In 2022: A Guide For Designing High-Impact L&D Programs For The Hybrid Workforce
This eBook is designed to help L&D teams leverage the current eLearning trends to design high-impact training programs for the hybrid workforce.
The Link Between eLearning Trends And Long-Term Business Success
An effective L&D program for your hybrid workforce can improve employee retention, engagement, and performance behaviors. Staying on top of trends allows you to determine which emerging technologies and techniques will work best for your distributed teams. For example, how can you implement the latest ID principles or microlearning tools to support them from afar and help them bridge skill gaps quickly? Thus, eLearning trends in 2022 give you the opportunity to offer cutting-edge programs to your hybrid workforce and align every aspect of your L&D program with current business objectives.
About This eBook
How do you know which trends are worthy of your resources? Here's a brief glimpse of what you'll find inside this ultimate eLearning trends guide:
Learnings from 2021 and Looking Ahead – The Focus Areas for L&D in 2022
In the Spotlight – "Must Have" Trends to Offer Remote Learning in the Changed Workplace
Trends that Match Modern Learners' Expectations and Asks
Trends that Help You Deliver Engaging, High-Impact, and Immersive Learning Experiences for the Hybrid Workforce
Trends that Help You Assess the Impact of Remote Training and Aid You in Maximizing the ROI
Conclusion
Download eLearning Trends In 2022: A Guide For Designing High-Impact L&D Programs For The Hybrid Workforce to uncover the latest strategies to engage your staffers and improve real-world application.