Leadership Development Program Solutions For Your Organization
How do you choose the best leadership development program solutions? For starters, you need to conduct a little TNA just to see where you're at and where to improve. Then move on to creating a budget and implementation timeline. Finally, you're ready to start the search which is usually the most time-consuming part, unfortunately. Where do you even begin? And how do you know which sources are reliable? There are many free tools at your disposal. Here are 8 top ways to find the right leadership training providers.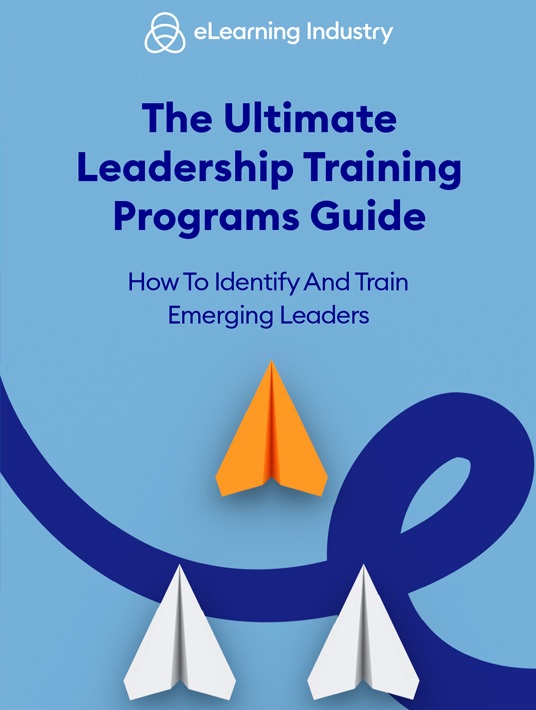 eBook Release
The Ultimate Leadership Training Programs Guide: How To Identify And Train Emerging Leaders
Launch a successful leadership training strategy for your top performers today.
1. Use An Established eLearning Content Provider Directory
An exclusive directory features all the important evaluation criteria. For example, you're looking for leadership training programs that offer specific solutions. And the directory lists all the services so that you can make the best buying decision. Ideally, the online directory should be backed by an industry expert, such as a site that posts outsourcing tips and eBooks. They understand what it takes to achieve leadership training success. Thus, their directories cover everything from company bios to pricing options.
2. Read User Reviews To Assess Pros And Cons
The great thing about user reviews is that they cover the entire spectrum. As such, you get to see the pros and cons of hiring the best leadership development program solutions. Keep in mind that credible sites have fraud prevention measures in place. For instance, users need to log in with a social media account to leave their review.
3. Evaluate Performance Overviews
Rating sites are another great place to verify vendor qualifications, preferably, platforms with performance overviews. Users rate the leadership training programs based on evaluation criteria like Customer Experience, responsiveness, and quality of work. Then all these scores are compiled into an overall rating at the top of the page. Individual star ratings are also included. For example, the vendor received a 4 out of 5 stars for communication. Before you evaluate ratings, determine your training priorities. This way, you can focus on the criteria that matter most to your SMB.
4. Search Leadership Training Programs Course Catalogs
The best leadership development program solutions may not be custom content providers. Another option is to purchase off-the-shelf courses. They're ready to launch. Plus, they often cost less than bespoke solutions as the vendor can mass-market the course instead of developing content for each client. Search in course catalogs to see if any pre-built content aligns with your online training needs. Some leadership training vendors even allow you to add branding or customize different aspects of the layout. That said, you may not find a solution that meets all your requirements. For instance, there are certain topics missing or the delivery methods are somewhat limited.
5. Visit The Vendor's Landing Page
The vendor landing page is going to be biased, of course. After all, they want to put their best foot forward. On the other hand, their site can fill in the gaps. For example, it has a complete list of their solutions as well as client success stories and case studies. You also get a feel for their design approach. The layout, aesthetics and tech specs tell you a lot about their work practices. If their site is chaotic and cluttered, their deliverables probably follow suit.
6. Review Leadership Development Program Portfolios
Portfolios have work samples and use cases. They give vendors the opportunity to showcase their skills in action instead of just listing them on the main page. Look for leadership development program examples, in particular and don't just focus on the aesthetics. For example, do they use approachable terms? Or is it packed with industry jargon that new team leaders may not know yet? In addition, consider the breadth of their talents. Do they have experience in many fields? Are they able to adjust their style to suit different target audiences?
7. Use A Leadership Development Programs Comparison Tool
That exclusive online directory I mentioned earlier should have a comparison tool so that you can weigh all your options side by side. For instance, you can choose up to three leadership training programs and then see how they compare in terms of solutions and support services. This makes it easier to find the best outsourcing partner for your SMB, even if you don't have a scoring system or checklist on-hand.
8. Hire Them For A Test Project
This isn't a free option, but it is the most effective. Hire leadership training companies for a test project. It could be something as simple as a presentation or microlearning demo. The point is to evaluate their work firsthand as well as the overall process. Did they communicate with you regularly? Were they able to incorporate your feedback? A sample project lets you test the waters and determine if they're a good gift. If not, you can continue your search without taking a huge financial risk.
Conclusion
The best leadership development training programs don't have to cost a pretty penny as there are content providers for every niche and price range. You just need to know how to find them. These resources can help you compile a shortlist minus the stress. The secret is using reliable resources that have all the essentials. Avoid sponsored directories and dating sites at all costs. Finally, contact vendors directly for more info and evaluate their service beforehand.
Are you looking for more vendor vetting tips? Our eBook can help you choose the best leadership training programs for your SMB. It covers every step of the process, from setting a budget to drafting RFPs. Download The Ultimate Leadership Training Programs Guide: How To Identify And Train Emerging Leaders today.