Custom eLearning Content At The Right Price Point
Bespoke eLearning at its best is cost-effective and results-driven. It allows you to stretch your budget, reduce L&D stress levels, and provide your employees with top-notch online training resources. But there's one caveat. You need to choose an eLearning outsourcing partner in your niche who delivers maximum value for money. Our eBook, How To Find The Right eLearning Content Providers For Your Custom eLearning Content At The Right Price Point, highlights every step of the process. From creating a realistic budget to avoiding contract conflicts. First things first, let's debunk some of the most common myths associated with custom eLearning content development outsourcing.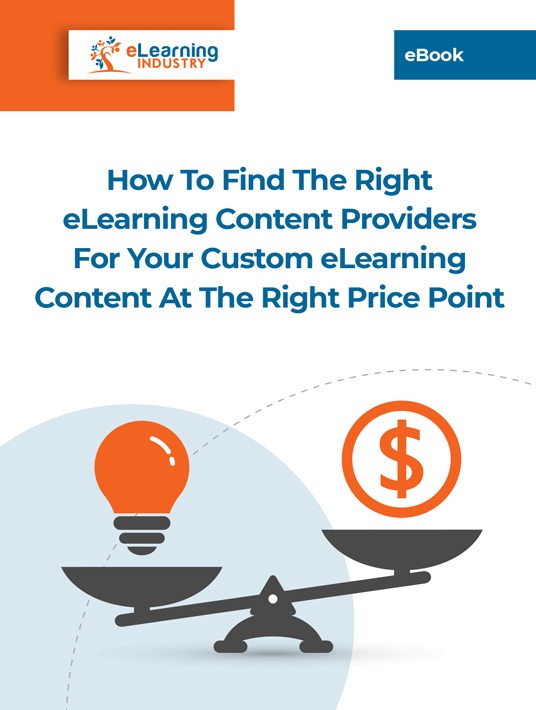 eBook Release
How To Find The Right eLearning Providers For Your Custom eLearning Content At The Right Price Point
Discover all you need to know about custom eLearning content.
Common Outsourcing Fictions And The Facts Behind Them
1. You Must Relinquish Total Control
You have to hand over everything and put your complete trust in the eLearning vendor, right? The idea of blindly following the eLearning company's lead can be terrifying. Contrary to popular belief, you can still sit in the driver's seat. But only if you spell out everything in the contract and set up mutually beneficial communication guidelines. For example, you'll meet once a month to discuss progress and provide revision notes for the eLearning vendor. There's also a kick-off meeting to clarify the online training objectives and the overall aesthetics of the eLearning content.
2. There Are Always Unexpected Fees
Hidden fees are to be expected when you hire eLearning content providers. In reality, a realistic budget should account for all expenses you will incur. Meet with the eLearning vendor to talk about the pricing options, deliverables, and ongoing fees such as maintenance and/or revision costs. Transparency can help you avoid unexpected costs that put you over your online training budget. Companies who don't offer contracts or outline all the payment milestones and terms are a major red flag.
3. Any eLearning Outsourcing Company Will Do
It doesn't really matter which eLearning company you hire as long as they've worked with other organizations and have a portfolio. Actually, you need to find custom eLearning content providers who understand your niche and offer targeted corporate eLearning solutions. They must have the necessary experience, tools, and skills to deliver high-quality eLearning content. Their work habits should also align with yours, especially if you're collaborating on certain tasks.
4. Custom eLearning Content Providers Are Too Expensive For SMBs
Your SMB doesn't have the means to hire a custom eLearning content provider. The budget is tight and you need to develop online training resources in-house to keep spending in check. In reality, custom eLearning content development can help you cut costs. You don't need to hire an eLearning team to design online training tools from the ground up. Nor purchase third-party images, videos, and eLearning templates. It's all taken care of by the eLearning vendor. Plus, they expedite the process so that you can launch your online training program sooner and bridge gaps right away.
5. No Need To Purchase Any Additional Tools
Custom eLearning developers do reduce L&D expenses, but you must still invest in eLearning tools, such as a Learning Management System and rapid eLearning authoring tools to update online training resources. As well as video conferencing tools if you want to host live events and PM platforms to ease collaboration. Furthermore, all these platforms must be compatible to avoid formatting issues and help you organize and evaluate learning data across the board.
6. Their eLearning Content Won't Mesh
Everything must fall into place to ensure cohesiveness and avoid fragmentation. But eLearning content providers are "outsiders" who don't understand your brand image or online training vision. How can they possibly create eLearning content that meshes with your existing online training course? It's all about expectations and communication. An experienced eLearning vendor takes the time to get to know your brand identity, online training objectives, and style guidelines. Thus, their assets seamlessly blend with yours to enrich the online training experience.
How To Outsource Without Going Over Budget
It's not enough to find an eLearning vendor who specializes in your industry or offers the targeted solutions you need. They might be the perfect person for the job but out of your price range. The trick is to set a realistic budget and conduct a thorough TNA. And, also, to know which research tools are available to you. Have no fear, because our eBook walks you through every aspect of the process. Here are just a few insider secrets you'll discover in How To Find The Right eLearning Content Providers For Your Custom eLearning Content At The Right Price Point.
Perks Of Choosing eLearning Companies For Custom eLearning Content Development
Tips To Create A Realistic Budget For eLearning Companies Outsourcing
Challenges Of Hiring eLearning Content Development Companies And How To Surpass Them
Crucial Questions To Ask eLearning Content Providers To Avoid Contract Conflicts And Project Delays
Ways To Find The Best eLearning Companies For Your Online Training Course
Reasons To Hire eLearning Providers Instead Of Developing In-House eLearning Content
Steps To Request A Quote From eLearning Providers In Your Niche
Top Corporate eLearning Solutions For SMBs On A Tight Budget
Tips To Calculate Accurately eLearning Development Costs For Your Employee Online Training
Many organizations avoid eLearning outsourcing because they've bought into the myths. They think that hidden fees lurk around every corner or that they must hand over all control. But these misconceptions hurt their bottom line. Hiring a reliable custom eLearning content provider helps you retain top talent, reduces eLearning development time, and boosts employee engagement. So, download your copy of How To Find The Right eLearning Content Providers For Your Custom eLearning Content At The Right Price Point today. You don't have to put your SMB into debt just because you want to outsource employee online training. Our eBook has all the tips you need to deploy a dynamic online training strategy with the help of an experienced eLearning pro.