Invest In The Right eLearning Outsourcing Partner
You only get one chance to hire a custom eLearning content provider that ticks all the boxes. Unless, of course, you enjoy costly trial and error processes and want to spend the next few months trying out different eLearning vendors. In this case, this article probably isn't a worthwhile read. On the other hand, if you need to find the best eLearning companies today and avoid post-purchase regrets, you've come to the right place. I'll show you how to use online directories, recommendations, and reviews to invest in an eLearning outsourcing partner for your next online training course.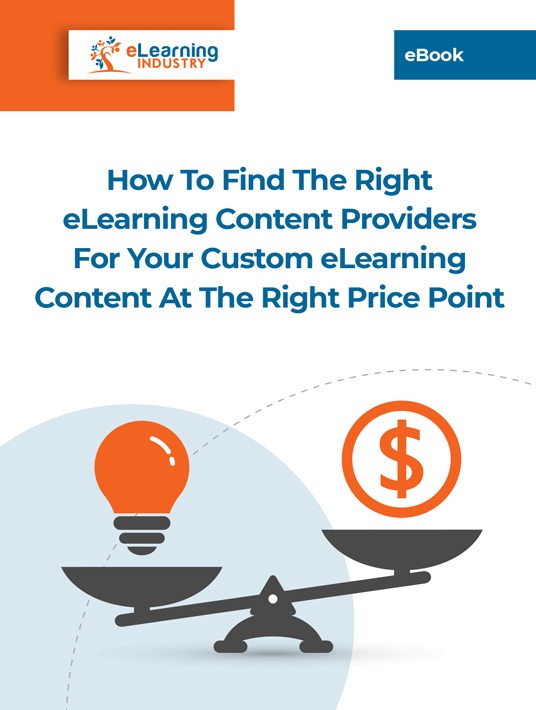 eBook Release
How To Find The Right eLearning Providers For Your Custom eLearning Content At The Right Price Point
Discover all you need to know about custom eLearning content.
1. Start With An Online Directory
You need a starting point that features all the leading eLearning vendors in one location. An online directory with the best eLearning companies who specialize in your industry. Look for a reliable site that isn't packed with paid reviews. Preferably, one that's also an authority in the eLearning industry. For example, they have articles and guides to help you choose the right person for the task. Try to avoid general online directories that don't cater to eLearning professionals, as you need targeted info to find custom eLearning content providers who understand your vision and unique challenges.
2. Ask For Recommendations In Social Media Groups
Social media groups are a great place to gain more insight into eLearning companies. Ask for recommendations for custom eLearning content providers that members have hired in the past. Were they happy with their experience? Was the eLearning vendor willing to communicate? You can also post your shortlist of eLearning outsourcing potentials to get their feedback. Have they worked with any of these companies and how would they rate the finished product?
3. Read Online Reviews
Reliable online directories usually include user reviews. Such as what the reviewer liked best and least about their experience with the company. You're able to evaluate the eLearning vendor's responsiveness, quality of work, and overall customer service. The secret is to look for reviews with a similar use case. Users who are in your niche and have the same online training requirements and compliance issues. Another crucial thing to consider is their L&D priorities. For example, they mention that the company only handles a small list of eLearning solutions. And that they had to contract other eLearning vendors for additional work. However, this isn't necessarily a drawback for you because you might prefer a smaller firm with narrower specializations.
4. Request Free Quotes
Now we've come to the part that your accounting team has been waiting for. How much does the custom eLearning content provider charge and what's included? Request free quotes from your top choices to filter out eLearning companies who aren't in your price range. You can also follow up for a detailed estimate to get the best ROI. This gives you the opportunity to compare and contrast eLearning vendors based on their pricing options. For instance, one might include a TNA beforehand to identify hidden flaws in your current online training strategy.
5. Hire Them For A Test Corporate eLearning Project
Online recommendations, reviews, and directory listings are just the beginning of your decision-making process. You must also verify the eLearning company's expertise, skills, and practices for yourself. Consider hiring them for a sample corporate eLearning project to experience the working relationship firsthand. Just a small taste of what's to come so that you can make the best investment for your organization. You may discover that they have all the talents and tools but lack the insider know-how. Or that the overall aesthetic of the product to be delivered isn't what you expected, and it doesn't align with your brand image. This is your chance to see what the reviewers were talking about and glimpse behind the curtain. Then host a follow-up meeting to discuss the corporate learning project and iron out issues before you decide to hire the eLearning vendor. For example, they need to communicate with you more often or you must clarify the online training objectives.
6. Analyze Ratings
Every listing features an overall rating that's comprised of multiple factors ranging from achieved results and communication to quality of service and value for money. So, analyze their scores to ensure their business practices meet your standards. For instance, your top concern is adherence to deadlines or open communication. But many users give the company a low score in this evaluation criteria. They may even mention the fact that the eLearning vendor brushed off their revision suggestions or didn't answer their calls for days. For this reason, it's essential to go beyond the ratings and read online reviews to learn more about the eLearning content providers' strengths/weaknesses.
7. Look For Trendsetters
The eLearning Industry's online directory spotlights the eLearning trendsetters in the custom eLearning content provider category. These are the eLearning companies with the highest ratings and proven track records. This may help you add another potential eLearning outsourcing companies to your list. You're also able to sort the listings by the highest rating to quickly see which eLearning vendors rise to the top. There are no paid reviews or ratings. As such, eLearning companies must prove they have what it takes by providing superior CX and achieving the best results.
Your online training course is only as good as the people behind it. Their expertise, commitment to quality, and insider knowledge all factor into the equation. Thus, you need to find eLearning companies that are just as dedicated to your online training objectives and goals as you are. Use this article to hire an eLearning vendor who brings their experience to the table and meshes with your in-house team. Just bear in mind that not all rating sites are equal. Only consider platforms with non-biased opinions instead of paid reviews.
Custom eLearning content development can be fraught with obstacles if you don't get everything written and clarify your concerns. Download the eBook How To Find The Right eLearning Providers For Your Custom eLearning Content At The Right Price Point to discover all you need to know about custom eLearning content.