Tips To Gather Info Before Contacting Any Audio Conferencing Provider
Contrary to popular belief, reaching out to an audio conferencing provider should be one of the final steps in the selection process. First, you need to make sure that all your L&D ducks are in a row. That way, you can include all the crucial details in your RFP. In turn, vendors can provide you with personalized proposals and cost estimates. So, what information should you gather and how can it help you make the best buying decision? Here are 7 things to do before contacting any audio conferencing provider.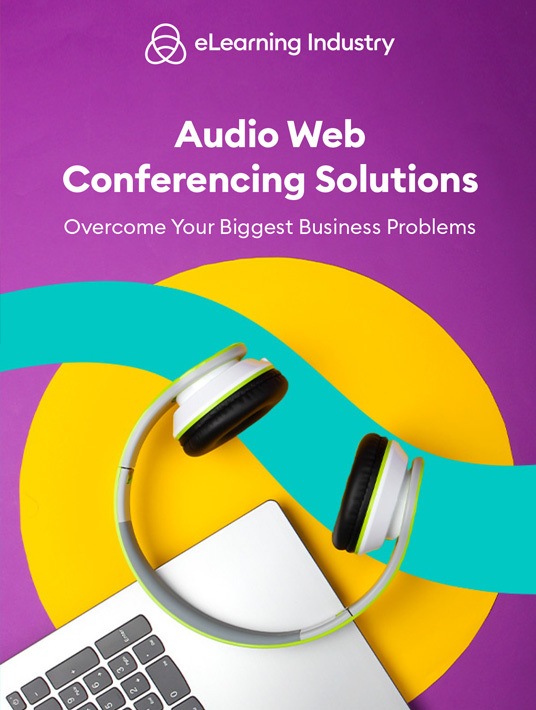 eBook Release
Audio Web Conferencing Solutions: Overcome Your Biggest Business Problems
Audio conferencing brings everyone together and reduces online training costs. Learn how these versatile tools can help you address business pain points.
1. Carry Out A Training Needs Analysis
As is the case for any software you implement, a TNA is the first step. It reveals why you need audio conferencing tools to begin with. A Training Needs Analysis also helps shed light on gaps in your current strategy. Plus, you get the chance to reevaluate your objectives and goals to ensure they're still relevant. Surveys, assessments, LMS metrics, and business reports are just a few data sources to consider.
2. Develop Vendor Evaluation Criteria
The audio conferencing provider you choose must meet certain criteria. It's not just the features, but the total package. For example, they need to have a solid reputation and high percentage of positive reviews. They should also fall into your price range and offer all the necessary support options to improve functionality. Don't hesitate to include this evaluation criteria in your RFP. Even though you aren't contacting vendors just yet, i's still wise to map out all the requirements ahead of time.
3. Check Out User Forums And Social Media Groups
It's true that most online forums and social media groups don't have fraud prevention. This means that some opinions are biased. However, they're still a great source of information. You can learn about new audio conferencing solutions you haven't considered as well as vet vendors that are already on your shortlist. That said, there should be standards. For instance, everyone who posts their recommendations must leave a little explanation, such as why they disliked the platform. Some background info is also helpful. Like how they used the platform and their online training objectives.
4. Estimate The Audio Conference Software Price Range
It's difficult to know exact figures without reaching out to vendors. However, you can estimate the audio web conference software tool price range. Then use the data to customize your software budget. How much do vendors typically charge for monthly subscriptions? How many users does that include? Are there extra fees for long-distance calls or toll-free numbers? Furthermore, does the tool require additional hardware, such as keypads?
5. Read User Reviews
Software users have an insider's perspective. They know how the tool works and what it lacks. As a result, you should read as many reviews as possible before contacting your first vendor. Granted, you need a credible review platform that's free of sponsored opinions. The last thing you need is paid or fake reviews that lead to buyer's regret. Once you've verified the site, focus on users with a similar use case and experience level. For instance, they have the same L&D priorities or budget. There should be a place for them to share what they liked best and least about the tool. The next step is to evaluate the performance overview. Do they recommend the platform? What are the star ratings? Finally, what's the overall satisfaction score?
6. Evaluate Audio Conferencing Provider Know-How
Of course, the audio conferencing provider needs to use the latest technology and keep up with trends. And their website should reflect this insider expertise. But they must also be aware of how audio conferencing tools fit into the grand scheme of things. Namely, how organizations use them to improve employee engagement and remote collaboration. This allows them to develop software for corporate use versus personal calls. For example, some free audio conferencing systems are designed for calling friends and family to help you keep in touch during the pandemic, for instance. However, you need a system that's geared toward client meetings, VILT sessions, and back-end communication.
7. Sign Up For Free Trials And Demos
This isn't cheating since you don't need to reach out to vendors to sign up for free trials or demos. Most audio conferencing providers have demo videos on their site. Or you can fill out a simple form to get a free 2-week trial. Some even stretch that to a month. This gives you the chance to test the tool's usability for yourself and determine if it's worth the investment. If so, you can contact them for a quote or send your RFP. Pay close attention to the real world perks of the product. In fact, why not host a few audio conferencing events to see how it performs. Do you run into any tech hurdles? Is everyone able to use the platform to carry out their regular job duties? For example, can the L&D team conduct a revision meeting online without any problems?
Conclusion
Finding the right vendor calls for a reliable online directory with all the trimmings. You need unbiased reviews, user ratings, and a built-in comparison tool to get max value for money. There should also be a complete list of features and functions so you can evaluate vendors at a glance.  We've got you covered. Our niche-specific online directory has all the leading audio conferencing solutions for your industry. You can also visit the vendor's site directly to reach out for more info and submit your RFP.
What should you include in your RFP? How can you leverage audio conference systems in your organization? Our eBook has the answer to all your conferencing questions. Download Audio Web Conferencing Solutions: Overcome Your Biggest Business Problems today to improve ROI and find the best software for your budget.