8 Benefits Of LMS Integrations For Your Organization
Learning Management Systems are no longer standalone solutions for online training. They're part of your vast L&D and business operation infrastructure that keeps staffers in-the-know and builds a strong company culture. Albeit, they still bear a brunt of the work regarding employee development, progress tracking, and performance management. But LMS integrations can significantly improve functionality and bring even more to your company's bottom line. Especially if they're apps you use to manage custom relations, boost team collaboration, and increase customer loyalty. Here are a few notable perks that Learning Management System integrations offer your organization.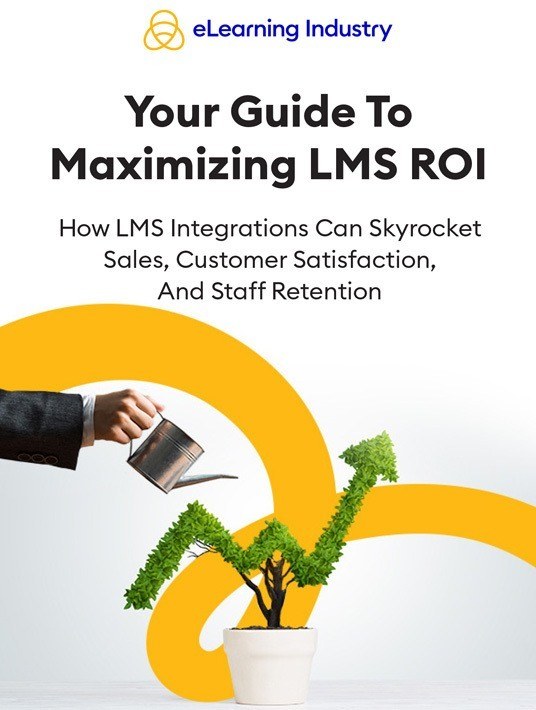 eBook Release
Your Guide To Maximizing LMS ROI: How LMS Integrations Can Skyrocket Sales, Customer Satisfaction, And Staff Retention
Choose the best integrations based on your L&D strategy and business needs.
1. Streamline L&D Tasks
LMS integrations range from CRM software to video conferencing platforms. All these help your L&D team streamline their work practices and maintain open lines of communication between departments. Your back-end developers and admins are able to sign on once to access all relevant data. As well as collaborate with SMEs and Instructional Designers, track online training course sales, and identify customer service pain points—which makes their lives easier and reduces stress levels. Thereby, it helps you retain your top L&D talent.
2. Improve Online Training ROI
Boosting LMS functionality translates into better returns on your investment. You get more from your toolbox because apps can communicate with each other and share crucial online training data. For example, a SalesForce LMS allows staffers to access crucial JIT resources without having to switch platforms. Have their monthly customer service stats dropped this month? Why not include targeted recommendations and online training resource links to bridge the gap? They can identify personal areas for improvement using the SalesForce CRM data. Then they can immediately watch tutorials or video demos to remedy the issue.
3. Reduce Redundancies And Human Error
Information can get lost in the data migration shuffle. Especially if you work with numerous apps to manage performance and business operations. LMS integrations help prevent data input errors and redundancies. For instance, you don't have to upload user data for every platform or manually enter online training data—the software automatically syncs to track their progress and performance. They also ensure that all your data is on one centralized location so that admins have all the info they need to make L&D decisions.
4. Boost Customer Service And Sales
Some LMS integrations involve CRM or eCommerce apps to improve customer service stats and broaden your profit margin. For example, with the SalesForce integration you can run online training reports in the CRM software, automatically import user data, and auto-enroll employees. Thus, every member of the teams gets the online training insights and resources they need to provide an amazing CX. They seal the deal more often because all the actionable CRM data and support tools are in one place. It's convenient to bridge performance gaps and achieve their sales potential.
5. Reduce The LMS Learning Curve
Many employees are already reluctant to onboard a new LMS because they're used to the current platform. However, LMS integrations reduce the learning curve because they only have to acclimate to the one new tool. A tool that integrates CRM, HR, and CMS apps they already know like the back of their hand. As an example, they've been using the video conferencing tool for months and have mastered the features. Thus, they can focus on exploring the new LMS's UI, functions, and reporting capabilities.
6. Gain Clear And Actionable Business Insights
Sometimes it's challenging to identify areas for improvement or see the relationship between online training and real-world performance. Particularly if your entire software's infrastructure is comprised of separate apps and collaboration tools. For example, you may not be able to trace back low customer service stats or sales. LMS integrations allow getting a more holistic overview of L&D and business initiatives. You also don't have to worry about redundant data hindering TNAs or leading to false online training assumptions.
7. Improve Employee Satisfaction
A lower learning curve and improved accessibility lead to higher employee retention rates. They're more satisfied because you've created a cohesive business ecosystem. Staffers aren't required to log in for every platform or try to connect the dots on their own. Certain Learning Management Systems even blend with HR tools to monitor every phase of the employment cycle and ensure that new hires get all the training they need to springboard their careers.
8. Facilitate Team Collaboration
Lastly, one more LMS integration benefit is that LMS integrations help your team collaborate more effectively, even if they work remotely. Some platforms feature PM and video conferencing integrations so that everyone's on the same page. Team members can access the shared calendar to learn about new tasks or revision requests. Another perk of the video conferencing integration is that you can host live events to share eLearning feedback and identify areas for improvement. You should look for SalesForce LMS vendors that support collaborative tools your team is already familiar with. They'll need to actively communicate and provide updates during the implementation process. Built-In PM platforms make it easier to address questions and concerns so that the switch is as stress-free as possible.
The key to maximizing LMS functionality is to invest in a platform that offers the targeted apps you need to streamline in-house collaboration, a Learning Management System that makes it easy for your team to communicate, evaluate online training data, and manage crucial business initiatives. Evaluate your current software, L&D work practices, and gaps to determine which vendor is the best investment. For example, do you need a tool that seamlessly integrates with your go-to PM platforms? What about HR software that you use to recruit, hire, and onboard new staffers?
If you're looking for ways to boost the functionality of your LMS and turn it into a powerful tool for your organization, then this eBook is for you. Download Your Guide To Maximizing LMS ROI: How LMS Integrations Can Skyrocket Sales, Customer Satisfaction, And Staff Retention and discover must-have features, tips and best practices for implementing LMS integrations.