Benefits SalesForce LMS Integration Can Bring To Your Bottom Line
Business insights can mean the difference between landing a sale and losing a valuable customer. Do your employees have the skills they need to negotiate the deal? Are they armed with consumer info such as spending behaviors and pain points? Have you given them all the JIT resources they need to build product knowledge and remedy negative performance behaviors? An LMS with SalesForce can help you transform your talent pool and keep top performers right where they are. It allows you to combine your customer reputation management and online training platforms to provide holistic employee development. What perks can a SalesForce LMS bring to your business's bottom line?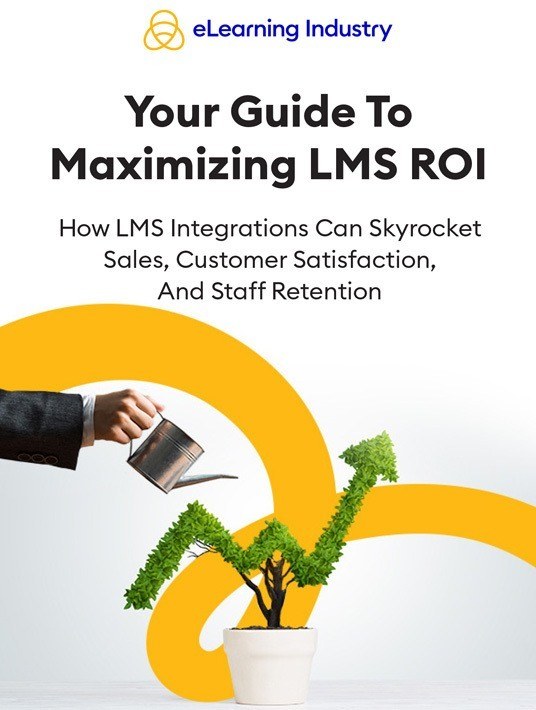 eBook Release
Your Guide To Maximizing LMS ROI: How LMS Integrations Can Skyrocket Sales, Customer Satisfaction, And Staff Retention
Choose the best integrations based on your L&D strategy and business needs.
1. Identify Customer Service Pain Points With The Right LMS Integration
One of the most significant perks of owning CRM software is to disclose customer needs, expectations, and experience. But a SalesForce LMS allows you to take it even further and link them to customer service pain points. As an example, your return rates have gone up by 25% in the last quarter. How does this tie into your sales team's performance behaviors? Are they not addressing common setup issues? Do they actively listen to a customer's needs or simply pitch a random product as soon as they walk in? How can your team improve and foster a stronger relationship with your consumers?
Another online training niche to cover is lead generation. Are they qualifying leads beforehand to improve conversions? Do they know how to use the CRM data effectively or do you need to develop relevant JIT support tools such as demos and online training tutorials that show them how to identify and follow up with prospects?
2. Support External Partners With A SalesForce LMS
External partners also benefit from a SalesForce LMS because it gives them round-the-clock access to both platforms. They can use CRM And LMS in tandem to quickly identify customer pain points, past purchases, and sales sticking points. Then use the online training resources to prep for the meeting. They're armed with strategic info that can help them personalize the pitch and touch on all the key points. Instead of trying to figure out what the client wants or gauge their expectations when they walk into the office.
3. Mitigate Compliance Risks
Sales and customer relationship management isn't just about building skills and improving on-the-job performance. There are also compliance issues in play. For example, safe handling protocols, data collection laws, and company policies like those regarding returns and extended warranty implementation. SalesForce LMS mitigates risks by centralizing all these aspects of compliance in one location.
Employees can access crucial online training tools to expand their knowledge and explore new rules, regulations, or processes. For instance, they use the SalesForce CRM to identify customer's needs and spending habits. Then they watch eLearning tutorials or compliance demos that tie into relevant products and protocols to prep for the next interaction and prevent compliance violations. How much information should they collect without violating data privacy laws? Are they allowed to make certain claims about the product benefits?
4. Retain Top Talent
Employees are more likely to stay with your organization if the information is readily available. If they can quickly get the online training they require and apply it right away instead of having to switch between Learning Management Systems to get the complete picture. As such, LMSs with SalesForce help you retain your top talent. They keep developing their skills for the benefit of your organization instead of bringing all their experience and negotiation skills to your competitors.
5. Share Data Across Departments
Every member of the team has access to the CRM and online training platforms so that they can share data that benefits your bottom line, from HR and sales to customer service and distribution. More importantly, the data is secure because it's stored in one centralized location, especially if you invest in a SalesForce LMS with a single sign-on. Finally, there's the matter of data updates. The systems automatically sync so that everyone has the latest info regarding customer habits, lead generation, and product releases.
6. Expand Your Customer Base
Your sales and customer service staff must have actionable insights to do their job effectively. They can't go into every customer interaction blindly, and LMS with SalesForce equips them with all the background information they need. For example, CRM reports help them identify consumer pain points and historical buying behaviors. They can see where the client is in the cycle and qualify leads. Then access crucial online training resources to bridge knowledge, performance, and skill gaps on the spot. All of this translates into a better CX, which boosts customer loyalty and referrals.
7. Sell Online Training Courses
The last benefit on this list is eCommerce. A SalesForce LMS integration can help you sell your online content to generate extra revenue. You can track conversions, satisfaction scores, and overall sales to improve your marketing strategy. As well as develop new content based on current training gaps. You can even sell online training courses to employees who'd like to upskill or train in other sectors to broaden their professional experience.
You might think that a SalesForce LMS is out of your budget. That you don't have a large enough workforce to invest in a robust CRM-LMS combo. However, even startups and SMBs benefit from LMS integrations. They help you retain top performers, continually improve customer satisfaction, and keep everyone on the same page regarding compliance rules and product updates. There are also accessibility advantages since the entire team—including external partners—can participate in online training that ties into personal pain points.
If you're looking for ways to boost the functionality of your LMS and turn it into a powerful tool for your organization, then this eBook is for you. Download Your Guide To Maximizing LMS ROI: How LMS Integrations Can Skyrocket Sales, Customer Satisfaction, And Staff Retention and discover must-have features, tips and best practices for implementing LMS integrations.