How To Prepare A Leadership Development Program RFP
You could ask for custom quotes via the vendor's website or even set up a one-on-one meeting. But RFPs are still the most effective tool for accurate estimates. Everything is in writing. So, there's no room for confusion or hidden fees, for that matter. The question is, where do you even begin? How do you create a leadership development program RFP that includes all the essentials? After all, vendors use this document to draft their proposals which cover the costs, development time, and support services. You're in luck. Because these 8 tips can help you write a management training program RFP right now. As they say, there's no time like the present.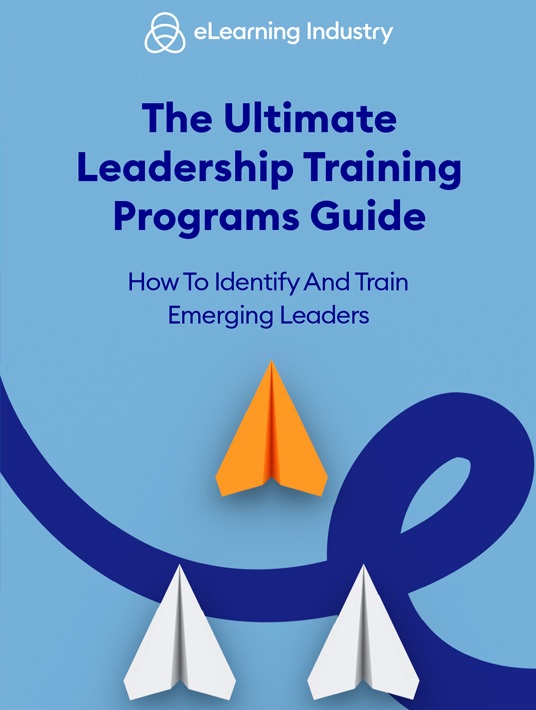 eBook Release
The Ultimate Leadership Training Programs Guide: How To Identify And Train Emerging Leaders
Launch a successful leadership training strategy for your top performers today.
1. Disclose Current Leadership Development Program Gaps
The main reason to outsource is to bridge gaps cost-effectively. But you need to know the leadership development program's pain points beforehand. This way, you can find the right outsourcing partner for your project as well as zero in on L&D priorities to reduce spending. This often requires a Training Needs Analysis. For example, evaluate LMS reports and survey managers. Performance evaluations are another great resource.
2. Outline The Outsourcing Scope
You may decide to handle some of the tasks in-house. You don't necessarily have to include them in the RFP unless they tie into the outsourcing tasks. For example, the vendor needs to populate the microlearning library but you'll develop the infrastructure and filing system. It's also essential to highlight online training objectives, goals, and desired outcomes. This way, vendors can determine if they're a good fit for the project.
3. Clarify Your Budget And Implementation Schedule
This is when pricing enters the picture. Include your budget and implementation deadline. It's also best to mention stages and their respective due dates. For example, they need to complete the first five deliverables by mid-June, while the other five should be ready by late August. This also helps prevent overspending due to the fact that you can spread out the costs. However, you need to be up-front about milestones and payment terms.
4. Highlight Leadership Development Program Deliverables
I've already covered the when and how much. Now, it's time to dive into the deliverables. In other words, what do you expect for that HR leadership training budget? You may not be able to include your entire wish list. However, you can start with the management training program fundamentals. Namely, activities and JIT resources that target crucial gaps. There's always time later on to expand your online training library. You should also include specs for each deliverable, such as online training objectives, performance behaviors, and skills you need to cultivate. Don't forget to include existing assets that vendors can reuse for the project.
5. Include Online Training Obstacles
For the sake of full disclosure, mention online training challenges and risks. For instance, your current leadership development program is outdated or there's a major issue with real-world application. Bear in mind that tight budgets are not an obstacle. Since vendors are already aware of the spending cap at this point. On the other hand, employee accessibility issues and preferences are worth mentioning.
6. Specify Support Services
Deliverables are just one piece of the puzzle. Your HR leadership training vendor should also provide support, whether it's live chats to handle billing issues or post-launch tutorials to improve functionality. If you purchase off-the-shelf solutions, look for user forums as well as FAQs that resolve common issues. The vendor may include fewer support services in their proposal. If so, you need to decide if it's worth the compromise. For example, your team is inexperienced and one-on-one support is a must.
7. Open Dialogue With Leadership Development Program Vendors
Many organizations look at RFPs as a monologue. In reality, it should open dialogue between you and the vendor. Include contact information and leave room for questions at the end of the request. You can also invite leadership development program outsourcing partners to a live kick-off event. It's a bit unconventional but it's a great way to clarify your RFP and touch on all the key points. Just make sure to record the event and include a link in the request. This way, vendors can see if they need more info or they can just get a feel for your brand image and training requirements.
8. Be Fully Transparent About Evaluation
Vendors should know what to expect. You can't leave them waiting around for weeks while you make your decision. So, be fully transparent about the evaluation process as well as the follow-up protocols. For instance, you can review the proposals based on a scoring system and they can expect your answer within 4 weeks. There's also a test project involved for your top choices. Anyone who doesn't have the time to create a sample activity need not apply due to the fact that this is a crucial part of your vendor qualification process.
Conclusion
The leadership development program RFP is just the first step. After you review the proposals, it's time to finalize the contract after you follow up with vendors, of course. Feel free to send out questionnaires or schedule virtual meetings. The bottom line is that you need to feel confident about your decision. And if that means several vendor qualification rounds, then so be it. You should also get input from your team, especially from L&D staffers who'll work closely with your new vendor.
Your managers need continual training to fill in the gaps. But leadership development programs also help you spot future leaders as well as hone their skills and talents so that they're ready for the challenges that lie ahead. Download our eBook The Ultimate Leadership Training Programs Guide: How To Identify And Train Emerging Leaders. It has all the information you need to outsource manager training for every department.