Secrets To Optimize Your CTA For An eLearning Providers Directory
Visitors to the eLearning providers directory are already interested in online training solutions, so that's one hurdle down. The trick is to bring them the rest of the way, to get them to click on your listing, then check out your landing page to learn more about your services as well as peruse your online portfolio and read the rave reviews to build credibility. And that requires a top-notch call to action (CTA), namely, a call to action that creates an instant rapport with buyers. Use these 8 tips to optimize your CTA and make qualified leads take notice.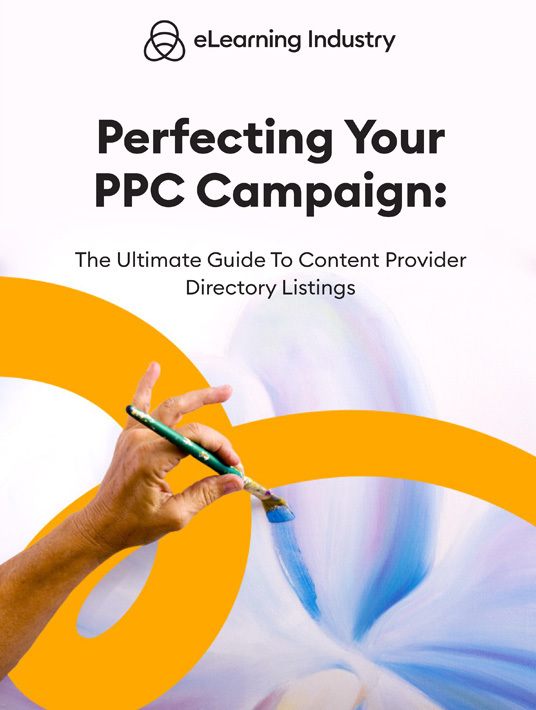 eBook Release
Perfecting Your PPC Campaign: The Ultimate Guide To Content Provider Directory Listings
Learn all the insider tips you need to launch a successful PPC listing.!
1. Pique Their Curiosity With A Question
Kick it off with a question that makes leads think the CTA was written just for them. Pique their curiosity about your eLearning solution and how it can benefit their bottom line. For example, do they need to "reduce seat time and boost employee productivity"? To find out how they have to click on the link. Of course, you can't make false promises. If you include a question in your CTA then you have to follow through on your landing page.
2. Use Command Verbs That Make Them Click
Leads don't want to beat around the bush. They want to know why your company stands out and how you can help them achieve their objectives. Use command verbs to establish yourself as an authority, someone who knows the ins and outs of online training development and all the challenges that come with it. For example, "Visit our site to request a free quote" tells buyers exactly what to do. That said, they should never feel like they're being forced into anything.
3. Cite Interesting eLearning Solution Facts And Stats
There isn't much room in the CTA, but you can still include a surprising statistic or fact to get them to click. Just make sure it ties into your niche and isn't too wordy. For instance, you want to attract more clients from the hospitality sector, so include a stat about low bookings and how it ties into employee skill gaps or on-the-job performance. When using facts and figures, there has to be a cause and effect.
4. Explain Where The Link Leads
Everyone likes a good mystery, but not when it comes to CTAs in the eLearning providers directory. Buyers need to know exactly where they're going and why. Explain where the link takes them so that there aren't any unwanted surprises. Keep in mind that searchers are wary these days due to black hat SEO tactics. As a result, you need to be clear about your intent and what you can offer qualified leads. If you say that it directs them to your portfolio, don't take them to your pricing options page. This is why it's crucial to customize your PPC listing and frequently update your links.
5. Make It Urgent
Most organizations already have a deadline. However, content development companies still need to create a sense of immediacy or exclusivity. As an example, there's only a limited number of spots left in your schedule, or the special offer is only good until this date. Encourage them to click on the link now instead of mulling it over. Chances are, they won't return if they close the page, thus you have to make it urgent so that they take action now.
6. Tie Into Your Content Development Companies Niche
Instead of just telling them to click, mention specific training challenges or goals that tie into the topic, for instance, you need to bring in more product knowledge training or conflict management projects. Include common obstacles that organizations face regarding these training niches. Not only do you show off your insider know-how but you also reach your target market as the PPC ads will show up when companies search for these specializations.
7. Include Positive Reviews
Some eLearning content providers even use positive reviews in the CTAs. Granted, you need to keep it short, so it's usually snippets of success stories. You can also name-drop some of your well-known clients. As an example, you've worked with many Fortune 500 companies, including (insert name here). Just make certain you don't violate any confidentiality agreements in the process. Of course, they can also check out the latest ratings and reviews in your directory listing.
8. Be Personable And Professional
CTAs should be written for humans by humans. All of us have read calls that strike the wrong tone. Maybe they're too formal or even condescending as if the company is judging you or your business decisions. The key is to strike a balance. You want to be professional to build credibility, but you also need to be approachable. Keep it conversational so that leads form an instant connection. In fact, try reading the CTA aloud to make sure it evokes the right emotion. Does it sound like you're "talking down" to leads? Is it too casual?
Conclusion
A call to action needs to motivate leads to click through without pushing them out of their comfort zone. For example, hard-sell language usually makes them feel like you have the upper hand, that they have no control over the situation. It's best to inspire instead of intimidate. Create a sense of urgency without being too forceful. That's the key to generating more leads and making the most of your eLearning company listing with PPC.
Find out why over 30,000 buyers rely on the eLI content provider directory to qualify vendors and maximize ROI. It features user reviews, ratings, and complete training solutions so that you can showcase your company's USPs.
Download the eBook Perfecting Your PPC Campaign: The Ultimate Guide To Content Provider Directory Listings to launch your listing and achieve PPC success.