How To Successfully Implement Learning Analytics In Your Company
To get the most out of your learning management system, you'll need to implement learning analytics in your company. But that's easier said than done. Organizations naturally resist change, and you should expect to encounter barriers to implementing LA (learning analytics) [1].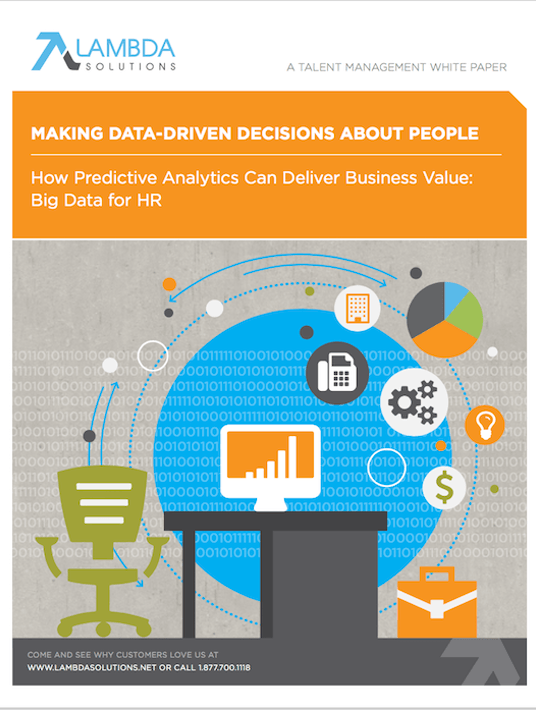 eBook Release
Big Data For HR: How Predictive Analytics Can Deliver Business Value
An eBook for all the questions HR managers can answer with Big Data and predictive analytics.
But if you take a systematic approach, you can dramatically increase your chances of successfully implementing learning analytics. The Rapid Outcome Mapping Approach (ROMA) framework provides a helpful 7‐step approach to implementing LA that you can apply to your organization, no matter what your size, culture, or industry [2]. ROMA is an evidence-based model for policy change [3]. It can help you understand your organization, determine its resistance to change, and identify the resources and stakeholders that can help you succeed.
Ensure your LA implementation is successful—follow these 7 steps to implementing learning analytics in your company.
1. Clearly Define Your Policy Objectives
The most important requirement to effectively making a policy change is to be able to clearly communicate the reason for it. Your objectives should support the overall goal of your company and align with your organization's core values, mission, and culture.
Define very clearly your objectives for implementing learning analytics and the changes you want to achieve. Also consider the kinds of change you will need to implement. Some examples include:
Communication patterns.
Procedures.
Documentation.
Attitudes and perceptions.
Behaviors and habits.
While procedures, documents, and communication require thoughtful planning and significant time investment, attitudes, and behaviors pose the greatest challenges, because these changes require your employees, themselves, to change. Expect some degree of resistance.
2. Map The Context
Mapping the context of your project is critical, because it helps you identify the environmental, political, cultural, and other factors that will have an impact on the outcome of your implementation efforts. Understanding the context of your organization can help you anticipate barriers that you'll need to overcome—as well as allies who can help you succeed.
Mapping the context involves examining the following things:
The context—The people, institutions, and processes that may help or hinder change.
The evidence—How can you convince skeptics of the need for change, and how should you present your case?
Links—People and processes that give you access to influential connections. This is the set of existing networks you can use to help you implement LA.
3. Identify The Key Stakeholders
Your key stakeholders are more than the people who are implementing learning analytics in your organization. They are the ones who will benefit the most from LA. You should be able to identify multiple stakeholders.
Once you know who benefits the most from the use of learning analytics, consider which stakeholders hold the most influence. These could be specific individuals or a group of stakeholder, such as your department heads.
As you identify the top stakeholders, you should also start to gain clarity on your strategic planning and the approach to take to involve, inform, support, and train key personnel.
4. Identify Learning Analytics Purposes
Successfully implementing learning analytics at your company depends on having a clear understanding of your purposes for LA. Learning analytics can fulfill a broad range of purposes, and many won't apply to your organization. However, you may have several valid purposes for using LA in your company.
Examples of purposes for LA include:
Learner awareness.
Monitoring and tracking.
Research.
Evaluation and planning.
Reporting and communication.
Think about which purposes apply to your organization, and which stakeholders they apply to—not all stakeholders have the same needs or goals. Consider which purposes and stakeholders are your highest priorities in order to guide your strategy.
5. Develop A Strategy
A strategic plan helps ensure that your implementation happens predictably and in a controlled manner. Without a strategy, your implementation is much more likely to go off the rails.
Your strategic plan should identify everything that needs to be done in order to meet your goals. It should be informed by the previous steps you've taken up until this point and involve the stakeholders. Develop timelines, and review and update your strategy as needed.
6. Analyze Your Resource Capacity
If you don't have the resources, skills, or personnel to implement learning analytics in your company, you will find yourself in a long, uphill battle. Most organizations will need expertise in areas such as:
Data science and qualitative analysis.
Project management and evaluation.
Database development.
Learning technologies administration.
IT support and interface development.
Analytics design and development.
Learning analytics reporting.
Institutional reporting and business intelligence.
7. Develop A Monitoring And Learning System (Evaluation)
As you implement learning analytics in your organization, continually monitor your progress and make adjustments as necessary. Continual evaluation not only helps you understand your current initiative, but it gives you valuable insight for the future as well.
In this step, revisit your first principles—the original policy objectives and vision—to ensure that they are still relevant and that you're continuing to head in the right direction. At the end of implementation, conduct a review of the overall process and make notes for future efforts.
Successfully Implementing LA In Your Company
Implementing change in any company can be a risky initiative—especially if you don't take the time to understand your the barriers you're likely to face. But you can successfully implement LA even in the most resistant organizations, if you plan well and take advantage of the people and resources at your disposal. Follow these seven steps to help ensure your implementation project is a successful one.
Want more resources for successfully implementing LA? Check out our on-demand webinar on implementing learning evaluation. Or contact our eLearning specialists to get expert help.
References
ROMA
Related Articles: