How To Implement The Social Learning Strategy In Your Corporate Training
Social learning is intrinsic to all of us and all of us learn through collaboration, observation, and interactions with others. It can be defined as learning with and from others. From the discussions that we have with each other in the cafeteria to the more sophisticated interactions on social media and blogs, we all engage in some form of social learning or other in our daily life.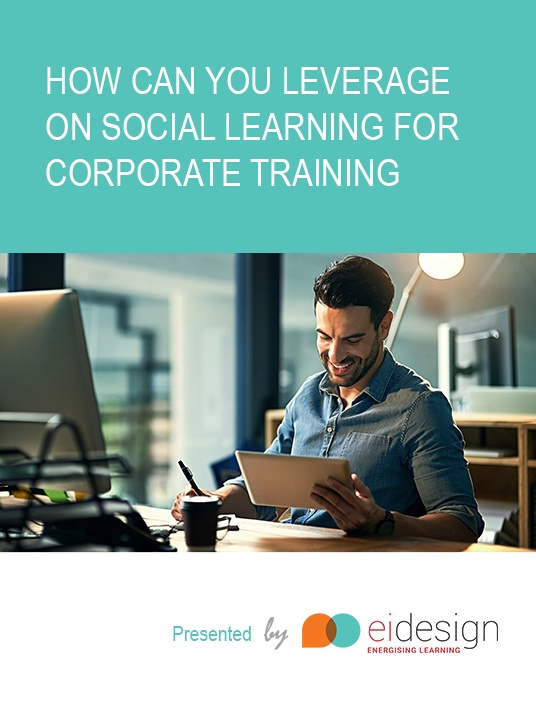 eBook Release
Get the eBook How Can You Leverage On Social Learning For Corporate Training
Download and learn how to integrate Social Learning as a significant part of your corporate training.
The idea of collaboration and social interactions has always led to positive outcomes and higher impact. No wonder social media sites such as Facebook, Twitter, LinkedIn, and the like have a ubiquitous presence today.
When applied in corporate trainings, social learning can work wonders for you as a learning strategy. There's more to social learning than just bringing in social media elements such as comments, posts, instant messaging, group discussion boards, wikis, video chats, and so on in your corporate trainings.
To be meaningful, it needs creating a semi-structured approach to foster collaboration among learners. This can be done through virtual communities that can serve as a platform for them to share knowledge and ideas besides encouraging them to contribute with more inputs to your existing knowledge repository.
How Effective Is Social Learning In Helping Learners Learn?
There are no two ways about the fact that the concept of social learning works. While the success of various social media platforms today is proof enough, I would like to substantiate this further with the help of two theories.
NOTE: To integrate social learning effectively into your learning strategy, we should use cues from these two theories. In the case study (featured at the end of the article), you will see how we have integrated many of these aspects to create an effective social learning platform.
Social learning theory: According to Wikipedia, the social learning theory "is a theory of learning and social behavior which proposes that new behaviors can be acquired by observing and imitating others. It states that learning is a cognitive process that takes place in a social context and can occur purely through observation or direct instruction, even in the absence of motor reproduction or direct reinforcement".
Bandura and Walters, the key proponents of this theory observed that:
Learning may not always be behavioral. It is a cognitive process that takes place in a social context.
People learn by observing a behavior or its consequences (vicarious reinforcement).
Learning is a product of observations, extraction of information from those observations, and interpretation of the behavioral performance (observational learning or modeling). It is not necessary for an observable behavioral change for learning to take place.
Mere reinforcement does not suffice when it comes to learning although it does play a key role in the learning.
Learning does not happen in passivity. It is a result of a coordinated impact of cognition, environment, and behavior (reciprocal determinism).
Active Learning: Simply put, the active learning theory is all about getting learners to involve more directly in the learning process. It started surfacing as a topic of serious discussion after it appeared in a report by Bonwell and Eison published by the Association for the Study of Higher Education (ASHE) in 1991. One of many aspects that the report throws light on includes the significance of students playing a more active role in learning (by way of reading, writing, taking part in discussions, solving problems, and so on) as opposed to mere listening.
According to the duo, through active learning, learners get to:
Do things.
Think about the things that they are doing.
What Are The Benefits Of Social Learning?
Integrating social learning in your learning strategy has benefits for both learners as well as the business. Social learning can enhance the learning experience and result in a positive outcome both in terms of the success of your learning initiative and a positive ROI.
Let's see the value it offers to the learners and to the business.
The Learner Perspective
How learning happens: As per the 70/20/10 model for Learning and Development, learners obtain:
70% of their learning from on-the job experiences.
20% of their knowledge from interactions with others.
10% of the learning from structured or formal training.
It is here that social learning comes in as a key enabling factor for learning as it triggers learning through collaboration with peers on the job and interactions with others.
Specifically:
Social learning empowers learners: Sometimes all it takes is one little tip or a piece of advice from a fellow colleague to help you re-focus on your work or get the job done faster in the workplace. Collaboration and interaction help learners learn better. This way, social learning not just helps learners retain the learning but also helps apply that learning on the job.
Appeals to Millennials: Millennials are poised to take over as the majority of the global workforce in a few years and they are the future of organizations. This generation loves social media and social learning. They use social media more (59%) than others (29%) and are likely to relate to social learning more than people from other generations.
The Business Perspective
There are advantages for businesses as well, as social learning:
Facilitates learner engagement.
Brings about self-organization among learners.
Triggers collaboration.
Can be used to supplement all kinds of training needs and enhance the impact of new initiatives such as Change Management.
Why Does It Make Business Sense To Adopt It?
Apart from the 70/20/10 model for Learning and Development, social learning theory, and active learning theory, there are other factors as well that make a great case for integration of social learning in your learning strategy.
Consider this:
The ratio between social learning approaches and web-based training is 75:1, proving social learning to have a huge advantage. (Association for Talent Development)
There was an increase in the course completion rates (85%) on HBX, a Harvard Business School new online education initiative after social learning was introduced. (Harvard Business Review).
According to a survey, 73% of the companies expressed their desire to increase their focus on social learning and more than 60% wanted to see their employees interact with learning resources on a daily basis. (Brandon Hall Group)
Cisco's move to use social learning was a huge success (there was a 98% employee adoption rate in the first year) and 80% of the learning content was socially generated. (Chief Learning Officer)
AMD, a semiconductor manufacturing company, saw their social learning strategy yield positive results as it saved them more than USD 250,000 annually in web-based training production costs. (Kenexa)
With a majority mandate, social learning is clearly a winner. 82% of organizations who have tested waters with Social technology want to use them in the future. (Accenture)
Are There Any Approaches That Can Be Used To Craft Your Social Learning Strategy?
Factor for the following steps as you begin the process of integration of social learning into your learning strategy:
Step 1
Assess the readiness to adopt social learning: This is the crucial strategy point and this assessment needs to nail the readiness of the organization, learners, and how the current training programs are being offered. It makes sense to pick programs that need social interaction and collaboration as pilot programs and build from their success to create a wider net.
Step 2
Quantify the gain you want to achieve and leverage on early adopters: Very often, social learning will support your primary, formal training. It is vital to identify what gains the approach of social learning would bring to the organization. Continue to focus on the value this would create and you will see the required gains over time.
Some initiatives like Change Management can benefit  substantially through it. You can use early adopters of the initiative to share their positive feedback and recommendations to their colleagues, and see the acceptance of the new concept increase.
Step 3
Use social learning platforms rather than a LMS: Instead of a LMS, opt for specialized platforms that provide better interactions between users and feature capabilities like:
Richer usage of the existing knowledge base.
Content curation (including learning paths).
Discussion forums.
Access to experts to coach and mentor.
Facilitate sharing of experiences and learning.
Create communities of interest.
Encourage learners to contribute and enhance the knowledge base.
Step 4
Improve the access to information: Unlike formal training, you can now ensure a speedy update or dissemination of new information.
Step 5
Provide and take feedback: Use the platform to schedule formal feedback sessions from the learners (what is working, what is not, and what can be done to improve the interactions and collaboration). Also use Analytics to check the progress (or a lack of it) and re-strategize to meet the intended goal.
Where Can You Apply Social Learning?
Some areas that find a better alignment to social learning are:
Group collaboration projects.
Group discussions (moderated).
Coaching or mentoring.
Knowledge share sessions.
Design thinking workshops (for specific problem-solving).
Social polls and surveys.
Are there any success factors that can help entrench social learning effectively into an organization's learning culture?
Adopting these simple measures will help you see the culture of social learning take roots and grow:
Identify champions who can advocate this (create awareness, create a buzz, and so on).
Identify people (leaders or managers) who are looked up to and who can implement the
Social learning based approach to create early success stories.
Identify people who can conduct peer-to-peer trainings.
Leverage social media to inform, update, and connect.
To showcase how you can integrate social learning into your existing corporate training, I now share a case study.
Case Study: Our Internal Social Learning Portal
At EI Design, we have a social learning platform that we rolled out with an intention to create a collaborative work environment, help team members interact with each other, create communities of learning and practice, and provide a platform for our employees to receive on-the-job support.
Some of the highlights of this solution are:
Personalization.
There is an element of personalization in our solution as employees can upload their photo, provide a description about themselves, and provide their personal details (birthday, address, Facebook URL, Twitter URL, and so on).
The concept of "Spaces".
Employees can trigger and take part in focused discussions in dedicated forums or "Spaces", where they can ask questions, get their doubts clarified, or simply go through/share content relevant to that particular "Space".
Social media features.
The platform comes with features found on most social media, such as Comment, Like, Follow (user to user, user to space, user to content), Tag other users, embed and share YouTube videos and other media (text, images, web links, and so on) in the platform, and so on.
Option to make friends/invite others.
The platform enables employees to make friends with other users and follow them. They can look up the Directory to search for people and send them friendship invitations. The Directory can also be used by employees to look for Spaces and enroll in the Space of their choice.
Emails and notifications.
The platform comes with an in-built email feature that can be used by employees to send individual emails to other users on the platform. When they receive a mail, a friendship invitation, or invitation to join a group or Space, they will get notifications as well.
The impact: The platform helps our employees to:
Reach out to their peers for help anytime they want.
Receive on-the-job support.
Interact with other team members.
Know more about our processes/organization-related initiatives in a simple, informal way.
Be part of a collaborative work culture.
Relate to the solution because of the personalization aspect.
Get better on their job by enhancing their knowledge and skills.
You can also take a look at this video to see how this solution works.
I hope this article provides the required insights on social learning and why you should implement the social learning strategy in your corporate trainings. The tips, best practices, and the case study shows you how can you go about it. If you have any specific queries, do contact me at [email protected].
Also Read: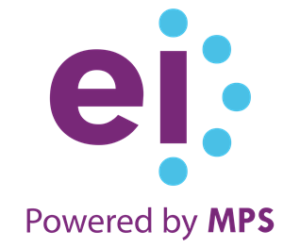 EI
EI is an emotionally intelligent learning experience design company that partners with customers in their Digital Transformation journey.