Leadership And The Organization Digital Heartbeat
Organizations have become larger, more geographically dispersed (locally and globally), and now operate more remotely, with more people working from home and important meetings happening videotelephonically. Effective leaders are physically, mentally, and spiritually in sync with their organizations and vice versa. They understand the importance of having employees who put their "heart and soul" into their jobs and know that this will only happen if they put their "heart and soul" into leading their people. But, the desire of great leaders to always "have their finger on the organizational pulse" has become so much more challenging. We have developed the concept of the organization digital heartbeat™ to assist leaders to "keep their finger on the pulse" of their organizations and use LMSs as a key strategic tool in doing so. Whilst our process has been tried, tested, and iterated over 30 years, it is the latest LMS technology that leverages it strategically. This article refers to our process only for illustrative purposes and specifically to motivate the common sense of developing this kind of holistic, inclusive approach for the organizations that the readers work for.
What Is An Organization's Digital Heartbeat™ And How Can Understanding And Measuring This Help Leaders Be More Effective?
An organization's digital heartbeat is the measure of an organization's health and fitness to perform. It is the outcome of input gathered digitally via the organization's Learning Management System (LMS) from each and every employee and presented graphically in an easy-to-read, easy-to-understand manner. This process is explained in a recent article "Zoom Into The Future With A Videotelephony And LMS Technology Partnership."
Importantly, the opportunity exists to leverage the organization's LMS to be an invaluable, strategic leadership toolbox. Again this was touched upon in an earlier article "Beyond Current LMS Myopia: The Future Lies In 360° Support Systems."
This article will concentrate on a holistic approach to leadership, specifically as it pertains to their role as custodians of organizational health and performance, as expressed by the organization's Digital Heartbeat™. Of course, it is our contention that LMSs have a key role to play in supporting leadership effectiveness.
Leadership Simplified
A picture is worth a thousand words. In simple, holistic terms, the role of leadership groups is that of being the custodians of organizational health and performance. In the diagram below, we use a human metaphor to describe the role of leadership as it pertains to the 5 key dimensions that work in sync to build sustainable organization health and performance: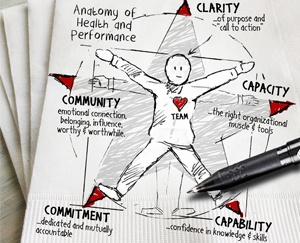 The role of leadership consists of 5 key dimensions that together, when aligned and in sync, build sustainable organizational health and performance. As such, we have developed the 5C model to explain and contextualize these 5 dimensions of leadership.
Clarity is symbolically illustrated as the head, representing an intelligent, whole-brain approach to excellence.
Community and Capacity are symbolically illustrated by the hands, representing their role as the enablers of performance.
Commitment and Capability are symbolically illustrated by the feet representing their role as the drivers of performance.
Some leaders are naturally inclined to be enablers. They build a strong sense of community in their organizations and put in place structures, systems, processes, and ways of working to enable their people to fulfill their roles. Other leaders are more naturally drivers of performance. They concentrate on hiring and developing highly capable people and committing them to excellence in the pursuit of organizational performance. However, sustainable organizational health and performance are only optimized when all 5 dimensions are aligned and in synch, simultaneously.
Clarity is the leadership role of providing clear organizational purpose together with a leadership compass that clearly defines and contextualizes the Call-To-Action required of all employees. Capacity and Capability are the key dimensions of the operational systems required to deliver the organizational Purpose, given the chosen strategy. Together Capacity and Capability form the tangible asset base of the organization. Sense of Community and Commitment are the key dimensions of the human systems that engage employees to fulfill the organizational Purpose, and together they form a very powerful intangible asset base. See my previous article, Sharing A "Eureka" Insight, in this regard.
Let's examine some aspects of these leadership dimensions, by way of example, specifically looking at the strategic role that LMSs can play in assisting leaders to keep a finger on the pulse of their organization's digital heartbeat. And, then to provide a toolbox to enable leaders to keep their organizations healthy and fit for purpose.
Clarity
Clarity is the organization's compass and as such informs all key decisions, critically those relating to the development and execution of strategy. Strategy is about the choice of how the organization's Purpose will be delivered.
LMSs can play a key communication role in ensuring that each and every employee is clear on the organization's Purpose and the role of their team and their own role in fulfilling this Purpose, given the chosen strategy.
LMSs can also play a key role in ensuring that the goals/objectives of each and every team are aligned with overall organizational goals/objectives. Importantly, the organization's LMS can provide a dashboard that gives leadership, at any time, an up-to-date view of every team's progress against key objectives/goals and initiatives that are critical to the overall delivery of organizational health and performance in any specific period.
Capacity
The design and development of Capacity follow strategy. Capacity is about having the means (human and institutional capacity) in terms of resources, structures, and systems to do what needs to be done through the operational plan to deliver the strategy.
The leadership role is to ensure that the disciplines are in place to efficiently and effectively convert capital to institutional capacity. Unique, fit-for-purpose structures, systems, formulae, processes, and ways of working need to be meticulously documented and stored in a manner that they can be easily accessed as micro-support programs to assist employees to do their jobs/solve problems in their moment of need, without leaving the workflow. In this regard, the organization's LMS can be an invaluable bank vault for Capacity.
Capability
The strategy chosen to deliver the organization's Purpose informs the required capability sets.
The organization's LMS can play an invaluable role as a platform for documenting and developing required capabilities. It can also be used to facilitate 360-degree feedback and coaching for employees. A previous article, "The Ultimate Technology Blend To Support A Coaching Culture," explains how this could work.
Sense Of Community And Commitment
Sense of Community and Commitment are the 2 key leadership dimensions that combine to form the human systems that are so vital to sustainable organizational health and performance. It is the leadership effort in this area that is rewarded by the development of a powerful intangible asset base as explained in this previous article, "Sharing A "Eureka" Insight."
LMSs can facilitate online surveys to continually assess the sense of community and levels of employee commitment present in the organization. In addition, the LMS can then support team leaders with a toolbox to help them develop areas of opportunity within their teams and thus cumulatively for the total organization, to continuously build, maintain and sustain the organization's intangible asset base.
Call-To-Action
Leaders, in today's times it is easy to lose touch with the "heart and soul" of your organization! Ignoring this possibility and failing to mitigate it will lead to surprises, and sadly not good ones. Hopefully, this article will resonate, especially when it comes to the strategic opportunities that LMSs offer in this regard.