L&D And The Secret Of Digital
Technology tools, as we know them today, have proliferated Learning & Development (L&D) since the days of the overhead projector. eLearning arrived with the promise of replacing classroom training and with the LMS to eliminate administration.
More than 20 years since then, L&D is grappling with even more tools, thousands of vendors, and a limited appreciation of what "digital" really means—at a time when it seems to be the number one threat and opportunity for businesses, globally.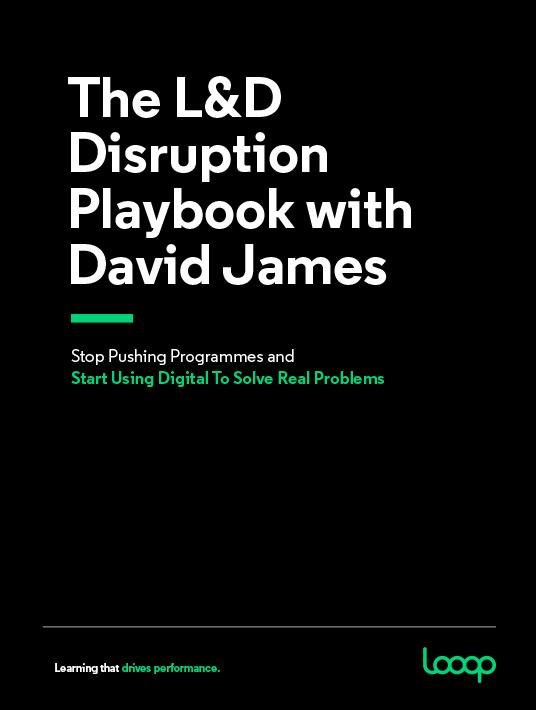 eBook Release
The L&D Disruption Playbook
The ultimate guide on how L&D can stop pushing programs and start using digital to solve real problems.
But what does "digital" mean? Has L&D been doing digital in its use of the LMS and eLearning? The short answer is "no."
L&D Is Being Revolutionized, If Not Totally Disrupted, By Digital
There is a clear distinction between technology-enabled learning and digital. Individuals and organizations are feeling this to the extent that older technologies never achieve. L&D is being revolutionized, if not totally disrupted, by digital—and L&D must decide in the short term whether that disruption is going to come from within or outside of the profession.
This article looks at what it will take to disrupt L&D from within and how embracing rather than fearing—or avoiding—digital will transform the impact of the function for the benefit of every employee in our organizations.
What's A Digital Learning Strategy?
Your digital learning strategy is markedly different from any online learning strategy you may have drafted previously. This is due to the limitations of eLearning since its inception: the predominance of the classroom, and the potential for digital, now, to disrupt and elevate corporate L&D.
Digital, in the context of L&D and beyond, means something fundamentally different from technology-enabled learning. Josh Bersin described it as "bringing learning to where employees are" and in ways we would not traditionally recognize in L&D. Myles Runham, formerly digital consultant of BBC, has said the following about the subject:
I have wondered why [L&D] has changed so little despite the use of so much technology and so much use of the word Digital. My hypothesis… is that technology has become a place to hide for L&D in a digital world. Various forms of LMS vendors, content authoring tools and systems, and eLearning content suppliers [...] dominate the exhibition floor of the Learning Technologies event. At the risk of sweeping generalization, these are technological developments to simplify and add efficiency to training.
Digital learning is not about where and how to learn—the fundamental focus of L&D is changing. Andy Lancaster, Head of L&D at CIPD, describes:
A new learning paradigm for L&D practitioners and a move away from occasional face-to-face learning sessions to learning that is embedded in the organization. L&D teams must now focus on specific business needs, which requires a performance consultancy approach with the involvement of leaders in order to translate goals into development actions.
The opportunity for digital in L&D is huge. It is not simply the consideration of technology-enabled learning overlaying an existing L&D offering. It's a fundamental redesign of how employees experience L&D, for purposes important to them. This is because digital means user-centricity at its very core, and every level thereafter.
How Digital L&D Is Different From Traditional L&D
Download your copy of the "L&D Disruption Playbook " to learn more!
Digital often seems unattainable, and almost alien, to a lot of L&D professionals.  It's because we're so used to using technology to push programs and courses. But it's actually easier, cheaper, faster, and better to run experiments rather than programs, and this begins with key digital learning principles, which we'll delve further into in part 2 of this series.
Originally published at www.looop.co.