The Most Important Building Blocks
Traditional L&D is often based around generic principles and processes that provide no real value to the learner. However—as we discussed in part 1 of this series—it's actually easier, cheaper, faster and better to run experiments rather than programs. This begins with 4 key principles that underpin any digital learning strategy.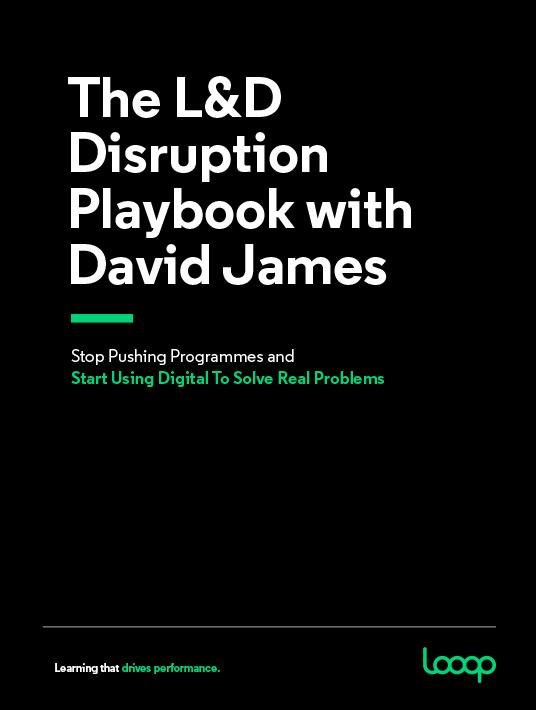 eBook Release
The L&D Disruption Playbook
The ultimate guide on how L&D can stop pushing programs and start using digital to solve real problems.
The 4 Key Principles That Underpin A Digital Learning Strategy
1. Engaging
Where traditional L&D goes wrong is that it's believed that novel "solutions" are sufficient. Whether it's animated, has crass "interactivity" (with drag-and-drop or "reveal boxes"), or a facile "edutainment" game (that's more a distraction than a useful tool), it's not sufficient.
To engage workers, we must bust the myth that all we need to provide is good content and, instead, offer support and guidance in relation to their work.
This starts with being where they are, situationally, and providing access to resources when they need them, and conversations when it's convenient and important to them. But instead of making assumptions about their situation, we must talk to them and understand their journeys, where they are finding challenges and any other points of friction. Without engagement, you have nothing. If you can't interest your clients enough in what you offer—of their own free will—then you cannot meaningfully and sustainably influence their work.
2. Agile By Design
Agile is not just about speed and flexibility, it means solving real problems with and for the client. Agile also means giving the client something to help in the short term (a minimum viable product) and making it better based on feedback and iterations.
Any decisions on content, platforms and other technology are also made in an Agile sense, testing that they solve real problems, in the context of jobs, roles, teams, responsibilities, and outcomes. Experimentation is key at this stage to ensure that what is scaled is working for a smaller group and can be iterated on and replaced when it's no longer delivering the intended value.
3. Digital Resources Before Courses
In the context of L&D, resources help distinct groups of employees do the actual work they're tasked with—in a way that is expected and that benefits the organization—and prepare them for the work they want to be doing at their company. Resources do this by packaging up what internal Subject Matter Experts know and do in a form that others can easily digest and then perform with greater competence and confidence.
It may seem fanciful or hugely time-consuming to create digital resources that appeal to distinct employee groups, rather than eLearning for the masses. But it's not. Technology today makes this very easy and this "resources-first" approach also changes the conversation in the organization from "What training do we need?" to "How can we support our people to deliver the most important priorities for this company?"
Digital resources have the potential to support and guide workers every day, as they assimilate to roles, solve common challenges, influence others, develop applicable technical know-how, and gain the insights that have served their experienced colleagues well. When this is the case, face-to-face events supplement the continuous digital experience.
4. Data And Analytics
Last but not least of the digital learning principles, this is often misunderstood. Using the right data and analytics ensures that the most valuable things are worked and that investment in solutions is the one that will make the required difference.
Data at the outset is elicited at the engaging stage, it informs design, it's gathered during experiments and testing, so before any big decisions are made, data is informing direction and progress. Data is the friend of any digital professional—and its use in L&D will help scale only valuable solutions, limit risk, reduce cost, and demonstrate real value to stakeholders.
Josh Bersin describes the importance of these digital principles perfectly. He states:
Digital learning requires a new set of skills, capabilities, and thought processes in HR and L&D. It's no longer enough to consider yourself a trainer or Instructional Designer by career. While Instructional Design continues to play a role, we now need L&D to focus on experience design, design thinking, the development of employee journey maps, and much more experimental, data-driven solutions in the flow of work.
Download your copy of the "L&D Disruption Playbook" to learn more!
Clearly, the opportunity to influence day-to-day performance and increase capability with the right digital processes is huge. The next article in this series will dive deeper into what steps you need to take to develop a digital learning strategy. Stay tuned!
Originally published at www.looop.co.