Digital Learning Strategy - Developing Your Way Of Thinking
Digital is not the technology arm of a blended learning approach. It's a way to think about the whole approach to supporting and guiding employees—recognizing that L&D could, potentially, influence and enhance every worker, every day, in their organization and the way they develop their digital learning strategy.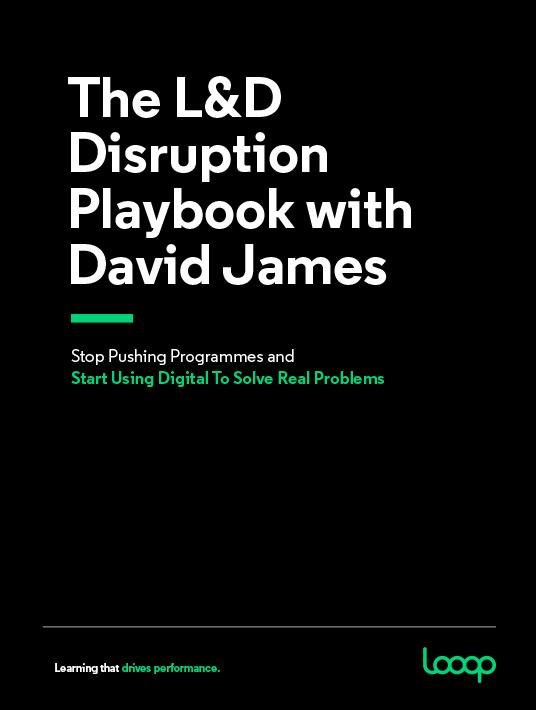 eBook Release
The L&D Disruption Playbook
The ultimate guide on how L&D can stop pushing programs and start using digital to solve real problems.
Aligning L&D To The Business
A common issue in L&D is not aligning with the business, and the desire to do so is palpable. But how can a function, whose role it is to support individual and team performance and organizational capability, not be aligned with the business? The problem stems from seeking learning needs when the business is seeking to achieve results, whilst individuals are trying to do their work and improve their prospects.
Digital Means Being User-Centric (Which Doesn't Mean What You Think It Does)
Too often, L&D attempts to retrofit a suite of programs to the business strategy instead of recognizing how individuals and teams are actually working on achieving their part in it. For example, if a large chunk of L&D's time, attention, and budget is tied up in running a regular schedule of core-skills courses, then it's almost unquestioned that there is misalignment. "Under scrutiny, programs are often run regularly instead of solving the real problems for the vast majority of an organization's population."
Digital means being user-centric, starting with the people and the things they are trying to do and achieve, which may seem daunting and potentially overwhelming due to the sheer number of employees in your organization. But solving one problem at a time in this way means that, once solved, it's possible to scale what really works and automate it with the right tools. A little investment at the outset will have you reaping the rewards in time—attention and money that you won't be spending in the same way again.
Adam Harwood, Head of L&D, D&D London says:
In my experience, it's all about putting your users first by focusing closely on the problems they are facing. Once you know the real friction points that exist, you can then address them by building digital resources (not courses) that provide know-how and support at different stages of the employee journey. I took this approach at ASOS, at Revolut, and now at D&D London for many initiatives, including getting new starters up to speed and guiding first-time managers who were new to the role. These resources were designed with our people, for our people. We worked with them to understand their friction, we tested our resources to make sure these got us results, and we iterated based on what we learned. But we involved our people from the start. There is no grand reveal. Since then, I've found that approaching digital learning in this way simply means you knock things down quicker, it's lean and you can operate at the same speed as the business. Start with the problem. Run a series of short sprints with the target audience. And in a matter of days, you've got a minimum valuable product (MVP) to address real points of friction. You then scale what works based on what really solved a problem. In comparison, the traditional method can take months when you consider the stages you'd go through, from sourcing vendors, designing courses and then scheduling them. But it's really not just about the time saved. Being user-centric like this means you're not making assumptions on what your people need to know, you're asking them throughout and, for me, that will always come out on top when you're trying to address people's actual challenges. Digital is so much more than plugging in technology. It's not about putting stacks of content in an LMS—I've learned the hard way that this doesn't solve anyone's problems. It's about getting as close as possible to your people and the work they are doing, helping address specific points of friction, and getting results. That's where you can make the biggest difference.
A Friction-Free Employee Experience
The potential for digital allows L&D to rise above "periodic programs" and to focus on friction-free employee experience. Your digital learning strategy should recognize what will help you achieve this and what is now holding you back. By focusing on distinct groups of employees, it's possible to recognize real friction points and work with them on resolving this friction in the most efficient and effective ways. Distinct groups of employees may be first-line managers, new starters, front-line sales, budget-holders, etc., and friction-free experiences will help them deliver the results they are accountable for as efficiently and effectively as possible. That's it.
Friction points, for these and other groups, manifest at all stages of the employee journey and often arise when situations occur for the first time.
Examples may include:
When trying to establish yourself during your first few weeks
When being asked to deliver a presentation for the first time
When hosting your first project review meeting
Having to manage somebody who doesn't like you
Not having your new ideas adopted
When having to re-forecast your budget
User-centricity while developing a digital learning strategy means putting those you are helping at the center of your focus: who they are, what they are employed to do, what they are trying to achieve, and where they are experiencing friction. But the elephant in the room is: If your digital learning strategy involves creating friction-free employee experiences, then how do you do this for thousands, even tens of thousands of employees? L&D strategies usually start from the top-down and include the launch or implementation of a common, company-wide offering. This is also where most L&D initiatives fail, having not started with the people they are there to influence.
How To Scale—Start Small, Win Big
Old-world thinking is that you have major initiatives that take months to design and implement. New-world digital thinking means gaining momentum through shorter "sprints," which are smaller projects or experiments that start reducing friction immediately for quick wins and valuable data.
Download your free copy of the  L&D Disruption Playbook to learn more!
Achieving friction-free employee experiences requires accepting rapid innovation as the new normal, while also understanding that customers must be the focus of these agile-styled experiments to gain understanding. Iterating in small parts using an agile methodology will help you achieve quick wins and solid data. You can start this now with smaller test projects, using agile methodology and learn as you go. Then scale from there.
The next article in this series will dive deeper into what steps you need to take to execute a digital learning strategy. Stay tuned!
Originally published at www.looop.co.