The LMS Compatibility Conundrum: How To Choose A User-Friendly LMS That Fits Into Your Current eLearning Toolbox
Purchasing the latest and greatest software on a whim just isn't good business. It may be faster, slimmer, and shinier, but it's also an added expense. Sometimes, expenditure is relevant. Other times, getting tools that clash with what you already have will cost time and money. You have to onboard the new LMS software, and it might have glitches that cancel out your active eLearning toolbox. Before you make any purchase, you need to test it for efficacy, relevance, and compatibility with your current digital framework. Here are 7 tips to choose a user-friendly LMS that meshes with your current eLearning toolbox.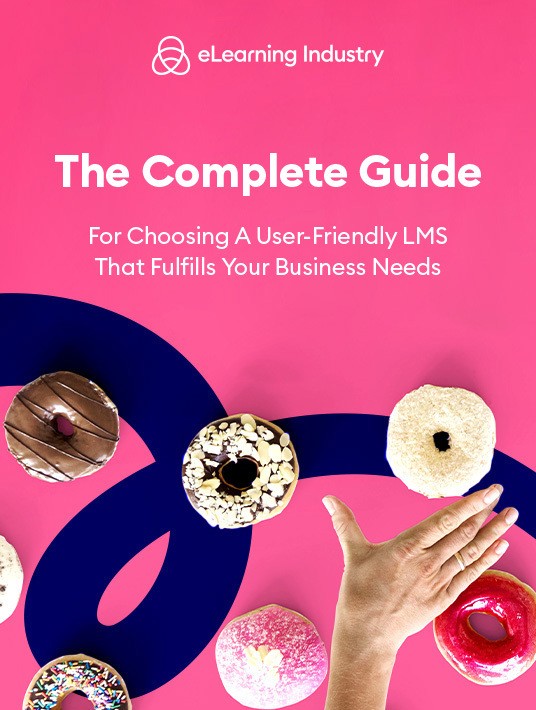 eBook Release
The Complete Guide For Choosing A User-Friendly LMS That Fulfills Your Business Needs
Discover the importance of the Net Promoter Score, how to use LMS user reviews & ratings to find the ideal LMS, the importance of LMS Perceived usefulness and its impact on work performance and L&D ROI.
1. Start With Features
Think about your LMS requirements in comparison with any eLearning and operational tools you're already using. Can your current software be adjusted or tweaked to cover additional functions? You might even list the must-have features that you're already utilizing. Armed with this shopping list, explore what's on the market. Look for an LMS that offers everything you need, then see if they mention LMS compatibility with your current software. This will cut down your options immensely. It will require a transition, but if it reduces your overall cost, it's worth a glance.
2. Ask Your Current LMS Provider
Customer support isn't just for glitches and billing. They can give you all kinds of helpful information, if you just know what to ask. Suppose you've noticed a feature is missing from your active CRM or automated billing software. You could ask them if they offer it elsewhere, or if they know a related product that does. By the same token, they can tell you if they know of any user-friendly LMS that works well with their software. Many developers work on multiple products, so it's possible their firm produces an LMS that is relevant to your organization. They may even customize it for you since they're familiar with your requirements. Likewise, you can also ask the LMS vendors you're considering whether their platform supports third-party tools you already own or even include it in your LMS request for proposal.
3. Check For Partner Software
Your primary shopping spot for LMS is online. As you browse your target site, look for their affiliates and partners. You're keeping an eye out for specific patterns. They should have testimonials from reliable companies. They might also have mentions, recommendations, or links to a product you're already using. This is a clear sign that their tools can work together without countering each other's functionality. If you're lucky, you might even spot a package deal. It could offer preferential prices to users who already have your current tools.
4. Sign Up For Newsletters And Social Media Groups
We often sign up for mailing lists and product updates without giving it much thought. But it can be an effective way of spotting key resources. Run through your corporate email, unsubscribing from any fluffy content. Then go on a deliberate hunt for relevant industry mailers. You can ask colleagues for recommendations. Being on the right lists will keep you up to date on new LMS and can even get you discounts. As an early adopter, you get a better price, or even a beta deal. You can also join social media groups and pages where you can find out about recent partnerships or ask other users their opinions regarding LMS compatibility.
5. Do A Test Run
LMS sites have detailed descriptions of their tools and features. However, you won't know how suitable it is until you try it out. Fortunately, many LMS products offer a free trial before you sign on. Some may require a credit card on file. The idea behind this model is to automatically bill you once the LMS trial is over. If you must provide your payment details, remember to cancel the trial if you choose not to buy. During the LMS free trial or demo, develop a sample project that requires commonly used tools. Invite your team to try out the system in a practical context. Then gather their feedback to see how well it meshed with existing software. If they encountered any LMS compatibility issues, bring them up with the vendor to see if they can be easily addressed.
6. Research Online Reviews And Ratings
Online reviews and ratings from past/current users are a great way to vet the vendor and the LMS's compatibility. Users can shed light on which tools they used with the system and if any replacements were required. You can also delve into the other aspects of the platform, such as how easy it is to migrate your data or the overall LMS User Experience. Don't just stop at the Net Promoter Score or satisfaction rating, though. Be sure to read detailed reviews so that you get the complete picture and avoid buyer's regret.
7. Use An Online Directory To Scope Out The Specs
An online directory can help you determine if your tool of choice supports the desired delivery formats and complements your existing software. As an example, eLearning Industry's LMS directory highlights the platform's supported specifications (AICC, SCORM 1.2. etc.), browsers, and even use cases.
Investing in a user-friendly LMS for your organization is a smart move. But it can be costly if you don't do it right. You want your Learning Management System to blend in with the software you're already using. Otherwise, it could end up being redundant, or worse, counter-productive. Start by listing the features you already have so that you don't double up. Then talk to the software providers you're already using. They can advise you on what works well with their product. Finally, take a free trial to see how it fits into your current set-up.
Are you in search of an LMS that offers the best LMS User Experience at a price you can afford? Download our free The Complete Guide For Choosing A User-Friendly LMS That Fulfills Your Business Needs to learn everything you need to know to find a well designed and usable LMS that fulfills your business needs. It also features tips to improve the LMS User Experience for your corporate learners and explores the ways that you can evaluate the LMS User Interface during your free trial or demo.