Gamification In Higher Education
When the Thomas S. Kenan Institute for the Arts in Winston-Salem, North Carolina, launched a 3-course certificate program, there was a lot of excitement around eLearning gamification as one of its most promising tools.
Kenan, part of the University of North Carolina School of the Arts, envisioned its Creative Catalyst Certificate program as a cost-effective, flexible, and innovative continuing education experience that would encourage artists of all disciplines to translate their intrinsic skills and creative practices into new experiences and professional opportunities. As would be expected, leadership at the art school was open to innovative and creative approaches. Kenan students were largely a combination of community-based artists and traditional undergraduate art students.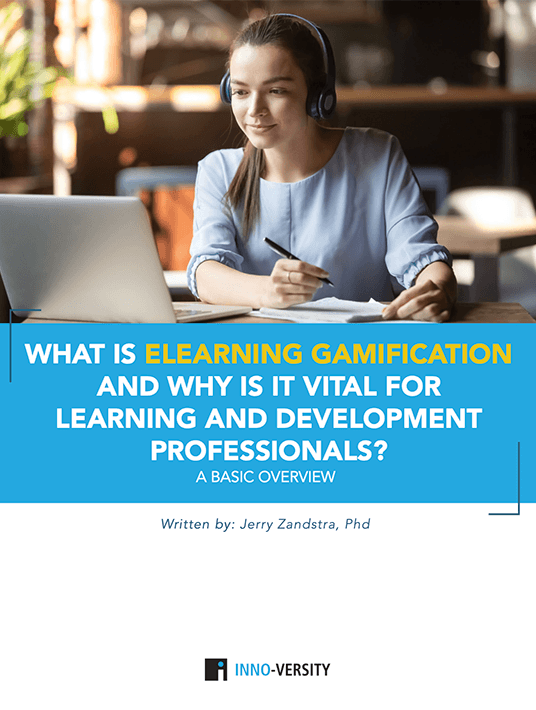 eBook Release
What Is eLearning Gamification And Why Is It Vital For L&D Professionals?
Learn how to bring gamification into your learning with solid theory and great case studies.
The Creative Catalyst Initiative faced challenges at two levels. First of all, Kenan students largely lacked the business skills that would allow them to commercialize their abilities. Students who had graduated the program regretted that they did not have the practical business acumen to make solid professional decisions. The learning provided going forward would need to fill this gap and give participants clearly marketable skills.
What's more, learners came from both the traditional undergraduate programs and the community. Many community learners had no traditional art training, were from an older demographic, and did not have experience using university technology or a Learning Management System. Some learners were unaccustomed to academic work but needed to work collaboratively with undergrad students. Any approach would need to take account of both types of learners in the program and ensure that all felt included and able to participate fully.
Kenan Institute Implementing Courses With Gamification Elements
Kenan Institute for the Arts partnered with Inno-Versity to develop this comprehensive series of courses with gamification elements. Expectations are high at the University of North Carolina regarding both educational excellence and technical expertise. With 240,000 students, 13,000 faculty members and 17 campuses, UNC confers the majority of all baccalaureate degrees in its home state. Its student body presents a truly global community. The University's School of the Arts, where Kenan is based, was the first public arts conservatory in the United States when it was founded in 1963 and offers 5 professional schools: the School of Dance, School of Design and Production, School of Drama, School of Filmmaking, and School of Music.
In the eLearning project developed for Kenan, students worked out a detailed business plan and a portfolio of their work. That portfolio was assembled with the help of fellow students, who also served informally as a peer review panel. Social media collaborative learning, using tools such as Instagram, was built into the program. Students use social collaborative learning to communicate virtually within course activities but also to provide feedback on business plans and portfolio items.
The courses make use of the best of adult learning theories and practical application gleaned from the years of Inno-Versity's hands-on experience. There are 3 courses in the certification program and each takes 10 weeks to complete. The material developed was visually appealing, specific to the project and its demands, and thoroughly collaborative. Custom art and graphics were developed including hand-drawn images and 2D and 3D art that evolved across the 3 courses. The objectives were practical in that they ended with the creation of a business plan.
The modules also make use of game theory activities to keep students engaged with the subject. These present a learner with choices and feedback that enhance engagement and build deeper learning for a specific section of a learning module. Kenan and Inno-Versity chose to build the courses with game activities. If asked, the learners would not describe what they did as playing a game. But a solid game theory was baked into all learning activities for the sake of learner motivation and engagement.
Techniques For Gamification In Higher Ed Courses
There are multiple opportunities for real feedback within the course from peers and expert instructors. Every week participants had to critique each other's work via social media as well as live within Zoom sessions. They also split into smaller groups to discuss and brainstorm.
Within the course content, choices of activities were provided weekly on two different levels. First, learners could choose the order with which they wanted to complete any activity. It was designed in a non-linear fashion. Second, many activities provided choices and the learner could reach the objective by creatively completing several different options. For example, a learner could choose to watch a video or read an article. They could then reflect on that by journaling, painting a picture, discussing it, making a video, or by other creative choices.
Updated icons provided visual cues to the learner so they could readily identify the type of activity they were choosing to participate in, and how much progress they were making. Conditions were attached to each activity. Students might need to view, participate, or submit a product. Based on these conditions, students always knew where they were with a quick glance at the progress bar.
Ownership And Possession
When learners gain a sense of ownership, they want to improve, protect, and obtain more of what they own. Ownership includes how we value our identities and encourages us to be consistent with our past commitments and decisions. There's a sense that what we did in the past can be validated—it was good because we did it. Once we commit to a path, we are unlikely to change it, and we base future actions on past choices.
All this was intrinsic to the goals of this gamification course. Students felt that sense of ownership because they were working on developing the entrepreneurial skills necessary to launch their own business. The cumulating project, developed across all 3 courses, was called the Dream Project, providing a sense of personal ownership and motivation.
While it seems obvious that the Dream Project would be a motivating factor throughout the course, Inno-Versity also worked hard to embed reminders of that goal throughout. Video-based artist biographies were woven into the project for inspiration. Activities and assignments that led to the final project were flagged with icons so students could see the progress they were making.
Social Influence And Relatedness
Students felt a strong motivation to complete their coursework because they had built a deep connection with others as they progressed. They wanted fellow artists and their ideas to succeed. Simply put, they didn't want to let down their classmates. They had all invested a lot of time and energy providing ideas, constructive critique, and discussion for their ideas and with their collaborators in the program.
Finally, the use of online social tools was powerful and allowed for more effective sharing than the traditional classroom model. Students connected on a variety of levels through social media as well as live in video conferencing calls.
Measuring Outcomes Of Gamification In Higher Education
The benefits of Kenan's program were measured at two levels: student completion and program visibility. Student completion tracked program enrollment, completion of course 1, successful completion of all 3 courses leading to certification, and student survey results upon completion of the modules. Program visibility was tracked by measuring increased recognition of the program as a thought leader in the arts world and how widely student art projects were shared publicly for consumption in the community and broader arts world.
The Creative Catalyst Certificate program, as envisioned and implemented by UNC's Thomas S. Kenan Institute for the Arts, is a groundbreaking pilot in the world of arts. It was built around feedback from professional artists who found that after graduation, they lacked practical business skills. It also addressed the spoken needs of community artists for more formal education. It is a great example of a community and traditional education coming together to successfully solve a learning problem.
Students leaving the program come away with more knowledge, deeper skills, and a peer-reviewed business plan that equips them to launch their brand. They also get a hands-on experience of how online learning is done well, making use of game theory and motivational elements woven deeply and integrally into the learning experience.
Download the eBook What Is eLearning Gamification And Why Is It Vital For L&D Professionals? to discover how to bring eLearning gamification into your learning with solid theory and great case studies. Also, join the webinar on the same topic and find out how to create a winning eLearning gamification strategy.