Instructional Design And Technology To Promote Positive Mental Health In The Remote Workplace
We know the recent pandemic has led to an increase in anxiety, stress, and depression. But according to research by Penn State, the issue is bigger, with wider-reaching long term impacts: Poor mental health is one of the costliest forms of sickness for US workers, with the global economic cost of mental illness expected to be more than $16 Trillion over the next 20 years. So, how does the transition to a remote work environment help or hinder mental health in the workplace? And, how can your organization leverage instructional design and technology, VILT, and virtual classes in new hire training and ongoing employee learning to make a positive difference?
It is important to note that while the last decade has seen progress with mental health awareness, there is still much work to be done. Going forward, it will be important to help create awareness, destigmatize treatment, and provide positive options for friends, family, workplace teams, and communities. This work has the potential to lead to tremendous benefits, as we recognize the problems and support positive outcomes.
As part of the process, Learning and Development (L&D) teams will have a significant role to play to support positive mental health in the workplace and in the community.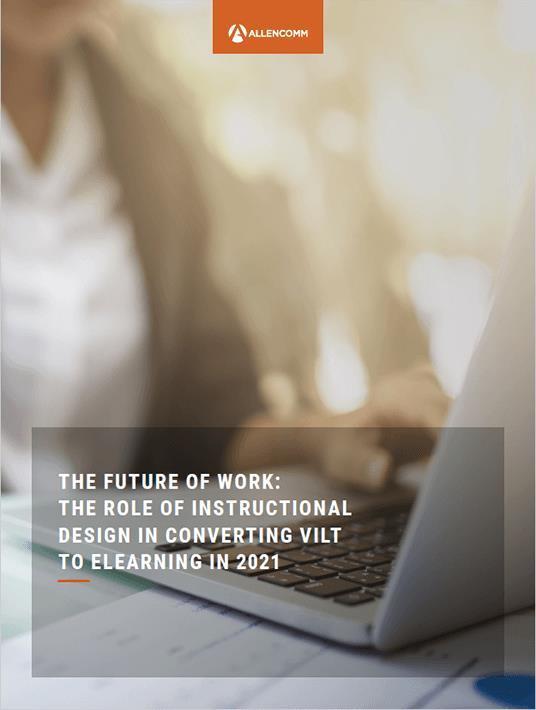 eBook Release
The Future of Work: The Role of Instructional Design In Converting VILT To eLearning In 2021
Discover how to convert classroom training and launch an eLearning strategy that's based on solid ID methodologies.
Wellness And The Workplace
A report by the World Health Organization outlines the
common consequences of mental health challenges,
and many of them are related to the workplace. Those
challenges include:
Increased absenteeism
Decreased employee performance
Poor attitudes
Relationship and interpersonal issues
Not surprisingly, there is a higher rate of unemployment among people with mental illness. However, reemployment is shown to be one of the most effective ways of promoting mental health within this population. It can seem like a tremendous challenge for organizations, management and leadership, L&D teams, HR departments, and even peers have to promote better mental health.
Moreover, the move to a remote work environment with use of VILT to replace common face-to-face training has added another layer of complexity. Remote work makes it more likely that the workforce can feel isolated from  one another, and can be more difficult to build a cohesive team environment. Indeed, even in the best of remote structures it is often difficult to pick up on social cues over video conferencing.
But the challenge isn't insurmountable, and the changes that must be made to accommodate remote work may have a silver lining for mental health outcomes.
How To Promote Positive Mental Health
Most organizations have some form of employee wellness program in place, though they can be quite varied in scope. Many programs focus on physical health, offering incentives for employees that achieve clinical benchmarks around blood pressure, body mass index, cholesterol levels, physical activity, and smoking cessation.
Understanding the impact mental health has on workplace performance, these physical health models are missing a vital component. Psychological wellness initiatives, on the other hand, are less common. Corporate mental health advocacy tends to be limited to extended mental health benefits
Unfortunately, people often choose not to seek treatment even when they have access to mental health services. Several studies have linked these infrequent treatment-seeking behaviors to a stigma associated with mental illness, which leads to negative attitudes about treatment, and deters individuals who need mental health services.
It certainly doesn't help that operational changes among mental health practices – a result of Covid-19 – have limited the ability of many to continue their usual services. In that sense, mental health services have been navigating a challenge well-known to those of us in the corporate training space: how to provide products and services in a virtual environment and/or following frequently changing guidelines.
But organizations that add education, leadership training, and other mental health offerings embedded in an ongoing learning curriculum can help to destigmatize mental health issues and lead to better outcomes. Instructional design can be a valuable resource to educate employees around mental health issues.
Leadership Development Solutions To Promote Wellbeing
There is an important, though often overlooked, role organizational leaders can play to promote the psychological wellbeing of employees. They must be equipped, through skills training, with the knowledge and resources to become advocates and facilitators. This is essential in a remote work environment. Leaders must be able to recognize the signs of anxiety and depression in the workplace, whether it is traditional or virtual. Well-developed interpersonal skills (e.g., active listening, empathy, providing feedback, etc.) are also critical for leaders when approaching their employees as advocates. Most importantly, leaders must have the knowledge about relevant services their employees can pursue – whether through internal employee wellness programs, company health benefits, or community resources.
The Role Of Corporate Training In Mental Health Advocacy
Of course, organizational leaders can't offer much direct support for their employees' mental health challenges. Instructional designers certainly can't do much either. That would be well outside of their scope of practice, but corporate training teams can be advocates in a different way. For instance, projects like converting the wealth of online educational resources to digital learning formats for the company, designing training videos to reshape stigma around mental illness, or creating custom eLearning activities around stress mitigation, and even creating a communication plan around mental health resources would go a long way in most cases.
However, it is best to start with a company-wide survey to determine the biggest challenges for employees, and prioritize a few key risk areas (e.g., stress reduction, negative thinking, burnout, etc.) Equipped with best practices in instructional design, performance consulting, and training technology, employee development teams can target motivational factors, build knowledge, and shape behaviors around mental health awareness, advocacy, and treatment seeking.
Building A World That Works Better
Mental illness isn't a challenge that we can overcome with training alone. There will certainly be limitation to the impact corporations and their leaders can have on their employees; however, each seemingly small step taken can make bounds of difference in the lives of individuals. Even in the case that an organization can't reshape treatment seeking behaviors or provide more mental health services through company benefits, the effort shown in communicating awareness and advocacy does matter. Research suggests that simply showing concern can help to buffer people against stress, increase positive emotions, and promote resilience.
How To Focus On Mental Wellbeing In The VILT Remote Workplace
Download the eBook The Future of Work: The Role of Instructional Design In Converting VILT To eLearning In 2021 to launch a personalized virtual training program that engages every member of your telecommuting team and promotes personal wellness.
References:
AllenComm
The experts at AllenComm solve business problems with beautiful custom learning solutions. We bring creativity into instructional design. We change behaviors and influence choices. We build better training.