Must Have LMS Features: eCommerce, Media Library, Integration Capabilities
In the first part of this article we explored about the training features your LMS needs to have; in the second, we talked about engaging and responsive design/theming, access to great content, and reporting & analytics. Let's take a look at 3 more must have LMS features: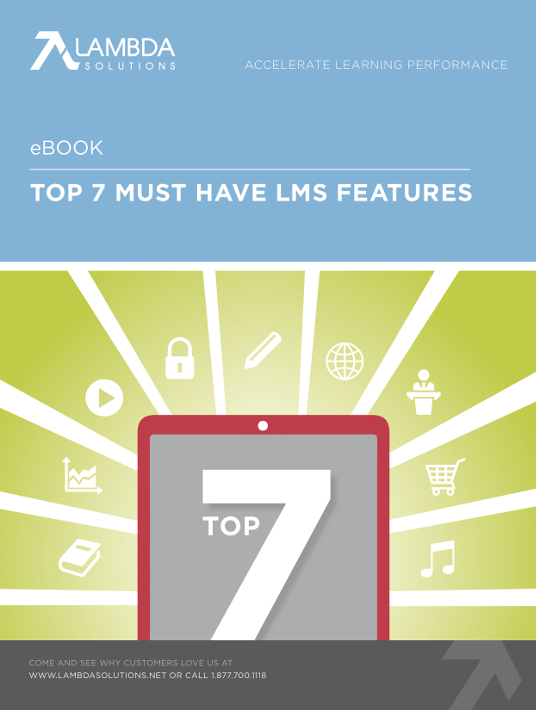 eBook Release
Free eBook - Top 7 Must Have LMS Features
This eBook will help you make the right choice over 700 options in the LMS market for your organization.
1. eCommerce
You can use your Learning Management System to make money. With the right eCommerce capabilities, your LMS can help this process by allowing you to offer your online courses (or even entire learning programs) for a profit.
Moodle & Totara LMS have some great options for users, through the use of Moodle Plugins. PayPal was the first eCommerce plugin that enabled transactions directly from Moodle, but there are now additional integrations that provide modern online payment options for both Learning Management Systems.
LMSCheckout, for example, is a full course eCommerce solution that integrates with Moodle, with a full shopping cart functionality for organizations and institutions that allows for easy marketing of paid, or free courses. With eCommerce integrations like LMSCheckout, users can spend less time focusing on paperwork with easy publishing of courses and enrollment of learners. You can also sell single classes, or subscriptions.
Business Problems Solved:
Earn back the cost of developing those courses. Let the courses pay for themselves.
Meet the demand on eLearning departments to become cost neutral, or profit centers.
2. Media Library
If you have large media files (bigger than 5MBs) that you deliver through your LMS, it can really slow down your sites response time. If your users attempt to download these files (especially if they all do it at once, in preparation for an assignment), it burdens your server, and eats up your bandwidth. How does this affect your users? Poor user experience, resulting in learners leaving the site, which then disrupts the learning process, and ultimately learning outcomes.
To solve this challenge, look for a Learning Management System that has some kind of digital media library that can accommodate such large files without slowing down the system. For example, Lambda Solutions works with a high-performance digital media library that allows you to upload content or create video-based content, assignments, and submissions directly within the LMS. A digital media library will allow you to enrich your learning programs and the learning experience, with seamless video integrations while still securing content.
Business Problems Solved:
Enable a single repository for managing and serving up media files (images and video).
Provide options for concurrent users.
No more lagging user experience, and slow downloads of large, important files.
3. Integration Capabilities
LMS with integration abilities allow you to get the most out of your LMS – it allows you to incorporate all the features and functionalities that you need, outside of your LMS.
Think of your LMS like a smartphone. The smartphone serves a purpose in itself (calling and texting), but sometimes you want add-ons, which are available in the form of apps. These add-ons can provide entertainment (games), organization (email), further communication (social media like Facebook, or Twitter), and so on.
Likewise, an LMS serves a purpose on its own. It is a platform that allows you to train and teach learners remotely (depending on which LMS provider you go with, the capabilities of your LMS will vary). However, you may require a few extra features that are outside the LMS market. Maybe you need DropBox, WordPress, or Google Doc integration. These integrations are "add-ons" that extend the capabilities of your LMS, for whatever specific purpose you may have. These integrations can take your LMS from good, to exceptional.
LMS integration options with popular services is always a good sign, when looking for an LMS. Even if you don't need all the integrations that are being offered, being provided with the option means that this vendor is thinking of you, and prepared to provide you with anything you might need, currently or in the future. If this type of commitment and thoughtfulness is reflective of the service you can look forward to later down the road, you will be in good hands.
Another added benefit of integrated third-party platforms in your LMS, is single-sign on. You don't need to log into Moodle and Salesforce, for example. Your Moodle login will also authenticate your login for other platforms you're working with, eliminating the need to sign into each individual platform.
Business Problems Solved:
Take advantage of necessary features and functions outside of the LMS.
Leverage third-party vendors and apps that students require in order to optimize success (Student information systems, SSO (Single Sign-on), content repositories, etc.).
Enhanced user-experience and engagement.
Final Word
The process of procuring an open source LMS is a requirement-driven process. Now that you have an understanding of the LMS capabilities you should look for, you are better equipped to evaluate the LMS vendors contending for your business. The "Business Problems Solved" section under each feature can be used to prove ROI to stakeholders. If you need more information on how to scope out your LMS needs, download the free eBook Top 7 Must Have LMS Features.
Related Articles: