New Hire Onboarding Strategies Of Leading L&D Experts
Now that we've finished taking you through the theory, tools, and techniques behind building the best possible new hire onboarding experience, it's time to turn to a few examples.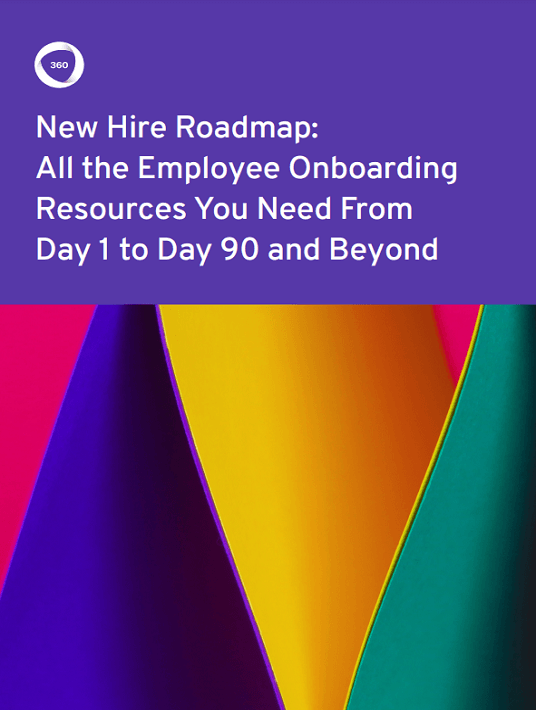 eBook Release
New Hire Roadmap: All The Employee Onboarding Resources You Need From Day 1 To Day 90 And Beyond
We'll show you all the employee onboarding resources you need to build a great new hire roadmap from Day 1 to Day 90 and beyond!
4 New Hire Onboarding Techniques By L&D Experts
Let's get started with DPR Construction's focus on building great new employee onboarding experiences through putting yourself in the learner's shoes.
1. How DPR Construction Focuses On The Learner Experience
Great onboarding is all about showcasing the right new hire experience. To do that, DPR Construction does everything it can to picture things from the learner's point of view.
For Kristi Conlon, Leader of L&D at 360Learning client DPR Construction, this meant putting herself in her new hires' shoes when starting her own new role. "I asked for the same onboarding experience that any new employee would have. A lot of times HR tailor this for leaders coming in from the outside, and will take a concierge approach. But I wanted to understand this first-hand."
This case study illustrates a key part of every great employee onboarding example: a focus on caring and empathetic onboarding. "Our number one job is to take care of people," says Kristi. "So, we need to really listen to them and empathize with them. That's why getting a clear sense of the learner experience is so critical when you're building a great onboarding program." This is why Kristi and DPR Construction use 360Learning's Collaborative Learning platform to connect their subject-matter experts and build new employee onboarding experiences reflecting the full range of internal knowledge.
And as our second case study shows, this focus doesn't just ensure the best possible new hire onboarding—it can also save on costs.
2. How Appen Saves $240k Every Year In Onboarding Costs
Incorporating a Collaborative Learning approach within your new hire onboarding is a great way to showcase your internal expertise and build closer connections between your teams. But as AI consulting firm (and 360Learning client) Appen demonstrates, it can also help you deliver leaner, more streamlined onboarding.
Every year, Appen hires more than 100 employees, and must onboard them in a highly distributed and global environment. In meeting these training needs, Appen had to grapple with a new challenge: an increasingly complex learning tool stack.
Now, thanks to 360Learning's easy-to-use Authoring Tool, the Appen L&D team has been empowering and coaching subject-matter experts to create training materials within days instead of weeks. With decentralized content creation, Appen can now create new employee onboarding experiences based on the best knowledge the company has to offer.
Appen has saved a huge amount of time and energy as a result, including:
102 days of training saved in three months due to streamlining employee onboarding
10% decrease in internal IT tickets thanks to the improved employee onboarding
$240K annual cost savings by optimizing client training
This case study shows what's possible when you use Collaborative Learning to build new employee onboarding experiences based on open conversation, dialogue, and collaboration. With the right practical exercises, you can encourage experts and learners to work together, rather than just passively completing learning activities.
3. How WhatsApp Helps New Hires Develop A User Perspective
For WhatsApp's Global Onboarding Manager Paul Cabrera, the key to great onboarding is to help new hires focus on the user perspective as soon as possible. "After a new hire completes their orientation, they're enrolled in what we call User 101. We've developed this with our research team, which is facilitated by research subject-matter experts."
This is one of the best employee onboarding examples, because it demonstrates a key technique at the heart of every great onboarding: a focus on business impact.
"This curriculum gives our new hires more perspective on who our users are, and what they need from us," says Paul. "These insights then feed back into our product and engineering teams, and help our new hires understand the true impact of their work for our users."
You can achieve this by focusing every single step of your new employee onboarding experience on what you as a company are trying to achieve for your clients and customers. For example, if you're onboarding new hires in your product basics, you could approach this from a client's perspective and demonstrate exactly how you make their lives easier.
And now, for our final case study, let's see how Better.com onboards new hires in the flow of work.
4. How Better.com Onboards People In The Flow Of Work
Building great new hire onboarding isn't just about connecting people with the right resources and expertise—it's also about shaping learning experiences that fit their circumstances.
As mortgage lender Better.com's Learning & Development Lead Emma Schain knows, the best onboarding happens in the flow of work.
"We had a couple of programs where we relied heavily on training content, but we realized people were hungry to get into the actual work," she says. "That's when we started to put people on a modified pipeline with wraparound support from trainers and team leaders."
According to this case study, companies can make bigger impacts by focusing on realities of the new employee onboarding experience. "People were much more effective at getting up to speed when they were actually in the workflow," says Emma. "That's because we know 70% of learning happens when people are actually doing the work."
As these four new hire onboarding case studies show, building the right roadmap based on Collaborative Learning principles can help give your new hires the best possible start. And from there, they'll have all the tools, resources, and expertise they need to grow and thrive.
Collaborative Learning Is The Key To Building The Right New Hire Roadmap
Right now, too many companies simply aren't doing enough to welcome their new hires.
Sure, they might tick all the boxes when it comes to sourcing and hiring new talent. And once the contracts are signed, they probably assign a few onboarding courses and schedule a few discovery meetings here and there. But they're not giving new hires what they really need.
When a new employee starts a job, there's a very short window of time to give them the help and support they need to make a positive impact and prove themselves to their new colleagues. It takes an onboarding program with the right structure, flexibility, and focus on team connections to really prove your culture and show what sets you apart from other workplaces. Get this right, and you can set up your newcomers to ramp up quickly and effectively. Get it wrong, and you risk unengaged employees—or worse, new hire churn.
Building this new hire roadmap takes the right tools. A traditional LMS is a good start, but it can only take you so far. Instead, you need an integrated learning platform that's nimble, people-centric, and distributed. We talk to L&D experts on a regular basis, and these discussions tell us that making human interaction the central focus of learning leads to better outcomes—especially for new hires.
That's why we've built a learning platform that combines the power of a modern LMS with Collaborative Learning. It can be used as a standalone learning system or in addition to your existing LMS. It lets everyone play a part in welcoming new hires, encouraging every employee to actively build their collaboration skills and share with others. With our platform, our users engage in 11 learning activities per day on average, with course completion rates boosted from the industry average of 20-30% to over 90%.
Conclusion
Download the eBook New Hire Roadmap: All The Employee Onboarding Resources You Need From Day 1 To Day 90 And Beyond to learn how to launch a new hire training program that makes a mark and fosters lifelong L&D. Also, join the webinar to stay updated with a new hire roadmap that will leverage your onboarding process!
References
360Learning
360Learning is the LMS for collaborative learning. We enable companies to upskill from within by turning their experts into champions for employee, customer, and partner growth.