Pick The Perfect Time Tracking Tool For Your Budget
Project time tracking tools take clocking-in to the next level. Employees can gauge billable hours and total capacity, as well as invoice clients with ease. But how do know which app is best for your business? Project time tracker app reviews aren't the be-all and end-all of vendor qualification. However, they can help you steer clear of software companies that don't prioritize customer service and support. Plus, you can set your expectations because other users offer a behind the scenes look. The same goes for exclusive online directories that help you verify vendors ahead of time. This ultimate guide highlights all the essential buying info, including budget, RFPs, and using an online directory to qualify vendors. You'll also find insider secrets to make the most of directory listings and social proof to invest wisely.
Here's What You'll Find In This Epic Guide...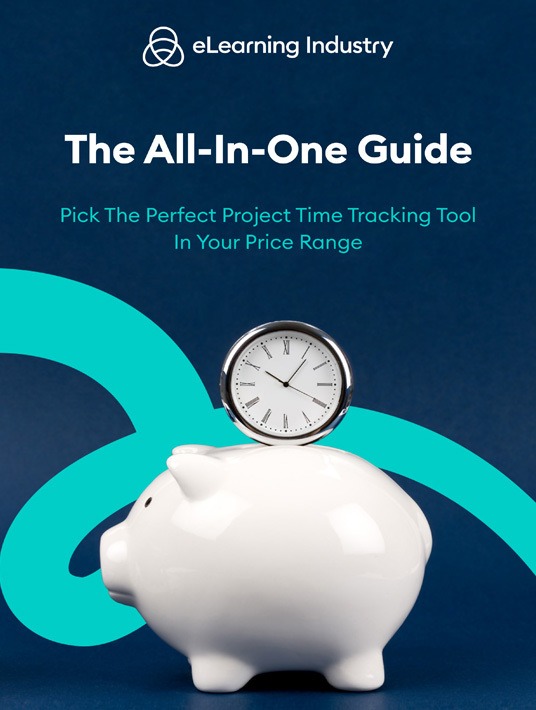 eBook Release
The All-In-One Guide: Pick The Perfect Project Time Tracking Tool In Your Price Range
Which project time tracking apps deliver top value for money? Learn how to pick the perfect tool at the perfect price point!
1. Standout Features To Consider For Your Next Project Time Tracking App
How do you know which project time tracking tools offer max value for money? One of the main focal points should be software features, as this sets top-notch tools apart from the rest. While every organization has unique buying requirements, there are a handful of features that boost ROI across the board. In this article, I highlight all the selling points to look for in directory listings and landing pages. You should also include them in your RFPs so that vendors can customize their proposals and address key USPs.
Work Timers
Work timers are one of the most basic functions of project tracking apps. Staffers can start the clock when it's time for the next task and take breaks, as well as include descriptions for each work session in case managers need to review their performance. For example, two employees might work on similar tasks that you can merge to reduce costs. Another related feature is manual time entry. This allows employees to input work hours they forget to track or occurred offline, such as on-site client meetings.
Project Management
PM dashboards cover every aspect of the project, from billable hours to total capacity, as well as status, team members assigned, and expenses. Everyone involved with the project can see how much room is left in the budget and what still needs to be done. Keep in mind that you may still require a project management platform for more detailed analytics. But time tracking tools are ideal for simple functions, like evaluating how many hours have already been invoiced to the client.
Attendance Tracker
There should be an attendance tracker to help you reduce absenteeism and improve employee productivity. For example, you can see how many hours an employee missed this month and if they've accrued overtime hours. If they take frequent breaks or miss a significant number of shifts, you can intervene before the problem escalates. Maybe meet with them to discuss their work habits or determine if they need additional support resources.
Analytics
Every project tracking app needs to deliver reports and data visualizations to identify patterns and trends. Billable hours, timesheets, and team capacity are just a few of the reports to consider for your next time tracking tool. Another tie-in feature to look for is personalized dashboards so that employees can pinpoint important analytics and monitor gaps.
Payroll Integration
If the tool doesn't feature payroll processing tools, you should be able to easily integrate it with your existing software. This makes it easier to calculate weekly billable hours, paid time off, etc., then make the necessary deductions and submit paycheck info to accounts payable. An important thing to look for in your new project time tracking tool is a team overview. For example, a list that highlights all employees and work hours, as well as a high-level recap of total billable hours, non-billable hours, and capacity.
Employee Profiling
Employee profiles keep track of their tasks, pay rates, time-off requests, absences, and so on. You can also monitor their work capacity and current projects they're part of to avoid overscheduling. For instance, they can only work 35 hours next week, so you may need to assign overflow tasks to other team members. Profiles also cover the basics, like their roles, departments, and contact details.
Vacation Requests
Remote staffers should be able to request time off discreetly. Thus, the time tracking system must have a vacation request system that allows them to submit queries and view the status. For instance, the manager is still reviewing their request and they'll know by the end of the workday. They can also see how much annual vacation time they have left and differentiate paid time versus absences. Another related feature is document uploads. They can provide supporting documentation if necessary, like medical forms or doctor's notes.
Client Billing
This is another feature that may require integration. However, some project time tracking tools do include basic client invoicing functions. As an example, you can track billable hours, invoice totals, and payments. It's more challenging to evaluate this feature during the free trial because you don't want to negatively impact customer service scores, but you can still create a test invoice to see how the process works. Is there a centralized dashboard where you can see the due date, issue date, and balance for all clients?
Vendor Support
Support isn't limited to phone calls or live chats. Vendors should also provide customer training resources so that you're able to address issues on your own instead of relying solely on them for IT troubleshooting. As an example, tutorials and demos you can use to add new team members to the system or migrate data. That said, direct support is also essential. How do they handle customer service issues? Does it take them a week to respond to emails? Are they knowledgeable about their software?
2. Which Reports Should Your New Project Time Tracking Tool Deliver?
One of the reasons why many organizations invest in an employee project time tracking tool is for analytics. The system gives them better oversight of team productivity, project expenses, and completed tasks so that they can improve their profit margins and customer satisfaction stats. But which reports are crucial for the success of your SMB? And how can these metrics help you identify gaps and stick to your budget? Let's review some of the top analytics that every project time tracker app should deliver.
Project Overview
Project overview reports include a full rundown of hours, completion percentages, and team members involved. You can also see the status of client invoices and how much funding has already been approved/sent. Generally, these overviews include separate tabs so that it's easier to evaluate each aspect of the project. For instance, the first tab is status, while the second covers employee roles and responsibilities. There should also be a separate section for additional expenses.
Employee Performance
Performance analytics allows you to evaluate individual tasks, completion times, and breaks. As a result, you can identify areas for improvement and intervene to maximize your in-house talent. For example, one of your staffers is falling behind and taking frequent breaks. Could it be that their recent workload has led to burnout? Or do they simply need additional support and resources to get back on track? Then again, it might be a matter of boredom or lack of motivation. In which case, you may need to rethink their role or conduct a one-on-one interview to disclose the problem.
Billable Hours
This is one of the most common project time tracker reports because it tallies work timers for individuals and departments. You can also differentiate billable versus non-billable hours for the entire project, which makes it easier to invoice clients. As an example, an employee worked 35 hours this week but only 15 of those are billable. The rest covered team meetings, marketing tasks, and manual data entry.
Team Timesheets
Timesheets are generally intended for payroll processing. You can see how many hours staffers worked during that pay period and if you're still within budget. Your accounts payable or HR team can use this information to verify totals before finalizing paychecks. However, one of the benefits of using project time tracking tools is that they don't have to manually input the data or calculate employee totals.
Team Capacity
How much work can your team handle during a specific time period? These reports should include individual and group totals to simplify project management. For instance, your designer can only take on an additional 10 hours this week because they're busy with other projects. This affects client scheduling and other team members' tasks that are contingent on the designer's completion times. It's also good to check for data visualization tools so that you can quickly see who's approaching their max and adjust the task list.
Time-Off Requests
A standout feature of time tracking apps is vacation or time-off requests. Staffers can ask for specific days off to recharge or take care of personal business, as well as longer vacations, and you can re-evaluate project timelines and prevent overlaps. For example, you don't want three employees from the same team taking their vacation at the same time, particularly if there's a project deadline the following week and their absence puts unnecessary stress on co-workers. These reports also make it easy for managers to approve/decline time off and determine how much vacation time staffers have saved up. Will their entire vacation be paid or are some of the days technically absences?
Absences
Speaking of absences, this is another crucial metric to look for in your new project time tracking tool. How many days have employees missed this pay period (or quarter) and were they explained? Did they provide documentation, if needed? Was it part of a paid leave? Absence reports are part of the employee performance overview. You can see which staffers frequently miss work and why. Then follow up with them to determine if further action is required. For example, they may need to take a medical leave to take care of their health issues.
Payroll Breakdowns
Payroll reports include everything from pay rates to total work hours. You can also break it down by user groups, such as department or role. This makes it easier to keep spending under control and improve your bottom line. To illustrate, your payroll costs are almost level with your total profits. This may indicate that it's to raise your rates or reduce your staff size to widen the gap. Then again, you can also evaluate your expense sheet to look for other cost-cutting areas. Another perk of payroll reports is that your accounts payable team can double-check all the data and make adjustments.
3. Tips To Create A Realistic Budget For Time Tracking Software
Top-notch project time tracking software doesn't just deliver all the essential features, they also widen your profit margin so that you get max value for money. It all starts with a detailed budget to help guide your software search and choose the best tool for your remote teams. At this point, it's usually estimated based on market research and in-house analysis. Even still, you get a rough idea of how much you're going to spend and hidden fees to look out for. But which costs should you include? Are there any pitfalls to avoid? More importantly, where do you even begin? You can also download our project time tracking app guide for more insider tips. 
Take Stock Of Your Current Toolbox
Ultimately, your new project time tracking tool needs to fill existing gaps, as well as be compatible with your existing tools. So, take a closer look at your systems to create a list of project time tracker app must-haves. For instance, it needs to have payment processing integrations or advanced support services because your team is new to the world of virtual time tracking. With an asset inventory, you know what you're working with and which pain points to focus on during the selection process.
Identify Essential Features
Most time tracking systems have work timers and basic reports. However, you should create a complete list of features that your organization needs to warrant the investment. This includes customization options, payroll processing tools, and client invoicing. Meet with your team to get their feedback. What do they expect from the new project time tracking app? Are there any features that help them streamline tasks and improve workplace productivity?
Research Pricing Models
While some project tracking software companies offer one-time licensing fees that involve a single upfront payment, others offer monthly subscriptions that allow you to break up the cost over time. You can also upgrade to different pricing plans if you onboard more employees or need additional features. This is why it's important to do your research and evaluate the most popular pricing models when creating a budget. You need to know which options are available and find the best fee structure for your bottom line.
Evaluate Directory Pricing Overviews
Many software providers list in exclusive online directories to bring in more business. Their landing page typically features a pricing overview that includes the licensing type, starting cost, and model, as well as free trial or demo details. Vendors also have the opportunity to briefly explain their pricing plans. For instance, they have bulk pricing if you have more than 500 users, or there are three different pricing plans to choose from. This overview can help you adjust your budget because it includes specifics, like how much you can expect to spend per user. A great way to evaluate pricing models side by side is a directory with built-in comparisons. You can quickly determine which vendors fall into your price point and deliver all your must-have features.
Send RFPs To Top Solutions
At this point, all the pricing details are generalized. However, you need to contact vendors for personalized quotes. An RFP tells app providers that you're interested in their platform but need more info. It includes project details, spending caps, and tech expectations. They reply with a detailed cost estimate that allows you to re-evaluate your budget. In short, it's concrete figures instead of price ranges. Even if the vendor lists all their plans on the website, you should still consider RFPs since they give you the chance to dive deeper into the tech specs and identify hidden fees. In some cases, vendors can offer customized packages to suit your needs that differ from published costs.
Include Support And Integrations
Certain vendors charge extra for advanced support options or include them in higher-level pricing plans. You also need to account for in-house support, such as creating tutorials to speed up software implementation or hosting live software launch events, particularly if the software company doesn't have customer training resources. Another fee to add to your budget is tool integrations. Some project time tracking tools come with standard integrations that are part of the monthly/one-time fee, while others are an additional expense. Verify these costs with vendors to avoid unwanted surprises on your first bill.
Plan On Additional Fees
All the fees should be outlined in the RFP and final contract. However, it's always best to leave room for unexpected costs. Namely, expenses that occur in-house after implementation. For instance, it takes much longer to set up the tool than originally planned, which means higher payroll costs that impact software ROI. You shouldn't have to secure additional funding to make up for these IT delays, not if you include a "rainy day" fund in your initial budget. This covers all the emergency expenses that you didn't account for, whether it's additional support resources or tie-in tools that help you get the most from your new project time tracking tool.
4. Secrets To Use A Project Tracking Software Directory
An exclusive project time tracking software directory goes beyond the basics. You can evaluate vendor pricing options, support services, and top features, as well as determine which companies offer free trials and demos. However, you need to know what to look for to save time and make the best buying decision. It all starts with a needs analysis that allows you to zero in on companies that meet all your criteria. Another prerequisite is to find a credible directory that's hosted by an industry thought leader, then you're ready to move on to shortlisting and vendor qualification.
Identify Your PM Priorities
While every organization looks for a project time tracker with work timers and team overviews, other buying requirements may differ. It's crucial to identify your PM priorities before visiting the online directory. This makes it easier to focus on platforms that meet your expectations instead of trying to cover too much virtual ground. For instance, you absolutely need a system with advanced reporting, customization features, and personalized support. Thus, all the apps that don't deliver everything on your wish list are out of the running.
Filter Search Results
An exclusive directory should have built-in filters that allow you to quickly narrow the options, whether it's licensing types, pricing models, deployment, or features. Another time-saving filter is customer type, which allows you to find platforms that cater to your business size and budget. For example, many platforms are geared toward SMBs, as they offer flexible pricing plans and niche features. Some directories even allow you to sort listings by rank so that leading vendors rise to the top, or by name if you just want to qualify a vendor that's already on your radar.
Evaluate The Product Overview
Every directory listing starts with a product overview. This has all the essential information regarding vendor support; customer training resources; and, tech specs, such as platforms the tool supports. Providers can also include a brief blurb about their software and its real-world benefits. For example, what their tool is and how it can help your organization streamline payroll and improve customer relations.
Compare Their Features List To Yours
When all is said and done, your new project tracking tool should have everything on your shopping list. This is why it's so important to identify your PM priorities in advance and develop vendor evaluation criteria. Directory listings include comprehensive features, and you can see which software providers meet your requirements and which fall short. For instance, you need a platform with payroll integration and time clocks. These are deal-breakers because you must be able to simplify payroll processing and keep track of daily tasks.
Read User Reviews
You might be able to find unbiased reviews and ratings on third-party sites. However, it's best to go with an online directory that features satisfaction scores and written reviews in their listings since you can evaluate software specs and verify social proof in one location. Read reviews that align with your use case and evaluate the overall ratings to ensure the company meets your standards. Do they have a high CX score? Does the reviewer mention any negatives about their support or professionalism? Are they likely to recommend the vendor? Of course, their experience might not be the same as yours. The software provider may have improved their product or business practices since the person left the review. However, ratings give you a good indication of their service and support based on their track record.
Compare Your Top Choices
One of the biggest challenges that organizations face is choice overload. There are many project time tracking tools to choose from and you need to weigh all the options. Fortunately, some directories have a built-in comparison tool to help you make the best decision. You can choose up to 3 vendors and evaluate all their features, support services, and pricing options. Every company has their own column to help you see how they stack up against competitors. For instance, one platform has a higher starting cost, but they deliver more features on your list. Then again, you may have to sacrifice support or customer training. Another approach is to combine the comparison tool with your own scoring system.
Visit Vendor Sites
Don't stop at the online directory. In fact, there should be links to the vendor's landing page so that you can learn more about their software and pricing plans. This also gives you the chance to check out additional features or support services that aren't included in their listing, or read client success stories to build even more social proof. If they pass the landing page test, consider sending them an RFP for more info, then they can respond with a detailed proposal and cost estimate. Some software providers have a contact form as well so you can ask for a quick quote before sending the official RFP to see if they're even in your price range.
5. How To Evaluate Project Time Tracker App Reviews And Ratings
Most companies rely on project time tracker app reviews to compare features and qualify vendors. However, that's a lot of virtual ground to cover, especially if the software provider has been around for some time and they're featured on numerous sites. The key is to start with an exclusive directory that has ratings and reviews. All the information is in one location so that you can compile your shortlist and springboard your search. Even still, you need to know what to look for and how to evaluate project time tracking tool ratings based on your use case.
Set Your Own Evaluation Criteria
Ratings and reviews give you another person's perspective about the tool. But you also need a clear idea of what you're looking for in your new time tracking app. In other words, what is your evaluation criteria? How much can you spend? What level of support do you expect? These criteria should be based on your business objectives, current gaps, and employee feedback. For instance, you know that you need a platform that caters to SMBs and scales to meet your needs.
Look At The Big Picture
Before you dive into individual project time tracker software reviews, look for trends. Do multiple users mention the same negatives about the vendor? Do they have a bad track record when it comes to customer service? While there may be one or two less-than-positive reviews, multiple dissatisfied customers are a big red flag. That said, you should pay attention to the review dates. For example, all the negative opinions date back two years ago but the current ones give the vendor high marks. This may indicate that they've improved their business practices since then.
Consider The Reviewer's Use Case
Reviewers must provide some background information about their software use case, like staff size, industry, and focus. Thus, you can concentrate on reviews that align with your needs or at least have similar buying requirements. For instance, they have the business size so when they say that the cloud-based software couldn't handle all of their users, this may be an issue for your business, as you don't want to worry about work timers disconnecting in the middle of a task or IT issues that complicate payroll processing.
Weigh The Benefits And Drawbacks
Software users have the opportunity to highlight what they liked best and least about the project time tracking tool. This way, you can evaluate the drawbacks and benefits of ownership before making any commitments. Once again, it's all about your PM priorities and support needs. Negative experiences may not be a deciding factor for you because the reviewer's expectations differ from yours. Maybe they wanted a platform with a payment processing system, but you're content with a system that features payment gateway integrations. On the other hand, it's always best to read all the reviews to look for common themes.
Analyze The Performance Overview
At the top of the review page is a detailed performance overview. This compiles all the ratings so that you can qualify vendors quickly, then determine if you should keep reading or move on to the next vendor. CX, usefulness, and usability are part of the overall satisfaction score, but there's also a "likelihood to recommend" percentage to help you make a well-informed buying decision. You should also take it a step further and consider the individual ratings alongside each review.
Verify Vendors' Social Media Presence
Aside from time tracker app reviews and ratings, it's also wise to verify the vendor's online presence, namely their social media activities. In fact, you may find additional user reviews on their profile or business page. However, the main goal is to see how they interact with followers, even if they aren't paid customers. For instance, someone asks a question about one of their top features and how it translates into real-world benefits or wants to know more about their pricing options. How quickly does the vendor respond, and do they seem to know their product inside out? Another thing to look for is negative comments (constructive criticism) and the software provider's reaction. Do they leave sarcastic remarks and try to tarnish the user's reputation? Or do they handle it professionally and invite the commenter to contact them directly?
Use A Reliable Review Site
Above all, you need to choose a reliable review site that specializes in time tracking software. When in doubt, verify their fraud prevention measures. For example, they should require reviewers to log in and then manually check submissions before posting them to the site. This helps prevent biased ratings and reviews. Unlike social media pages or generic review sites, exclusive directories are more likely to have authentic reviews. Finally, the site should have a rating system so that the overall score has merit. For instance, they use 4 distinct criteria to calculate the satisfaction rating. Thus, you know that the scores are valid and based on key buying requirements.
6. How To Draft A Time Tracking Tools RFP That Gets Responses
There's no guarantee that your project time tracking tools RFP will lead to vendor proposals, especially if you omit the essentials or target software companies that don't cater to your use case. So, what should you include to get responses from top contenders? And, are there any mistakes you should avoid for spot-on estimates? Here are top tips to draft a results-driven RFP that simplifies vendor vetting and helps you choose the best app for your business.
Kick Things Off With A Needs Analysis
Before you start typing up your time tracking tools RFP, you must conduct a needs analysis. This allows you to compile all the crucial info and do some market research in advance. What does your team expect from the tool? What is your price range? Which pricing model is best for your budget? Another key factor to consider is current software. What's missing from your toolbox and how can the new time tracking app fill the gap. Furthermore, which integrations does the project time tracker need to support to prevent compatibility obstacles?
Outline Your Scope
Vendors need to know the project scope to determine if their tool is a good fit for your organization. Does it meet all your requirements? What are some of your top deal breakers? You might assume that every vendor responds to RFPs because they want the business; however, when they receive requests, software companies must decide whether it's worth their time. The scope immediately tells them whether their platform is in the running and if drawing up a custom estimate is worthwhile.
Set An Accurate Budget And Schedule
While the scope outlines the basic project details, you still need to provide more background information. Namely, how much you can spend and how quickly you need to launch the project time tracking tool. You don't need to reveal every financial detail, just include a general estimate of how much you're willing to spend on one-time licenses or monthly subscriptions. You can also include a per-user spending cap, then outline your project tracking system implementation schedule. For instance, how much time you expect for tool setup and customization? Are there any deadlines you need to meet? Maybe you're hiring a new sales team next week and the tool must be ready to go by then.
Highlight Key Features
Though work timers and reports are typically included, you should always specify your must-have features, even basic functions that should be a given. Also, provide a brief explanation for why these features are so essential for your business. Vendors typically reply with more elaborate selling points and real-world benefits, but the RFP helps them focus on features that matter most to your organization instead of listing all their key functions in the official proposal.
Ask About Support Services And Customer Training
Most vendors offer email support and some customer training resources, even if it's a quick demo video or setup tutorial. However, you should always ask them to outline their support and customer training options in their proposals. Include a section in your RFP that covers all the support services you expect. For example, your team is unfamiliar with time tracking tools. Therefore, they may need walkthroughs, live chat support, and other resources to lower the learning curve. If you'd like to research popular customer training tools that are available, visit an exclusive directory, as vendors can include a brief overview of their service selling points, from online knowledge bases to live demos.
Explain Your Evaluation Process
Vendors should never be in the dark about how you review proposals and which USPs you're looking for, so explain your evaluation process so they know what to expect. Do you have a scoring system? What is the proposal deadline and when will you make your decision? Can they contact with questions before submitting their proposal? Walk them through the process to improve response rates and build a rapport with project time tracking tool vendors. You can also include a timetable so that they can plan accordingly. As an example, this is the due date, final decision date, and implementation date.
Follow Up With Your Top Contenders
Review proposals with your team then contact your top choices for more info, that is if they haven't already made everything clear in their response. In some cases, you may need to submit questionnaires or set up a meeting, particularly if you're trying to break a tie or your buying requirements have changed since the RFP. For instance, you need one more feature that you didn't include in the original request. This gives vendors the chance to give one final sales pitch and prove that their tool is right for your business. That said, you should also reach out to vendors that didn't make your shortlist to let them know you're going in another direction, even if it's just a quick email to thank them for their proposal.
7. Tips To Assess Project Time Tracking Software With Free Demos
Many vendors offer project time tracking software with free demos so that you can avoid buyer's regret. You're able to evaluate the interface firsthand and ensure that all the features support your use case. However, you only have a limited timeframe to test the tool and compare it to other apps on your shortlist. As a result, you need to have a solid game plan before signing up for free trials or attending live demo events. Starting with a checklist that covers all the buying essentials so that your team knows what to look for.
Create A Software Selection Checklist
You may be tempted to rush into free demos just to do a quick reconnaissance mission to see if it's worth your time. However, it's wise to create an evaluation checklist beforehand so that you know which features to focus on. This should be based on your business objectives, current software gaps, and employee preferences. You can even develop a scoring system so that it's easier to compare top tools and cross solutions off your list that fall short.
Invite The Entire Team
Everyone should be involved in the time tracking software free demo or trial, not just the acquisitions manager. Announce that you're ready to implement time tracking tools and that employees can download the software on this date. Then, explain the importance of smooth implementation and ask for their feedback. You can even host a live event to kick things off and show them the app in action. This also gives them the opportunity to ask questions and clear up any concerns before you go live. Don't forget to provide them with detailed instructions for how to install the app and what to look for. As a matter of fact, you may want to send them that checklist you already developed.
Evaluate The Interface
The UI is the first thing to check during the free demo. Spend a few minutes navigating the platform to determine if it's user-friendly. While you're at it, take a peek at the dashboards and customization options. Can you quickly personalize homepages? Is the layout intuitive? One of the primary reasons to get your whole team involved is to assess the tool from multiple perspectives. For instance, it might be easy for one employee to use but another runs into numerous IT troubles along the way.
Do A Real-World Trial Run
The project time tracking tool might look great on paper (or the screen) but how does it perform in the real world? Encourage your team to carry out their usual job duties using the new time tracking app. For example, start work times, add task descriptions, generate client invoices, etc. Then ask them one crucial question: Does this app make your life easier? Ultimately, your new platform should simplify work processes instead of complicating matters. Of course, there's bound to be a slight learning curve on day one. But team members should slowly get the hang of things and maximize job productivity.
Test Support Services
One of the most overlooked features is vendor support. The software might be easy to use and streamline business practices, but is there sufficient support for your team? This ranges from live chats to customer training libraries. Take time to visit the vendor's online knowledge base and submit a trouble ticket. How long does it take them to reply and do they address the problem? Is there a library filled with helpful resources to help your employees set up and personalize the platform? Another place to check is their social media page and directory listings since there's a section dedicated to support services and user ratings/reviews.
Assess The Reporting Features
Does the project time tracker deliver the reports your organization needs to monitor employee performance and improve client relations? Most tools offer basic reporting functions, such as billable hours and employee capacity. However, most businesses need more detailed analytics to boost workplace productivity. Ask department managers to compare their usual evaluation methods to the system reports. For example, the system has a team overview that allows them to see work hours, absences, and other crucial attendance data at a glance.
Compile A List Of Questions
During the free demo, ask your team to jot down any questions that come up. Maybe they're unsure about the employee profiling features or don't know how to pin items to the dashboard. Then, compile all their questions or concerns into a master list and discuss it with team leaders. In some cases, their colleagues may be able to clear things up. However, you can also set up a meeting with the vendor or add these points to your RFP. They should be able to explain how their platform delivers real-world benefits for your business as well as how it stands apart from the other tools on the market.
Conclusion
There are plenty of project time tracker tools to choose from, but only a select few are right for your organization. These top tools fall into your price range and offer all the must-have features. Now that you know how to qualify vendors and use free demos to assess systems, check out our exclusive online directory to search for the best vendor. We also have articles and tip sheets to help you get maximum value for money and improve client relations.
Our new eBook covers every step of the selection process, from setting a spot-on budget to qualifying top vendors. Download your copy of The All-In-One Guide: Pick the Perfect Project Time Tracking Tool In Your Price Range to invest wisely and avoid buyer's regret.