What Are The Key Employee Time Tracking App Features?
The thing that sets top-notch tools apart from the rest is time tracking app features. These platforms should give you all the data you need to identify gaps and streamline work practices. On the other hand, employees must still have the opportunity to track their personal performance and bill clients with ease. In short, look for systems that are feature-rich without sacrificing usability so that they live up to everyone's expectations, especially if you want a tool that delivers max value for money. So which functions should you add to your shopping list and why?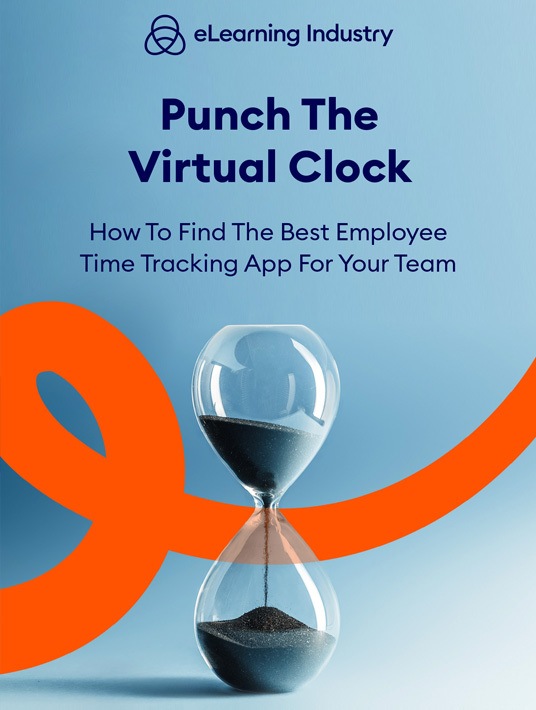 eBook Release
Punch The Virtual Clock: How To Find The Best Employee Time Tracking App For Your Team
Discover all about time tracking software.
8 Best Time Tracking Software Features
1. Automated Time Tracking
Employees log into the time tracking app and immediately start their workday. The software automatically starts a timer and employees can clarify which tasks they're working on. For instance, the first half-hour is devoted to answering emails. Then the next 2-hour block is spent on client meetings and sales pitches. They can start or stop the timer when it's time for a break so that they track billable hours.
2. Offline Tracking
Employees should also be able to monitor tasks and work hours when they're offline. For example, they should be able to manually add activities and how long it took them to complete them. In some instances, the app tracks these tasks offline and then resyncs when they go back online. This is ideal for remote work teams that may not have a steady internet connection, such as sales channels that depend on Wi-Fi to access the software.
3. Project Overview
The best time tracker software should also include a high-level overview of projects and their milestones. Staffers can keep their eye on the deadline and the task order as well as evaluate how much time they spent on each phase of the task. Some tools even include a cost breakdown and total billable hours for every project. Lastly, look for software that maps all this out with visuals so that you can identify trends. For example, it's taking much longer than expected for content revisions. Why and is there anything you can do to speed up the process and reduce payroll?
4. Break Reminders
Your remote staffers may get on a roll and not even realize they've been working for six hours straight. Break reminders give them a nudge so that they always remember to pause and regroup. For instance, every hour the timer dings to let them know that it's time for a 5-minute breather to get up, stretch their legs, and grab a quick snack before heading back to work. This allows them to get more done and eases the mental strain.
5. Invoicing
You need a way to charge clients for all the hours spent on their project. The same goes for meetings and consultations. Invoicing features automatically track billable hours. Then you can compile all the information so that it's easier to submit invoices and get paid. You can also track hours from multiple sources. For example, this employee worked on the client's marketing campaign, while another wrapped up their landing page design.
6. Group Calendar
It's not just about how much time they've already spent on tasks but what lies ahead. A group calendar allows them to plan out their workweek and stay on schedule, as well as see what other team members are working on and how that fits into their job processes. For instance, they need to wait until this person finishes their portion of the project so, they may have to move their follow-up task to the following week.
7. Employee Contact Info
Every time tracking tool should include a spot for employee contact info, such as their name, email, and phone number. Or even their regular office hours so that they can take time off without being interrupted. Another key element to include is their job roles or responsibilities. This way, every department can find the right person for the task. To illustrate, the HR team needs to know who to contact for orientation course revisions.
8. Native App
Mobile accessibility is a must for modern staffers. Thus, your new software needs an app so that employees can track time on-the-go and work from anywhere, instead of being tied to their PCs. For instance, they're meeting with a client and need to account for travel time and expenses as well as all the tie-in activities, like client lunches and brainstorming sessions.
Bonus Feature: Vendor Support
This is only a "bonus" feature because it underlies every other selling point. You need software that comes with vendor support services and customer training. Even if it's just basic online FAQ and user forum where you can find insider tips. Then again, less experienced teams may need advanced support, such as phone and live chats. The key is to survey staffers and gauge their level of tool familiarity. When in doubt, opt for more support services to avoid long implementation delays. You should also evaluate their online knowledge base. Look for tutorials, demo videos, and other online training resources to lower the learning curve.
Conclusion
These are just a few essential time tracking app features you should consider for a new platform. However, you may need to expand the list based on your business needs and goals. For example, some organizations might require built-in budgeting tools or automatic reminders to improve functionality. So, conduct a needs analysis and evaluate your current toolbox. Then look for software that bridges the gaps and helps you stretch available resources. Once you have all the data, visit our online directory to find the best time tracking software for your remote workforce.
Download our eBook for insider secrets to budget, qualify vendors, and draft RFPs. Punch The Virtual Clock: How To Find The Best Employee Time Tracking App For Your Team also features questions to help you find the right tool for your remote workforce. Get your copy today!