Make The Most Out Of Your Budget For eLearning
You can count yourself lucky. Because today's tech-savvy world provides an almost endless number of eLearning tools.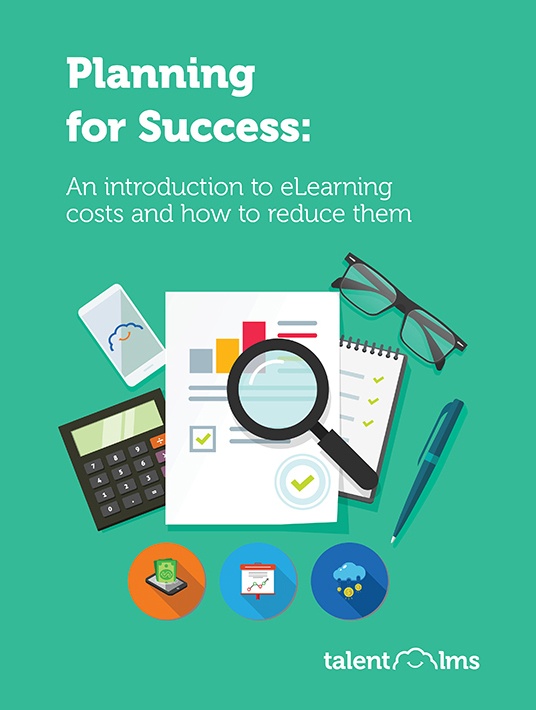 eBook Release
Free eBook - An Introduction To eLearning Costs And How To Reduce Them
Download and discover how to develop cost-effective training -without compromising on quality.
Tools designed to help you create the perfect training program that'll meet every one of your business needs. But there's just one problem. Tools cost money, and you've got a budget.
Securing budget for eLearning programs can be one of the biggest hurdles to overcome in planning your online training program.
And once you've secured it, you'll need to make sure that you don't exceed its limits on Instructional Designers, content development, fancy features, or any of the hidden costs that eat away at your budget unexpectedly.
So, how do you get the most out of your budget for eLearning? Well, we've got a few tips to help you maximize your budget, without risking the quality of learning or a positive training ROI. Some of our tips will require difficult spending decisions, and others are as simple as taking a more DIY approach.
1. Backward Is The New Forward: Employ Backward Design
One of the biggest and most wasteful mistakes when creating eLearning material is spending time, energy, and budget on components that you'll just never need; a mistake that accounts for a large portion of budget creep.
This is why it's so important to decide on the purpose of your eLearning program before you dive into Design and development.
By understanding the learning objectives, you'll be able to focus and prioritize your spending on the most critical design and development elements; an approach known as backward design.
In order to decide on the outcomes of the eLearning program, it's usually worth investing in a thorough needs analysis. This might seem like an expensive exercise, but it could save on costs down the line.
Think about the practical knowledge and/or skills that learners should walk away with when they finish the course. Do they need to be able to apply the skills in real life situations, or should they simply be able to recall and recite information? At what level do they need to apply their new skills?
Once you've defined the measurable outcomes of your online training program, you'll be in a better position to choose the most suitable LMS for your needs.
You'll also know whether or not you need more complex features, like branching scenarios, or if static learning components will be sufficient for achieving your objectives.
This, of course, will ensure that you don't waste budget on any unnecessary eLearning 'ingredients', helping you to reduce your budget for eLearning development.
2. Repurpose Existing eLearning Materials
There's a good chance that you've conducted employee training before. This could have been in the form of eLearning, traditional training workshops, or even hard copy textbooks and assessments.
Start by collating all existing training materials and content to assess whether any of it could be utilized in the new online training program. But, be careful not to use any materials that are outdated or irrelevant to the new learning outcomes.
Trying to fit the new training to existing content might seem like a cost-saver today, but it will almost certainly reduce the ROI of the training program in the future.
Anything that applies can be re-purposed to the correct formats and optimal relevance for the upcoming training. This will result in fewer new materials for development, meaning more budget for eLearning development in other areas.
3. Create Materials Yourself
Once you've decided on the objectives of the program, and you've assessed, and reviewed all existing materials available for re-purposing, the task of training development really begins.
Often, program design and development are outsourced to Instructional Designers, or at least someone with expertise in creating highly effective eLearning courses. But, again, this tends to add a lot to your budget for eLearning.
The good news is that today, there is a multitude of easy to use online and offline authoring tools that make it possible to create your own eLearning materials. Video tools, voice over recordings, or even interactive quizzes are accessible to everyone.
Sure, the higher-quality tools might cost you a little more initially, but they'll make it quicker and easier to create your own materials without having to hire an Instructional Designer. Again, this will help your budget for eLearning.
4. Make Use Of eLearning Templates
The structure, flow, and design of your training program are critical to its success. Like the balance between didactic instruction and interactive application, and the gradual advance in difficulty as learners progress through activities and content.
As much as the individual components of your course are important, the way in which they fit together and guide learners through a process of building their knowledge is equally important.
Not only does eLearning design influence the extent of learning, but it also affects learners' motivation and commitment to completing the program.
Using existing eLearning templates solves this problem by helping to design an eLearning program that flows well.
This also means that you don't waste valuable time and budget on trying to build a course from the ground up, only to find that it could've been built better! Templates will ensure that your course is well-structured, and supports learners in their successful completion of their training.
5. Encourage Further Learning And Collaboration
Employees want to learn and appreciate opportunities to learn. But these opportunities don't have to take shape as formal eLearning programs alone.
Sometimes, it's best to let learners make their own opportunities, and find resources that interest them. This could be in the form of books, online videos, and talks, or free seminars.
This learning can go a long way in supporting and reinforcing the objectives of formal training programs. In fact, encouraging participants to explore further learning materials outside of the course has benefits for both your budget for eLearning, and for the quality of the educational experience.
By combining self-motivated, informal learning with a valuable discussion forum or wiki components, learners will be able to add extra value to the course by sharing their new knowledge and skills.
This form of peer-to-peer learning can cost little to nothing, while allowing learners to be far more engaged and autonomous in their own learning experience.
6. Find The Right Balance
Creating a great eLearning course on a tight budget is all about finding the balance between spending money where it's most needed, and saving where it's not.
If you plan your training with clear objectives in mind, and make use of the tools available to you online, you'll be able to create quality, engaging online learning programs that come well within your budget for eLearning.
Related articles:
1. You've Got Options: Comparing Online And Offline Training Costs For Smarter Training Decisions
2. Reduce The Cost Of Training Employees With These Simple Techniques
3. Think Ahead: The Costs Associated With eLearning Development
4. How Well-Planned Corporate Training Can Affect Your Business Growth And Profit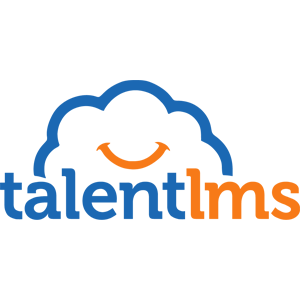 TalentLMS
Easy to learn, easy to use, and easy to like, TalentLMS is designed to get a "yes" from everyone, including C-level execs, budget heads, and busy employees. Now, instead of checking out, your whole organization leans into training.