Virtual Learning Solutions For Leaders
Organizations have pivoted hard this year to respond to the changing world around us. From plummeting—or skyrocketing—demand to supply chain interruptions to work-from-home orders, the changes keep piling on. The need for greater flexibility and resilience is apparent to all of us. In the scramble, organizations turned to virtual learning solutions, with famously mixed success.
It's time now to look at virtual learning more strategically, to get beyond muddy messaging, poor design—or no design—and technical issues and use proven virtual learning solutions to meet your employee training needs and give your company an edge.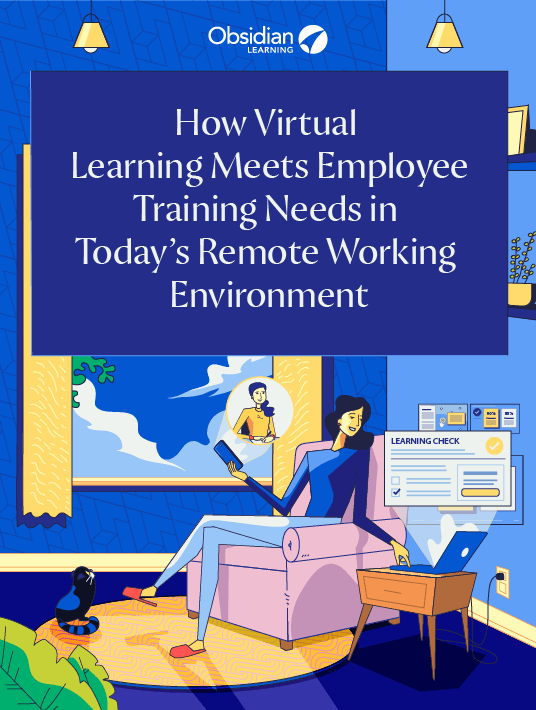 eBook Release
How Virtual Learning Meets Employee Training Needs In Today's Remote Working Environment
Learn how to employ virtual learning to meet the needs of your learners and your organization.
1. Make Your Virtual Learning Learner-Focused
Subject Matter Experts and project teams tend to think in terms of tasks, processes, and tools, so they may default to organizing training that way, too. But an employee just wants to learn what they are expected to do and what they need to know to be successful in their jobs. They want training organized around them and their needs, and they learn best when you give it to them this way. Here's how, and why.
Design for your audience

Design the look and feel to support the message, tone, attitude, and culture.
Align with your audience's language, vocabulary, social norms, reading level, values, and expertise.
Use methods appropriate to their work environment (e.g., do not rely on audio in a noisy machine shop).
Design for their access to technology (phone vs. laptop screen size, high speed vs. spotty internet access)
Allow for differing schedules (do not rely heavily on synchronous communication for audiences spread across distant time zones).

Organize and present content by user role (e.g., use learning maps or learning portals)

Learners have a better chance of getting exactly what they need.
The mental "static" of uncertainty is greatly reduced.
Learners are more confident of the accuracy and validity of the content.
Learner time is used more effectively (not wasted on parsing through content they will never use).
2. Make It A Process, Not An Event
No multi-hour info dumps, please! Instead, spread learning over time in what we call "distributed learning." Spacing content out reduces overwhelm and increases absorption and retention. There are plenty of ways to use virtual learning solutions and bring the results you need. Instead of a 3-day intensive class, consider spreading content and interactions over several weeks.
The distributed learning mindset extends beyond the virtual classroom into the workplace when you embed learning and reinforcement in work processes. Beyond ticking a box on a performance review, this could look like:
Just-In-Time support triggered at the moment the need for the knowledge or skill arises. Think searchable how-to videos, online help with step-by-step instructions, or infographics over the workspace they refer to.
Making the final step of a course demonstration of a new skill to a supervisor back on the job.
After successfully incorporating new skills on the job, the employee coaches the next batch of learners.
When a new project team is formed, the team identifies any necessary skills and knowledge that are lacking. Each is assigned to a team member, who learns what they need and then performs that role.
3. Use Blended Learning Principles For The Best Virtual Learning Results
Virtual instructor-led training (VILT) and web-based training (WBT) are only two facets of what is possible in a virtual learning environment. A blended approach can incorporate these and more—or different—elements to strengthen the overall program.
For example, VILT lectures alone are less useful for visual learners and people with difficulty hearing. You can help these learners—and everyone else—with short animated videos to set the stage with key messages, pre-work WBT modules on essential knowledge to bring everyone up to a baseline level, assignments to complete offline to apply the learning, infographics to reinforce important concepts or process changes, and other elements appropriate to that particular topic and audience.
For a blended approach:
Use multiple delivery methods to address diverse learning styles.
Incorporate self-serve, self-paced virtual learning elements. This allows employees to fit training into their schedules, to pause for processing (or to deal with urgent interruptions), and to seek the level of interaction and support they prefer and require.
Chunk content into small elements that can be used and reused. This is good for learners and stretches the value of every training dollar you invest.
Make content searchable so learners can find what they need quickly and easily.
4. Include Social Learning Elements In Your Virtual Learning Programs
As we explored in our article How To Transform Your Remote Workforce Into A Virtual Learning Community, a diet of full-time remote work and pure virtual learning can leave employees feeling isolated and disconnected. Adding social elements to virtual learning can make all the difference. Here are a few ways:
Make some course assignments partner or team exercises with either fellow learners from the course, or coworkers and supervisors from the learner's regular work team.
Match buddies to new hires and employees new to a group/department. Involve supervisors, managers, and mentors in processing learning after employees are back on the job.
At all levels (buddy, supervisor, manager, mentor), provide a framework of questions and activities as a foundation for consistent teaching, reinforcement, feedback, and/or career development. (Spontaneous questions and interactions are a bonus, not a substitute for this.)
5. Make Feedback A Cornerstone Of Your Virtual Learning Program, Especially For Remote Workers
Give personalized, timely feedback to learners on their performance gaps and their improvement after training. This can be more difficult in remote settings but it is highly impactful when done well and consistently. Ensure managers have the skills, tools, and guidance to do this effectively in a remote work environment and are accountable for doing so in a timely manner.
Feedback doesn't stop there! Also, request input from learners on the training they've received, and what else they need that is not addressed in your offering. Feedback can focus and improve your training programs rapidly and help you target spending where it will have the greatest impact.
Recap
As you strive to meet employees' training needs in a remote working environment, remember these proven solutions for flexibility, resilience, and success:
Make your virtual learning learner-focused.
Make virtual learning a process, not an event.
Use blended learning principles for better results.
Include social learning elements in your virtual learning programs.
Make feedback a cornerstone of learning development and delivery.
If you're wondering how you can effectively implement virtual training in your organization and meet the needs of your learners and your organization, download the eBook How Virtual Learning Meets Employee Training Needs In Today's Remote Working Environment. Find out more virtual learning resources and tips by joining this webinar, too!