Importance Of Customer Training On Loyalty And Satisfaction
Organizations should never underestimate the importance of customer training. Customers expect ongoing support and education to familiarize themselves with your brand, not to mention, get the most from their investment. Businesses that lose sight of this are often edged out by the competition or limit their growth potential. Fortunately, you can use customer training platforms to scale up your initiatives and make a lasting impression.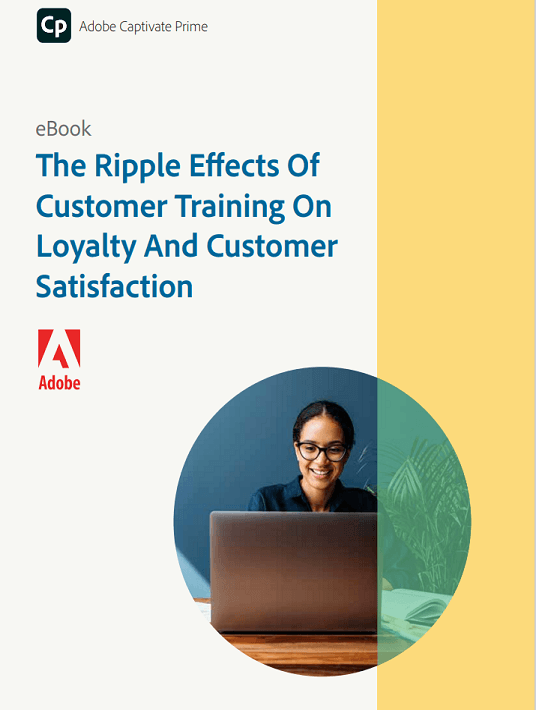 eBook Release
The Ripple Effects Of Customer Training On Loyalty And Customer Satisfaction
Discover how to launch a consumer education strategy with the help of a robust online training platform.
Should You Leverage Training Tech To Boost Customer Loyalty And Retention?
There are few tell-tale signs that can help you determine if training tech is the best approach. These underlying pain points may be attributed to other things at first, such as a change in the market, however, it often boils down to limited brand engagement and consumer education resources. Here are some red flags that your organization may be ready for a customer training platform.
Low Per-Ticket Sales
One of the most obvious signs of ineffective customer training is low sales stats, namely, low per-ticket sales which indicate that customers are unaware of additional services or product add-ons. For example, there aren't resources that showcase upgrades or tie-in products that maximize functionality, so they simply spend the bare minimum instead of making the most of what your brand has to offer. This is why it's crucial to invest in a customer training platform to raise their awareness and increase sales stats.
High Employee Turnover
This might seem like a stretch, however, customer training has a direct impact on your employee retention rates. Let's say that customers aren't knowledgeable about your products or services. As a result, your employees need to take on even more support responsibilities to bridge the gap. For instance, they may have to field countless questions every day regarding the warranties, usage instructions, etc. They're more likely to leave and find an organization that does offer customer training resources, which gives them more time to actually fulfill their job duties.
Low Referral Rates
Customers probably won't spread the word about your products or service if they aren't getting the expected level of support. Thus, ineffective customer training can also lead to low referral rates and limited word-of-mouth advertising. On the other hand, launching a consumer education program with onboarding can help you improve brand advocacy. For example, customers are so satisfied with your knowledge base that they promote your brand on social media.
Difficulty Venturing Into New Markets
Maybe your organization cannot seem to break into new markets or globally expand. This might be attributed to ineffective customer training and/or learning technologies. Customers simply aren't getting the personalized support to bridge knowledge gaps and get to know your brand. As such, you're limiting your business growth. There's also the issue of training localization. For this reason, it's crucial to invest in a customer training platform that allows you to launch diverse, individualized programs that cater to a global audience.
High Consumer Education Costs
Another common warning sign that it's time to implement customer online training is a rise in costs. For example, your current strategy involves face-to-face training workshops and other events or maybe you offer printed materials. Learning technology enables you to reduce these expenses and improve accessibility. Everyone can log into the platform to get the information they need when they need it most.
Heavy Support Team Workload
If your organization falls short when it comes to customer training resources, your support team has to pick up the slack. As an example, take more calls and handle more trouble tickets throughout the course of their workday. In reality, consumer education should be readily available so that customers can address basic issues on their own. For instance, watch video demos or tutorials to learn how to properly use the product or sign up for additional services.
About This eBook
While many companies focus on internal development, such as cultivating in-house talent, they overlook consumer onboarding. But customer training goes even deeper into the consumer journey. In fact, you can use learning technologies to keep them in the know and promote new products or services. Here's a brief glimpse of what you'll find in the eBook The Ripple Effects Of Customer Training On Loyalty And Customer Satisfaction:
What Is Customer Training And How Can It Improve Customer Onboarding?
Understanding KPIs: 7 Important Customer Satisfaction Metrics You Must Measure
How You Can Improve Customer Experience With A Customer Training Platform
Surefire Ways To Use An LMS For Your Customer Retention Strategies
6 Customer Loyalty And Retention Best Practices To Fuel Your Business Growth
Why You Should Invest In Customer Retention Programs And LMS Technology
Whether you're an SMB that's just starting to develop customer training resources or a large-scale organization that needs to rev up its consumer education efforts, this guide is for you.
How To Implement A Solid Strategy To Skyrocket Sales
Some organizations avoid online customer training because they assume it's too costly or that it diminishes the personal touch. However, choosing the right training platform can help you stretch resources and connect with consumers on a global scale. The key is to find a system that's user-friendly and delivers robust reporting features so that you can track user engagement. Adobe Captivate Prime is the ideal solution for businesses that want to enhance their consumer education programs and improve CX scores.
Customer training is essential for long-term business growth. It builds a better rapport with your consumer base, which keeps them coming back for more. Download The Ripple Effects Of Customer Training On Loyalty And Customer Satisfaction for more tips to launch a consumer education strategy that helps you retain customers and bring new ones into the fold.