Mentor And Enabler: The Role Of The Manager In Employee Development
While modern online learning platforms make corporate training easy to setup and deploy, a successful employee training program can still not run on auto-pilot. Proper planning, follow-through, and managerial involvement remain critical ingredients for its overall success. The role of the manager in employee development, in particular, should not be underestimated.
In this article, we'll examine what managers should do to support training, and how managerial involvement helps increase employee engagement with their training—and also benefits the managers themselves.
The Top Benefits Of Manager Involvement For The Employees
1. Training Becomes A Priority
Without the direct involvement and engagement of your management team, it's very easy for a training initiative to quickly fall by the wayside.
Left on their own devices, employees tend to de-prioritize and dismiss training as something secondary to their everyday workloads. This behavior is understandable, too. Employees will stick to their official responsibilities, as those are what they're directly accountable for.
The role of the manager in employee development, then, is first and foremost to help employees understand the value of training. How? Promoting the importance of skills development, regularly checking on their team's training progress, and taking skills development into account in their performance evaluations are some good ways to get you started.
2. Employees Get To See The Big Picture
Employees often miss the big picture of their company's mid- and long-term goals. Managers, on the other hand, have a higher level view, and a better understanding of the company as a whole. Because of this higher level of knowledge, an important aspect of a manager's role in training and development is to help employees see how their training fits into the company's overall plan.
In other words, managers should explain to employees the end goal of their training, let them know what kind of development should be prioritized (and why), and instruct them on how to leverage their new skills to advance their role (and, hopefully, their salary as well).
3. Training Becomes Agiler
Management involvement makes your training agiler. See, your upper management team is the one that foresees and responds to emerging markets development and steers the company to new directions. It's only natural that they should also help steer the company's training program and update its goals, whenever new needs arise. An employee training program whose design and operation is delegated to a specialized team, with only occasional input from the upper management, runs the risk of quickly becoming obsolete.
This is why you should see training as an essential part of the company's operation—one that your management is deeply involved in, as opposed to an afterthought.
4. Quality Of Training Is Guaranteed
The management team is responsible for enforcing the business's quality standards and values to all aspects of the company's operation.
This responsibility should expand to include the company's employee training program. Your training program is, after all, an important part of the company's operation, with direct consequences to the company's efficiency, competitiveness, and agility.
This goes double for your pre-hire training and employee onboarding program. As the first taste that new employees will get of your company's culture and values, it's important to get them right.
Management participation is crucial to ensure that your training:
accurately reflects your company values,
fully covers any industry- or state-mandated conformance criteria,
effectively covers the required employee skills,
is properly organized and runs smoothly.
5. Employees Get Proper Mentorship
Your training program is where your future team leaders and managers are created. It's also where a new hire's lack of aptitude will be first exhibited. For this reason alone, it's important that your management team keeps a close eye on your training's best and worst performers.
Employees that perform poorly in their skills training, for example, will most probably struggle to cope with their new job responsibilities. Managers should give these employees additional training and development opportunities to grow their skill set. If that doesn't work, consider assigning them to an easier post or letting them go.
Similarly, managers should mentor the employees that fared better in their training, take them under the wings, and steward them towards becoming team leaders themselves. This will also send a strong signal that the training effort is rewarded, which in turn will boost training engagement among your employees.
The Benefits Of Manager Involvement For The Managers
We've already established that the role of the manager in employee development is crucial. But now let's examine why active involvement in employee training is also beneficial for the managers themselves.
1. They Gain Valuable Insights
One big reason is that following employees as they go through their training gives managers essential insights into their character, skills, work ethic, and agility. These insights remain useful long after the training program has been completed, e.g., for knowing how to assemble a team to handle an important task, or for determining which employees to assign leadership roles to.
Training can also serve as a good proxy for the company's overall responsiveness to changing market conditions. If most of your employees, for example, struggle to get through a particular skills development curriculum, your company is probably not ready to jump to a new market just yet.
2. They Improve Their Coaching Skills
An essential aspect of the role of the manager in employee development is to serve as a mentor for the company's employees and future leaders. Active participation in your training program will let them fulfill their mentorship role and hone their coaching skills. Training can also serve as an opportunity for team leaders to closely collaborate and bond with their teams, outside of the pressures and tight schedules of regular work.
3. They Learn As Well
Should managers sit with their team through its training? The answer is yes. While managers are usually only required to take higher level courses (e.g., in leadership training and relevant soft skills), they'll still learn a lot if they undergo the same training as your other employees. This will help them understand better the low-level procedures and everyday workflows that is their job to oversee. For senior management, this can be especially useful, as many technologies and workflows that lower level employees use will have changed from when they last had to deal with them.
Conclusion
In this article, we've examined the managers' role in employee training—and the importance of active involvement both for the success of your employee training and for the benefit of the managers themselves.
You are now ready to move beyond the whys, and learn more about how to best involve your managers in the training progress, and how managers can support employees in their learning.
Of course, the right eLearning platform will help make everything more accessible, allowing you to concentrate on your training program, and offering your managers all the tools and insight they need to monitor it and quickly make any required changes.
If you are on the lookout for a powerful, enterprise-ready LMS, like TalentLMS, we suggest that you schedule a demo with eFront. It's a mature and highly flexible platform, that's more than capable to handle any business training need.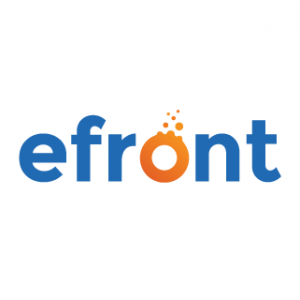 eFront
Train your employees, partners and customers with eFront, the powerful learning management system that shapes to fit your needs.