Must-Have Skills To Look For In Training Needs Assessment Providers
It takes more than experience and niche expertise to highlight hidden gaps—more than training needs analysis methods and models. Effective outsourcing partners must have certain qualifications to evaluate your strategy objectively and make targeted recommendations. These talents allow them to dive deep into LMS metrics and surveys without letting the abundance of Big Data overwhelm them. Simply put, they know how to make sense of the metrics so that your organization can deal with training inefficiencies head-on. Every training needs analysis provider must possess these skills to achieve the best outcomes and maximize ROI.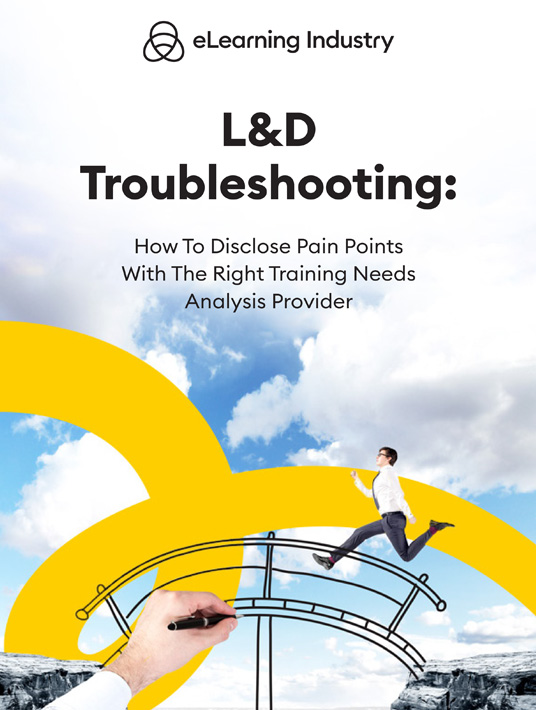 eBook Release
L&D Troubleshooting: How To Disclose Pain Points With The Right Training Needs Analysis Provider
Let's explore how you can implement successful VR training strategies for experiential learning!
8 Top Skills Training Needs Assessment Providers Must Have
1. Problem-Solving
In many respects, training needs analysis calls for a master sleuth. A data detective who can identify the L&D culprit that stands in the way of long-term success. In short, an adept problem-solver who understands how training ties into real-world outcomes. For example, low customer service scores may be the result of ineffective soft skills training. The vendor can focus their research efforts on that aspect of your certification program instead of casting the net too wide. Training needs analysis outsourcing partners must also be aware of typical challenges your industry faces so they know where to look. For instance, they start with a detailed inventory of your JIT library because practical application is a common pain point. Employees cannot move from theory to practice, which leads to compliance breaches and low sales stats.
2. Communication
Once they determine the problem(s), vendors must articulate their findings and recommendations, which requires strong communication skills, from active listening to summarization. Communication also serves them well during the training needs assessment because they ask the right questions. Why do employees exhibit these performance behaviors and which training activities reinforce them? Is there a better way to facilitate peer-based collaboration that creates a more inclusive training environment? Successful training needs analysis vendors know how to follow a line of inquiry and provide effective feedback.
3. Creative Thinking
Sometimes, there's no clear-cut solution or you simply can't determine the reason why your training strategy falls short. This is when creative thinking skills come in handy. Consultants are able to use their knowledge of training needs analysis methods to approach the problem from different angles. To use their lateral thinking abilities and see the cause and effect behind training inefficiencies. Creativity also extends to their gap-bridging recommendations. For example, they might suggest simulations or peer support groups to improve your safety training strategy. That said, their resourcefulness and innovation should be within the confines of your budget. No far-fetched solutions that force you over budget or push employees too far out of their comfort zone.
4. Strategic Planning
Planning is a must for the training needs analysis. Vendors must map out every phase of the project and strategize with team members to disclose hidden pain points. For example, the first stage is re-evaluating your training objectives to ensure they're still relevant. Then they move on to a thorough asset inventory to see what you're working with. Your training needs assessment provider must break the process into more manageable steps so that nothing slips through the cracks.
5. Time Management
The faster you get rid of underperforming assets and boost employee engagement the better. You need a training needs analysis provider with time management skills to expedite the process. That doesn't mean they should cut corners to meet the deadline. In most cases, vendors have experienced every bump in the road. They know how to mitigate risks and avoid delays. As a result, they can conduct a detailed TNA rapidly and prioritize gaps based on your business objectives and outcomes.
6. Data Mining
Training needs analysis outsourcing partners must know how to find relevant data and how to decipher it. This is a sticking point for many organizations because there's simply too much information to sift through. You don't even know where to begin. PM service providers help you compile all the data from LMS reports, surveys, observations, and assessments, as well as identify patterns and trends within the data that reflect organizational weaknesses.
7. IT Know-How
You can't let IT roadblocks prevent you from achieving desired outcomes. Thus, your next TNA service provider needs advanced IT know-how and experience. They must know how to use the tools of the trade and how to navigate your eLearning systems. If they're unfamiliar with your LMS or other data sources, their top-notch technical skills lower the learning curve. For example, it only takes them a day to acclimate to your training platform so they can mine all the Big Data they require.
8. Organization
Organization pertains to virtually every aspect of a training needs assessment, from RFP responses to post-project feedback. Outsourcing partners must delegate tasks, stick to deadlines, and set realistic goals, as well as manage their team dynamic and collaborate with your staffers every step of the way. Even if you request a more hands-off approach, organization is essential. It gives you added peace of mind because you can rely on their expertise instead of second-guessing their work practices or follow-through. For example, they show up to every meeting fully prepared and are always ready to share their findings.
Conclusion
If you choose not to outsource, these skills are also crucial for internal training needs analysis. Compile a team of master problem-solvers and creative thinkers to identify areas for improvement and revamp your L&D strategy. You can also cultivate these talents through certification courses and hands-on training activities to prep them for the task. They must also have the right tools for TNA, such as PM platforms that allow them to collaborate remotely and share their results.
Outsourcing training needs assessment gives you access to external expertise and helps reduce the TNA timeline. Find the best content provider for your organization in our exclusive online directory. Which features the top training needs analysis companies for every industry and customer type.
Download the eBook L&D Troubleshooting: How To Disclose Pain Points With The Right Training Needs Analysis Provider to find a partner who helps you identify L&D shortcomings and develop a plan of action.