Top Features In A Gamified Learning System
While gamified learning has become a popular method of training in recent times, there are certain features that organizations need to focus on when creating their game-based learning for a higher value. It requires organization, research, and planning. Adding badges or leaderboards alone to an existing online strategy isn't the answer.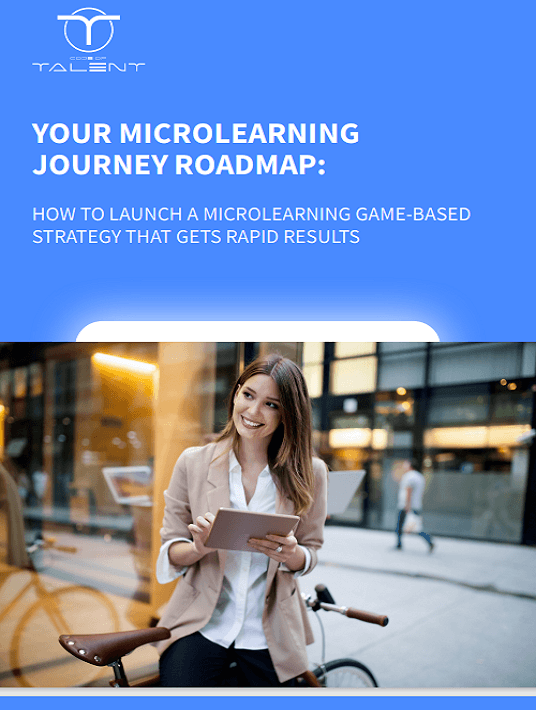 eBook Release
Your Microlearning Journey Roadmap: How To Launch A Microlearning Game-Based Strategy That Gets Rapid Results
Discover how to level up your L&D program with game-based microlearning!
13 Features That The Microlearning Gamification Platform Should Possess
The Right Content
While creating the microlearning gamification training, the content selection should be given special consideration or the learner will not be engaged and therefore, not gain knowledge. Another feature we have discussed is to ensure bite-sized chunks of training to ensure engagement. A specific performance-based learning objective in every module ensures the progress of the employee/learner can easily be tracked.
Badges
The microlearning gamification platform should have various types of badges included that align with the training objective. For instance, a hardhat icon badge is suitable for safety courses while trophy icon badges are ideal for top performers.
The Necessary Game Mechanisms
With gamification, less is more. Adding superfluous elements to your gamification would hinder the learning process. When designing the content for your gamified learning, including details related to the exact role and keeping in mind the benefit of each element results in a more effective learning process.
The elements should also be promoting the best possible performance. The focus shouldn't be on just high scores on the leaderboard but also on gaining useful knowledge alongside. Adding flow charts and infographics helps remember details and the learning objectives. Another feature that you can incorporate into your microlearning gamification platform is questions or micro quizzes from time to time which would help reinforce the learning.
Point System
Using a point system for rewards is much more difficult to incorporate than perceived. The points cannot be awarded randomly but need to incorporate while the course is being designed and evenly distributed. Point-based mechanics help encourage positive behavior that aligns with the learning objectives.
Game Levels
Incorporating different levels in the e-learning modules along specific parameters results in a more effective gamified learning process. An example of this could be where a learner needs to pass a test or an exam to progress to the next level in the module. A progress indicator displaying their performance level is another effective addition.
Rewards
Most organizations require software that supports various types of rewards for their employees and each employee's motivational pull varies. For instance, some employees have a more positive response to leaderboards rather than badges or vice versa. The software should be capable of supporting an incentive program that encourages more involvement and might even provide a 'grand prize,' such as a resources library after certain reward points. Being able to use rewards outside of gamified learning is also a major motivator for most employees.
Leaderboards
Some learners work best when competing with their peers, this helps prove their job competency to themselves. The online training activities should be directly tied to the leaderboard and the points that they earn should impact their place on the leaderboard While developing the gamified learning software, the course progression should clearly be defined and the top performers should be recognized to promote healthy competition between learners.
Progress Bar
An interactive progress tracker that enables learners to choose a different path within the module to choose the badge they wish to earn next is an engaging feature. Being able to revisit previous levels should also be possible for the learner as this helps retain information better.
Customization
A good gamified learning software would have customizable features of rewards and mechanics to the existing templates. However, there should be pre-built rewards for organizations wanting to save time on modifying leaderboards and badges. An extensive reward library with color palettes and themes is integral to a good microlearning gamified software.
Templates
While creating a gamified online course, expertise and tech skills are required as well as resources, money and time. A simpler method to go about it would be selecting a learning software that has pre-defined templates to choose from, like Code of Talent.
Community And Collaboration
Choosing a platform that incorporates a collaborative learning experience can be a major differentiator. Employees are the ones that know everything about a business from its culture to its processes. Thus it is important to leverage their knowledge and encourage them to learn from one another. Another feature that is of importance is an open debate space as well as private messaging where teams can interact with each other and access each other's answers.
Intuitive Interface
An intuitive interface that enables recognition, evaluation, and reward for participants' answers to every mission.
Notifications
A feature of instant notifications related to participants' missions and their submissions is excellent as it helps provide immediate feedback to the learner and they can improve their performance.
Game-Based Learning Tool Selection Tips
While choosing a vendor and the best software for your gamified learning system, there are a few selections tips you can take into consideration:
Choose a software that offers micro-learning so your users can learn in bite-sized portions to retain the knowledge.
A wide variety of learning and assessments interactions should be available: from quizzes, surveys stories to video proofs and image proofs.
Gamification mechanics should be available. Like points, energy scores, and badges that aren't just available to the trainer but peers can award them to each other too.
Direct interaction with the trainer should be possible in a digital follow-up format along with customizable instant email notifications.
Multiple training options and being able to switch between programs.
A community and social feature is a great addition that encourages discourse amidst the teams.
The training journey should be easily configured and designed with the help of levels, missions, and milestones.
The option to actively manage the users and disable, edit, or add new users conveniently.
Conclusion
Microlearning is quick to consume, but it's not always quick to develop. Fortunately, this eBook has best practices and tips to choose the best platform in record time. Download the eBook Your Microlearning Journey Roadmap: How To Launch A Microlearning Game-Based Strategy That Gets Rapid Results for more insider secrets.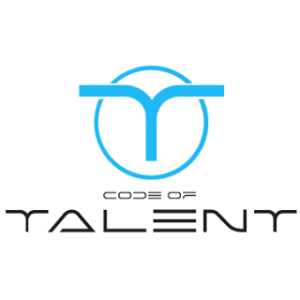 Code of Talent
Code of Talent is an award-winning SaaS platform that helps employees learn and apply fast, in a very dynamic business environment with minimum training time, minimum costs and on the job live impact.