One of the most important tools used in eLearning are those for web annotation. These are social software tools that allow users to add, change or remove data from a web resource without modifying the original content of the web page. Those mentioned above are just among the long list of their uses. Others include capturing screen, drawing on webpage, highlighting elements on the screen, adding notes, commenting, bookmarking, sharing etc.
Below is a compilation of The Best Free Web Annotation Tools. These applications are quite easy and fun to use.
How To Use The Best Free Web Annotation Tools
1. Diigo 


Collect and Highlight, Then Remember. It's one of the most commonly used free web annotation tools which lets you bookmark and tag web pages. In addition to that, you would also be able to highlight a part of a webpage if you wish to emphasize something and attach sticky notes to it. Its advanced search allows you to rummage through the text of pages you have bookmarked which includes tags, titles, URLs and even your own comments and highlights. One of the best features of Diigo is your ability to comment on other users' notes which can be set to either public or private.Once you install the Diigo chrome extension, you will see its icon displayed at the upper right hand of your screen. When it's clicked, you'll see the dropdown menu from which you can choose what action to do.

Click on Annotate and choose whether to Highlight, attach Sticky Notes or Tag.

Highlight

Sticky Note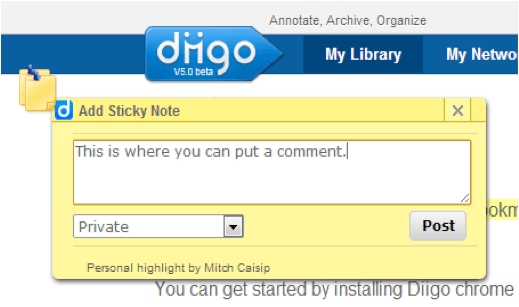 Tag