How Does An eLearning Business Directory Impact Marketing ROI?
You need maximum marketing returns for minimal investment. That's the only way to make a profit and drum up new business for your eLearning company. There are many promotional tools to choose from, but an eLearning business directory should be at the top of your list since it gives you the opportunity to connect with qualified leads and stretch your budget, not to mention get rapid results. However, the proof is in the numbers. Below are some tips to help you determine how a directory for eLearning vendors will impact your ROI.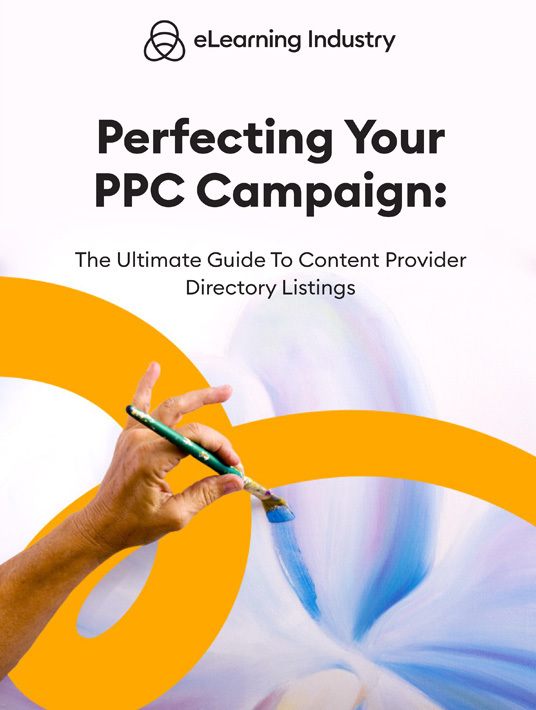 eBook Release
Perfecting Your PPC Campaign: The Ultimate Guide To Content Provider Directory Listings
Learn all the insider tips you need to launch a successful PPC listing.!
1. Reevaluate Your Marketing Goals
Right out of the gate you need to determine your marketing aims. This allows you to calculate an accurate ROI based on your KPIs. For example, you may not be after direct sales. Of course, that's the ultimate goal, but the purpose of your current PPC strategy is to boost attendance for your marketing live event. Or you want to build your marketing list by offering a downloadable eBook, which also establishes you as an insider expert. There must be measurable goals to monitor PPC success and get the best returns.
2. Use Daily Performance Reports To Adjust Your Approach
Many eLearning vendors make the mistake of calculating ROI in hindsight. They wait until the end of the month (or the campaign) to evaluate success when, in fact, they should assess daily performance. One of the benefits of listing with PPC is flexible reports. You can analyze all your marketing metrics as you go, while there's still time to adjust. For example, you're getting a lot of traffic from a specific region or corporate demographic, so why not modify your geo-bidding parameters to improve ROI.
3. Evaluate CPCs To Fine-Tune Your Budget
How much do you spend per click in the eLearning business directory? The CPC stats can help you fine-tune your budget and make the most of marketing resources. Let's say that the CPC average is $3.50, and your monthly PPC budget is $500. That's roughly 142 clicks. You can always modify your keywords or locations to lower the max bid amount and increase clicks. For example, choose less competitive long-tail keywords. Doing so allows you to zero in on qualified leads in your niche and boost ROI. Just make certain that there's still some competition to make it worth your while.
4. Analyze eLearning Company Listing Conversion Rates
Conversion rates are a clear indicator of marketing ROI for eLearning vendors. More conversions equal more money in the company coffers. To illustrate, of those 142 clicks I mentioned earlier, ten convert into paying clients. That's a conversion rate of roughly 14%. Then you need to determine if that hits your marketing goals, or if you have to create a new game plan. Another factor to consider is the number of impressions. For example, your PPC ad shows up 1000 times, but people only click 2% of the time. Is there anything you can do to motivate leads? Maybe a new CTA is in order.
5. Monitor eLearning Business Directory Landing Page Stats
How many visitors flock to your eLearning company listing? And how many of them click through to your website or landing page? It's essential to monitor traffic sites to your most converting pages that link to the PPC directory. Also, bear in mind that some visitors might check out your site after the fact, for instance, they learn about you through the eLearning company directory, then look you up in search engines later on. Maybe they use the directory to compile a shortlist and vet vendors on their own. And all these stats contribute to your PPC marketing ROI.
6. Factor In Your SERP Rankings
Some eLearning vendors create directory listings for the SEO alone. It gives you the chance to improve your SERP standings and build brand credibility, thanks to the fact that the eLearning business directory already has a high ranking. The search engines associate your listing page with the directory and know that it's relevant. Another perk is that you get more traffic to your site thanks to backlinks. The search engine SE algorithms give you a higher quality score and you're more likely to show up on the first page. You can further enhance your SEO by using targeted keywords in your listing.
7. Calculate Sales And Signups
Finally, it all boils down to sales and sign-ups. All the clicks in the world won't benefit your bottom line unless they convert into clients, so tally up new customer acquisitions and how much revenue your PPC campaign generates, then weigh this against the overall costs. For example, you've spent $1000 on your PPC listing this quarter which has resulted in $20,000 in sales. This is a sizable profit margin and it's not even considering the long-term impact on your ROI such as new clients who still have to submit RFPs or are in the process of making a business case. These are all delayed factors that gradually widen your profit margin.
Conclusion
The eLearning business directory is results-driven because it's backed by SEO and a solid reputation. Visitors know they can find unbiased info to make the best buying decision. There are even fraud prevention measures to ensure all reviews are aboveboard, and that only the top vendors earn a spot on the list. Create your eLearning company listing with PPC today to improve ROI and reach your target audience.
The online training solutions directory has all the leading companies for every industry and specialization area. Check out our listings to see why hundreds of vendors rely on us for cost-effective—and low maintenance—marketing.
Download the eBook Perfecting Your PPC Campaign: The Ultimate Guide To Content Provider Directory Listings to launch your listing and achieve PPC success.