How To Choose The Best Bid Amount for An eLearning Business PPC Directory
It's time to place your bids and boost your online sales. The only catch is knowing how much to set aside for the eLearning business PPC directory. What's the best bid amount and when should you invest? The sooner the better is the answer to the second half of that question. But bidding takes a bit more explanation, as there are several factors in play ranging from your current spending cap to keyword competition. Fortunately, these 8 tips can help you optimize your eLearning business directory listing without going all in.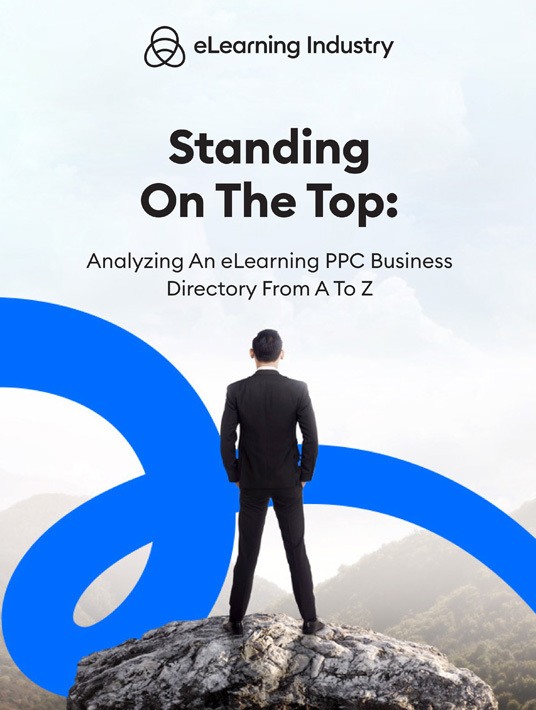 eBook Release
Standing On The Top: Analyzing An eLearning PPC Business Directory From A To Z
Should you list your online training solutions? An eLearning directory of companies outshines other marketing tools because it serves a single purpose, which is to help visitors make the best buying decision.
1. Set A Realistic eLearning Directory Budget
Every budget needs limits. Before you can set the right bid amount, you need to know how much you're working with. What is your overall marketing budget and what percentage of that goes to an eLearning directory with PPC? More importantly, what do you expect from the investment? If the goal is to get as many clicks as possible to improve SEO then you may want to set a lower bid amount. On the other hand, you might take a quality over quantity approach to generate more qualified leads.
2. Create Marketing Milestones To Measure Success
You also need to create a schedule to break your budget into measurable milestones. First, develop evaluation criteria you can use to monitor marketing performance. Then map out your promo events so that you can align them with your PPC campaign. For instance, next month you're offering a special signup bonus for new clients, so you may want to set aside more marketing funds for that and cut costs this month. Another factor to consider is your marketing objectives. Expanding your client base is the primary goal, but you may have other items on the agenda like becoming an industry thought leader and boosting brand awareness.
3. Analyze Keywords Bids And Competition Scores
The more competitive the keyword is, the higher the bid amount. That's the general rule. For example, a popular keyword might set you back $5.00, while a long-tail keyword costs half that. The trick is to find a balance. Focus on your niche audience and find out which keywords they use to search for online training solutions. Which industry are they in? Are they looking for specializations? What about training topics or delivery methods? Audience research can help you concentrate on your target market with long-tail keywords and LSIs. It's best to steer clear of general terms that are oversaturated, as the bid costs are steep and the competition is fierce.
4. Determine How Many Sales You Need To Make A Profit
An eLearning business directory is designed to broaden your profit margin. You shouldn't set your sights on breaking even. So, determine how many sales you need to turn a profit. For example, you have to acquire five new clients to warrant the investment, and they need to bring in $10,000 in revenue. Then again, two clients will suffice if they net the same amount. This is why it's best to concentrate on overall sales versus clients.
5. Evaluate Reports To Adjust Your Max Bid Amount
Marketing success hinges on adaptability. You must be able to re-evaluate your strategy and identify areas for improvement. For instance, one of your PPC ads is underperforming. CPCs are high and clicks are low. Thus, you may need to adjust the CTA or keywords to attract more leads. Likewise, you might have to raise the bid amount to be more competitive and draw in qualified buyers.
6. Ask Your eLearning Business Directory PPC Marketing Advisor
One of the standout benefits of a listing with PPC is a personal marketing advisor, an expert who works with you to customize your campaign and maximize results. They can also help you select the right keywords and geo-bidding locations for your eLearning company. You also get a personal account manager and directory landing page optimization consulting.
7. Test Out Different PPC Approaches
There are several PPC strategies to consider, such as brand-building. You simply add your brand name to target keywords to improve online visibility. It's wise to try out different approaches to see what works best for your business. The built-in reports can help you evaluate the results and improve resource allocation. That said, it does take time to reap the rewards, therefore you may want to wait a month or two before you completely overhaul your campaign.
8. Assess Other Marketing Avenues
If you already use social media ads or content marketing, assess the costs versus outcomes. As an example, you post articles or blogs every week. This includes writing fees, site hosting, and keyword research. What's the payoff? How quickly does it yield results? If other marketing avenues are already successful, you can use the data to improve your PPC campaign, possibly include similar keywords or CTAs. On the other hand, you may choose to invest more in PPC and less in other marketing channels.
Conclusion
Another thing to keep in mind is that nothing is set in stone. You can adjust your bids at any time to rev up your marketing efforts. For example, you need to promote your latest eBook or upcoming webinar to become an industry authority. As such, you can invest more in your PPC campaign that month to drive more traffic to your site. One of the perks of eLearning directory listings with PPC is flexible spending, not to mention transparent geo-bidding that lets you focus on different markets.
Our exclusive eLearning content provider directory features all the top vendors in the industry…except for yours. Check out our listings to see why eLI is such a popular marketing tool for eLearning companies.
Download the eBook Standing On The Top: Analyzing An eLearning PPC Business Directory From A To Z to launch your listing and achieve PPC success.