How To Find The Right eLearning Vendor For VR Training
Developing immersive learning activities requires niche skills and expertise. Not to mention, advanced eLearning authoring tools that support greater interactivity and dynamic online training environments. So, what should you do if you lack any of these essential elements or simply don't have the time to create online training content in-house? The answer is eLearning outsourcing. Hiring an eLearning content provider who understands your online training objectives and has all the necessary know-how. Now, the question is how do you find this ideal eLearning outsourcing partner? How do you know which eLearning vendor has the talents you're looking for and won't put you over budget? These 7 tips can help you choose the best VR training companies for immersive learning.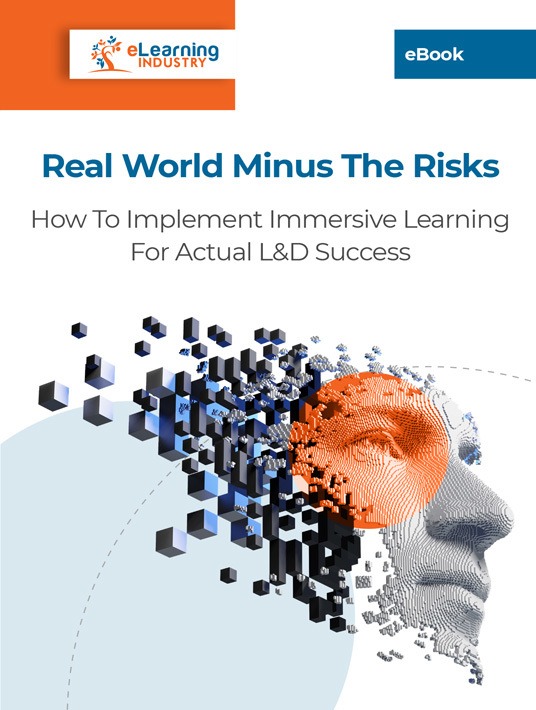 eBook Release
Real World Minus The Risks: How To Implement Immersive Learning For Actual L&D Success
Prepare your workforce for real-world challenges with immersive learning.
1. Lead Off With An eLearning Outsourcing Directory
An online directory gathers all the essentials in one place. Granted, you still need to follow up with eLearning vendors and request quotes. However, the listings feature everything from specialties to pricing options. This allows you to narrow your choices and re-evaluate your priorities. For example, you may have to look for eLearning content providers who also specialize in microlearning and serious games, not just VR task simulations. As such, you can expand your shopping list to avoid having to vet eLearning vendors all over again after a month—when you finally realize that bite-sized support is best.
2. Verify Their VR Training Credentials
Has the eLearning vendor worked in your industry before? Are they familiar with the tasks or compliance risks? How long have they been developing VR training resources? Verify the eLearning content providers' credentials to ensure they meet your expectations. If they're a new eLearning vendor, set up a meeting to discuss your eLearning outsourcing project. Give them a basic overview of what you're looking for and your current online training gaps. Then ask for their input. Which points would they include in the VR training activities? Which online training resources are best for your employees? Is the eLearning vendor able to devise a solution for common performance issues on the spot, even if it's just a general idea at this point?
3. Request Quotes And Re-Evaluate Your Budget
Of course, price is always a decision-making factor. How much do VR training companies charge and is it in your price bracket? Request quotes to get a ballpark estimate of their fees, then take a look at your budget. Did you forget to include any eLearning outsourcing costs that every eLearning vendor mentions on their price sheet? Is your VR outsourcing budget realistic, or do you need to rethink your price point? Requesting quotes helps you prioritize online training outsourcing tasks based on available online training resources, as well. For example, you might have to wait on the VR sales simulation because the compliance activities are at the top of your list and you want to avoid breaches that result in penalties.
4. Review Their Online VR Portfolio
Even new VR training companies should have an online portfolio to establish their immersive learning talents. For example, past corporate eLearning projects they've completed or simply sample activities they've designed to show the range of their skills. Review their portfolio with your goals and outcomes in mind as well as the overall aesthetics you want to achieve. Will the eLearning vendor be able to develop online training resources that resonate with your employees and fit into your existing online training library? Do they have the necessary tech experience to create your interactive VR training tools?
5. Evaluate Ratings
See what other users have to say about the eLearning vendor and their overall expertise. Ratings and reviews help you determine if the eLearning content provider is up for the challenge. If they can handle the scope of your corporate eLearning project and/or suit your budget. Are they really worth the ROI or should you look for another eLearning outsourcing partner? Just make certain the reviews and ratings are based on honest opinions (i.e., they're not sponsored or unfairly critical).
6. Hire eLearning Vendors For A Sample Corporate eLearning Project
Hire VR training companies to create a sample activity for your company. It might be a microlearning VR task demo or a product showcase for your sales staff. The point is to determine if the eLearning vendor can adapt to your online training requirements as well as how they handle the basic aspects of the collaboration. For example, do they keep you updated on the progress? What about the deadlines and overall quality of their work? How well do they use their eLearning authoring tools and the assets you provide?
7. Weigh The Ups And Downs Of eLearning Outsourcing VS. In-House
You may get to the end of the selection process and realize that eLearning outsourcing isn't the right option for your organization. For this reason, it' a good idea to weigh your options first to see if an eLearning content provider is ideal or if you should develop VR training tools internally. Which option is best for your L&D budget and timeline? Does your team already have the skills and experience needed? What about eLearning authoring tools that support interactive learning content? Compile a list of all the reasons you should outsource versus developing immersive learning in-house. Keep in mind that eLearning vendors do bring expertise to the corporate eLearning project and eliminate many of the stressful obstacles such as investing in new eLearning software and online training content revisions.
The best VR training companies understand the niche challenges your industry faces. They can help you achieve the online training objectives within the confines of your budget instead of pushing you out of your financial comfort zone and making VR training unsustainable. They should work with SMBs to start small and gradually expand in order to implement BYOD strategies to cut costs as well as support your L&D team to implement the new immersive learning technologies.
A Mixed Reality training strategy doesn't have to drain your organization's resources or make you go over budget. Download the eBook Real World Minus The Risks: How To Implement Immersive Learning For Actual L&D Success, and discover how you can benefit from incorporating immersive learning into your online training program. Provide an engaging training experience and boost your employees' confidence with a Mixed Reality training solution.