7 Tips To Find A Flexible Mobile LMS App For Your Blended Online Training Program
Blended learning brings the best of both worlds to your organization and your valued team members. However, you need an LMS that offers the complete package to deploy multiplatform-friendly content, as well as incorporate that all-important ILT element. How do you develop clear criteria to choose the best system for your budget? Is there any way to use online tools to assess the eLearning content providers and identify the ideal platform today? Here are some top tips to find a flexible mobile LMS app for your blended online training programme.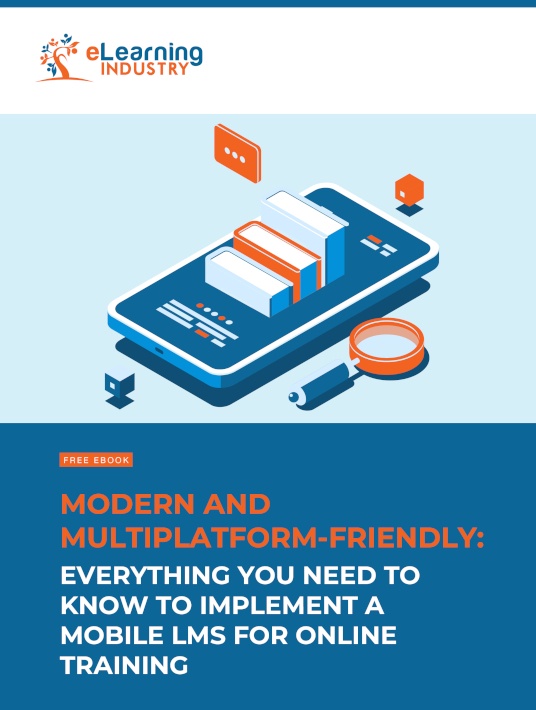 eBook Release
Modern And Multiplatform-Friendly: Everything You Need To Know To Implement A Mobile LMS For Online Training
Find out the surprising benefits of investing in a mobile LMS that features a mobile learning app.
1. Get To Know Your Employees (And Their Go-To Devices)
Survey your employees to identify which devices and platforms they use to access the online training content. Your new LMS app should cover all their go-to devices, but also be able to expand based on evolving tech; for instance, for new smartphones that come on the market in the next year. Speak with the mobile LMS provider to see which devices they support and if they are known for keeping up with tech trends.
2. Test Out The System's Mobile-Friendliness Through Free Trials And Demos
There's no better way to see if the mobile LMS app is flexible enough for your team than to test-drive it yourself. Make the most of the free trials and demos to determine if the blended learning platform is mobile-friendly and intuitive. Does it work on every device you try? Are all the buttons and icons still accessible? Obstacles you encounter during the free trial are likely to become challenges for your L&D team and staff.
3. Use Online Ratings And Reviews To Gauge The UX
Online ratings and reviews help prevent buyer's regret by giving you a glimpse into the User Experience (UX) and Customer Experience (CX). You can find out just how flexible the mobile LMS app is from someone who has used it in their blended learning program. Look for a reviewer with a similar use case so that you can see how it really stacks up. You can also evaluate the overall satisfaction rating to immediately cross certain platforms off the list. Keep in mind that testimonials featured on their site are often the best-case scenario. What you need is an unbiased perspective from users who are familiar with the tool and can point out the perks and drawbacks.
4. Narrow Down Your List With A Filtered Directory Search
Another great way to assemble the list of your top candidates is to use an online directory to covertly evaluate the providers. It saves you the time and trouble of having to test-drive every platform. Plus, you can quickly see which providers have the features you're looking for at a price you can afford. You even have the option to contact them directly to address any questions you have or to ask for a personalized quote. Some directories even have 'top LMS' lists to help you find the provider who offers the best customer and user experience.
5. Add 'Offline Access' To Your Must-Have List
A flexible mobile LMS app is accessible whenever, wherever. Which means that employees can also download the online training resources they need to view them offline; for instance, when they're attending a client meeting and realize that the building doesn't have Wi-Fi. The system should also be able to sync their progress when they log back in. That way, they receive credit for activities they complete, as well as feedback that can help them improve.
6. Ensure The Platform Supports Diverse Multimedia And Delivery Formats
Blended learning is all about merging more traditional learning methods with online support. For instance, employees attend a live training event to listen to a guest speaker's insights on a compliance issue. Or they meet with their instructor to identify areas which require improvement. Then they're able to log into the mobile LMS app to access the online training resources they need to bridge the gaps and receive JIT support. For this to happen, however, the mobile LMS must be able to accommodate diverse multimedia and delivery formats. Every member of your team should have the opportunity to get training tools that cater to personal preferences and goals, ranging from live events and simulations to serious games and social learning. During your test drive, ensure that the new system is flexible enough to address individual needs while still aligning with the organizational objectives.
7. Look For Seamless Training Experiences
The ideal LMS app offers a seamless online training experience. Employees are able to pause what they're doing during the in-house training session, then pick up where they left off on their mobile. They can also download online training content if they are out of range. Otherwise, you end up with a fragmented UX that forces employees to train during peak busy times, just so they can finish up quickly before leaving the office and receive credit for their participation. For example, they have to quickly complete the assessment to receive their results, even if that means working overtime.
A flexible mobile LMS app for blended learning improves employee engagement and breaks down accessibility hurdles. Employees are able to get the support tools they need remotely, while still being able to supplement their training during scheduled ILT sessions. The key is finding a mobile LMS that offers all the must-have features AND falls into your price range. With the help of this article, you can assess the providers, narrow down your criteria and use reviews/ratings to choose the best-blended learning solution.
Is there truly a significant difference between native mobile apps and responsive LMS content? Why should you buy an LMS with a built-in mobile training app? Download our eBook Modern And Multiplatform-Friendly: Everything You Need To Know To Implement A Mobile LMS For Online Training to discover how a mobile LMS can help you deploy modern and multiplatform-friendly training. It features tips to avoid the most common implementation mistakes and how to develop an in-house app that meets everyone's needs. You'll even find some insider secrets to create an effective must-have features list to stretch your budget.