Use These Virtual Training Tips To Keep Your Virtual Classroom Exciting
If you are looking for virtual training tips, that means that you take your virtual training seriously. That's the first step toward success; in this global situation, virtual training holds the key to making employee training efficient. But there are many factors you should take into account while practicing VILT.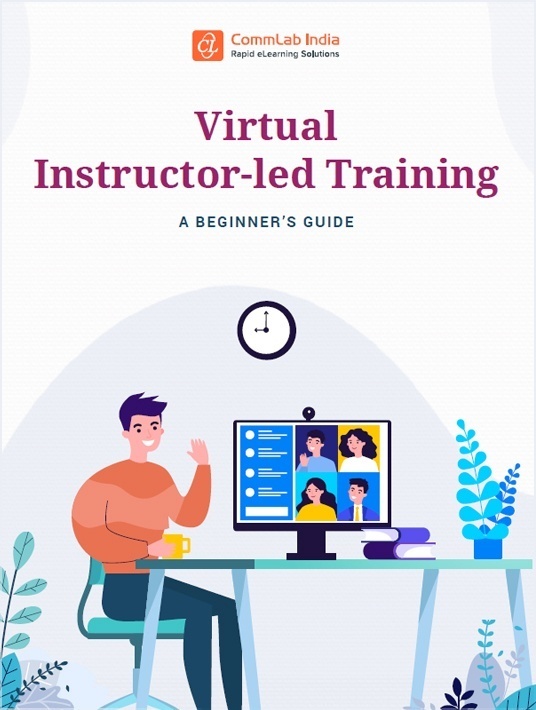 eBook Release
Virtual Instructor-Led Training: A Beginner's Guide
Explore the secrets behind successful Virtual Instructor-Led Training (VILT) or virtual classroom sessions.
How learner-friendly is your virtual classroom? Motivating and engaging adult learners in a virtual environment can be quite challenging, especially when you consider the modern learner's tendency to be easily distracted and lose concentration. And because there is no face-to-face interaction, how can the instructor ensure learners stay motivated?
Use Learning Activities And Media That Mimic Classroom Activities
First, don't let the media and online tools used in VILT overwhelm you; try to use as many ILT-based activities in your training as possible wherever necessary.
Brainstorming sessions organized by the instructor in the classroom can be done in virtual classrooms too, with the virtual whiteboarding feature—that most platforms have—to explain the content, and participants using the annotation tools or quick polling.
Just like you would in the classroom, you can have participants summarize in 10-15 words what has been covered through the chat functionality. Your virtual learners can also ask questions by using chat rooms (private or public). They can also give feedback on the training, adding emoticons, etc.
You can also divide learners into groups for activities or discussions, much like you would in the classroom. Learners can communicate with group members via private chat or in breakout rooms. You can also include role-playing activities for hands-on practice on complex topics.
Use Polls To Measure Learner Understanding And Engagement
The trick to effective virtual training is to intersperse the session with breaks; have short virtual lessons punctuated with polls and informal discussions. This approach is much like the microlearning strategy—with bite-sized learning nuggets—which is so successful in keeping learners engaged and motivated throughout the online training.
Use the platform's in-built polling features to:
Ask questions between topics to measure learners' understanding
Assess learners' interest and engagement in the session
The VILT platform's polling feature:
Allows you to create single or multiple-choice questions for your sessions. Instructors can
launch the poll and gather participants' responses during the session.
Allows the instructor to download a poll report after the session to gain deeper insights into the overall experience of the learners.
Makes it possible to conduct polls anonymously, affording "shy" learners the opportunity to express themselves with comfort.
Use Breakout Rooms For Learners To Work In Groups To Solve Problems
Peer learning is one of the most underappreciated aspects of workplace learning, so this is one of the most important virtual training tips.
Accounting for almost 10% of the total learning that takes place, peer learning helps:
Reduce anxiety and stress in learners
Boost intrinsic motivation to learn and achieve goals
Improve high-level reasoning and critical thinking skills
Some benefits of using breakout rooms for collaborative learning include:
Interaction
Learners learn to encourage each other and give feedback to their peers/colleagues.
Accountability
Learners learn to accept their role and involvement within the group they are part of.
Interdependence
Learners learn to depend on one another, working collaboratively to achieve common goals.
Here are some best practices for breakout rooms:
Provide rules of engagement before the breakout activities even begin. Use chat, e-mails, and shared folders to provide rules or instruction to different groups.
Divide learners into mentor-mentee pairs (grouping a top performer with a couple of struggling ones) or use the jigsaw model of mixing heterogeneous learners across skill types.
Assign a facilitator to each breakout room.
Indicate the expected duration of activities.
Provide a way for the groups to contact the instructor when needed.
Recognize Learner Progress And Accomplishments With Rewards And Prizes
Just as in the classroom, in a virtual environment too, it is important for facilitators to recognize learner accomplishments to boost motivation.
There are several ways to recognize and reward learner progress in VILT through the application of gamification principles:
Turn learning activities into learning games. You can even use PowerPoint to create a Jeopardy-like game.
Set learning objectives and link them to a point/scoring system, awarding points and badges for every task accomplished.
Publish each learner's accomplishments on a public leaderboard so that everyone in the organization can see the results, motivating fellow learners to do better.
Provide completion certificates to learners who have finished all modules of the VILT program. Allow them to showcase their certificates on the learner dashboard on the LMS.
Post a report with the names of participants who have successfully completed virtual training courses on internal social media channels.
Let learners choose their own rewards: Amazon gift cards? Coupons for the corporate cafeteria? Play/movie tickets?
 Offer Performance Support
Supporting and motivating your learners mustn't end with the VILT sessions, as performance support will help them do their jobs better. Performance support can even take the form of summaries of the topic hosted on the Learning Management System (LMS)/portal.
You can go beyond the traditional text-based formats and turn the summaries into:
Interactive PDFs/eBooks
Infographics
Frequently Asked Questions (FAQs)
Visual checklists
Short how-to videos
Whiteboard animations
Flowcharts
In Need Of More Virtual Training Tips And Advice?
If you are interested in tips and advice for your virtual training program, do not miss this guide! Download the eBook Virtual Instructor-Led Training: A Beginner's Guide and gain the ability to collaborate through technology, train trainers, and motivate learners.
CommLab India Rapid eLearning Solutions
Working with multiple outsourcing vendors can be stressful, and a waste of time & money. With CommLab India Rapid eLearning Solutions, all your online training needs are taken care of, rapidly and economically.