Why You Should Opt For An LMS That Ranks High On The LMS Usability Scale
A usable LMS makes life easier for every member of your team. Administrators can monitor training gaps more effectively and provide relevant support. Your designers and developers are able to create more meaningful online training experiences without having to deal with interface obstacles, while online learners can access personalized online training resources and broaden their knowledge even if they aren't necessarily tech-savvy. For this reason, it's essential to find an LMS that ranks high on the Usability Scale. But if you're still wondering why usability should be at the top of your priority list, here are 8 notable advantages to consider.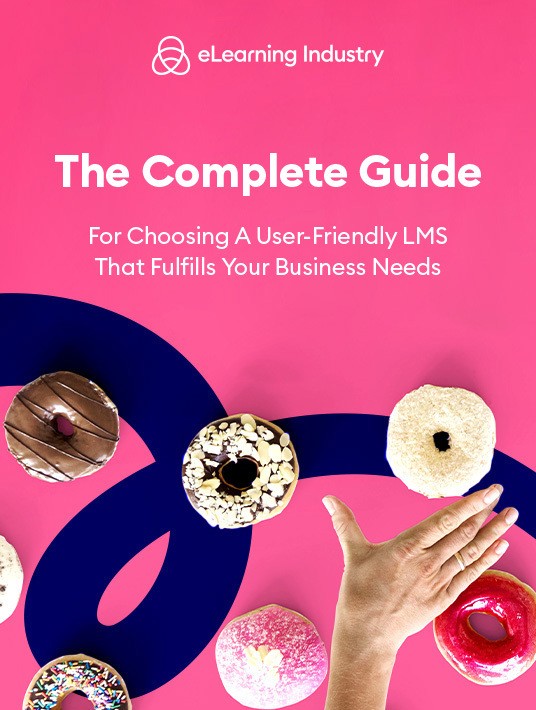 eBook Release
The Complete Guide For Choosing A User-Friendly LMS That Fulfills Your Business Needs
Discover the importance of the Net Promoter Score, how to use LMS user reviews & ratings to find the ideal LMS, the importance of LMS Perceived usefulness and its impact on work performance and L&D ROI.
1. Improves Resource Allocation
First and foremost, you're able to allocate your resources more effectively given that your eLearning team, admins, and online learners can focus on their respective tasks instead of trying to overcome LMS navigability and UI obstacles. For example, concentrate on creating profound online training resources that meet employees' needs right away rather than spending the first week trying to figure out the design elements and controls, and how to migrate crucial data to the new LMS platform.
2. Streamlines The eLearning Design Process
Developing memorable online training resources is challenging enough. Your eLearning team doesn't need a complicated LMS standing in the way of their work process. A usable system streamlines the design and deployment process by making each step virtually effortless. There aren't any glitches or log-in issues. Nor frustrating navigation elements or cluttered dashboards that seem to defy logic. Users get to enjoy a headache-free LMS User Experience that works with, instead of against them.
3. Improves Learner Engagement
Some of your online learners may already be apprehensive about online training. Thus, a challenging LMS just gives them one more reason to dread eLearning and click away instead of actively participate. An LMS that ranks high on the usability dimension improves engagement, as online learners can fully immerse themselves in the online training experience instead of trying to figure out the controls or pause to report glitches and troubleshoot accessibility issues. Therefore, they are more likely to interact with the online training content, be motivated and achieve their goals.
4. Simplifies Content Upkeep
I've already mentioned how a usable LMS streamlines the design and development process. It also makes content maintenance more efficient. Let's use the example of modifying an existing online training course to account for changes in company policy. An intuitive LMS makes it easy for your L&D team to access the template from the dashboard and then monitor the effectiveness of the new online training content. At this point, they're able to quickly make additional modifications based on the data, such as incorporating more multimedia to boost employee engagement stats or integrate more real-world examples to bridge knowledge gaps that were disclosed through eLearning assessment results. On the other hand, a difficult LMS makes the maintenance process more stressful and time-consuming, since your team must reorient themselves with its tech nuances and quirks before they can do their job. For instance, click through a series of screens to find relevant materials because the tool lacks an at-a-glance dashboard.
5. Facilitates More Powerful Online Training Experiences
Increased learner engagement and stress-free maintenance lead to more powerful and profound online training experiences. The online training content is more effective and targeted to learner needs. Likewise, your audience is more apt to participate in the online training and get the skills/knowledge they need. Learners also enjoy the online training experience fully because they can access the online training materials quickly and conveniently.
6. Makes It Easier To Identify Training Gaps
One of the most overlooked advantages of a usable LMS is the reporting/analytics potential. The platform enables you to identify gaps in learner performance, as well as your current online training strategy. There are data visualizations, customizable reports, and intuitive overviews that allow you to gather valuable insights. Thus, you can provide targeted support resources as quickly as possible and modify existing online training content to make it more impactful.
7. Boosts Online Training ROI
A Learning Management System that's easy to use has a significant impact on your bottom line. Your in-house team is able to use all the features and functions without IT issues hindering their work process. At the same time, online learners can get more benefit from the online training resources because they can access them with ease. As a result, your organization reaps the many rewards of improved online training ROI, such as the ability to invest in other aspects of business operations that can positively impact your profit margin. For example, employees spend less time training due to the enhanced usability of the LMS. This means they could spend more time on the job and be happier in the workplace, while your organization reduces its online training payroll.
8. Broadens Your Talent Pool
You may be missing out on valuable training opportunities if your LMS is more challenging to use. This is due to the fact that a significant portion of your talent pool is unable to utilize the LMS platform to share their expertise or improve the existing resources. For example, the over-complex LMS prevents an experienced employee from collaborating with peers given that they have expertise in the field which they're willing to impart but lack the necessary tech skills.
An LMS that is intuitive and delivers the best User Experience has the power to transform your online training program. Especially if your current LMS is overly complicated or doesn't offer sufficient support services. Make the most of free LMS trials by testing out the UI and the platform's functionality, as a whole. You can also look up online reviews and ratings to get honest and valuable feedback from past users before making your final decision.
Are you in search of an LMS that offers the best LMS User Experience at a price you can afford? Download our free eBook The Complete Guide For Choosing A User-Friendly LMS That Fulfills Your Business Needs to find a usable LMS that fulfills your business and training needs. It features tips to evaluate the UX during free trials and demos, as well as the quintessential traits of an intuitive system that EVERY member of your team can utilize.