What To Ask For From Your Custom eLearning Content Provider
Your employees need up-to-date online training resources to help them navigate work challenges as well as build essential skills, bridge gaps, and keep up with compliance. With so many topics to touch on, custom eLearning content development can be resource-draining, not to mention stressful for your L&D team. For this reason, you've made the decision to outsource to eLearning companies. But there's only so much room in your budget for eLearning vendor-led projects. Which top corporate eLearning solutions should be high on your priority list? Which online training niches are more likely to improve ROI and help you stretch available resources?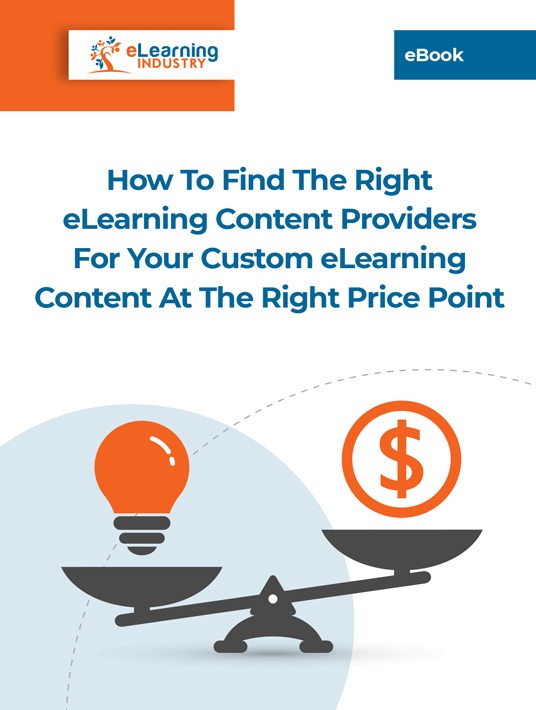 eBook Release
How To Find The Right eLearning Providers For Your Custom eLearning Content At The Right Price Point
Discover all you need to know about custom eLearning content.
1. Gamification Design
From badges and leaderboards to levels and points, gamification improves employee motivation and helps you track their online training performance. This makes it a worthwhile investment for your SMB, even if you're cash-strapped. Custom eLearning content providers know what drives your employees and how to create an emotional connection. They're able to personalize a gamification strategy that works best for your organization and boosts participation without breaking the budget.
2. eLearning Content Conversion
You may have assets that are simply outdated or aren't in a compatible format for your current LMS. eLearning companies can help you convert these online training resources quickly and cost-effectively. For example, that PowerPoint library that's just been sitting around when it could be mitigating compliance risks and improving on-the-job performance. Just make sure you do a thorough asset inventory beforehand to get an accurate eLearning vendor estimate.
3. Training Needs Analysis
Many organizations are unaware of internal online training gaps because they're too emotionally invested. Or they've simply learned to work around the pain points. A custom eLearning content provider offers their expertise to identify and shore up the gaps. They can find hidden areas for improvement and devise innovative ways to address them. You're able to focus on the flaws instead of wasting valuable online training resources on misguided online training initiatives.
4. Simulations
Nothing imparts practical experience like thrusting employees into the middle of a work challenge and asking them to use their natural abilities. This is why simulations are one of the most effective corporate eLearning solutions. They facilitate mistake-driven learning and real-world application. Staffers must keep their wits about them and utilize their skills and expertise to overcome the obstacles. This also provides personalized eLearning feedback so that employee training participants can focus on areas for improvement.
5. Microlearning
SMBs with smaller staff sizes need to retain their top talent. As well as give them all the online training resources they need to bridge gaps and improve workplace performance. Microlearning ticks all these boxes because it provides JIT support. eLearning companies can evaluate your current online training library to look for resource-drainers, and expand it based on the current online training objectives. For example, there are numerous bite-sized activities that no longer align with the organization's goals or have outdated aesthetics. Why spend even more money to maintain these assets when you can develop JIT online training resources that address current employee needs?
6. Online Training Storyboarding
Some custom eLearning content providers specialize in all aspects of the planning phase. Particularly, developing online training storyboards that include key takeaways, visual elements, and online training activities. Then they can move forward to bring all these components to life. Or hand over the online training storyboard to your in-house team to lighten their load and simplify the development process. If you choose the latter, make certain the eLearning vendor includes detailed notes for your staffers to follow.
7. Subtitling
You may be surprised to see this on the corporate eLearning solutions list, but subtitling improves online training accessibility. Online learners with special needs, such as those with hearing impairments, get the same eLearning experience. Similarly, mobile users can switch on the subtitles to absorb the takeaways when they're in crowded spaces. Another tie-in solution to consider is translations. Particularly if you're an SMB that plans to expand in the near future.
8. Bespoke eLearning
The bespoke eLearning category covers a broad range of services. Instead of purchasing off-the-shelf solutions, you hire eLearning companies to create custom eLearning content based on your online training objectives and outcomes. Everything is personalized to suit your online training needs and employee preferences. The catch is that bespoke eLearning usually comes with a higher price tag. That said, many SMBs opt for custom-tailored online training because it eliminates internal development costs. For example, you no longer need to hire an SME or ID because the eLearning vendor already has these trained professionals on their payroll.
9. Mobile Learning
Modern employees expect mobile accessibility. A custom eLearning content provider who specializes in responsive design and mobile learning brings your SMB into the digital age. Staffers can access online training resources remotely and fill gaps autonomously. However, mobile learning isn't as simple as converting existing online training content. It often requires a design overhaul to make it mobile-friendly. For instance, small hyperlinks may be legible on the big screen but inaccessible for smartphone users. You have to compress images and videos. eLearning content providers know how to transform your eLearning course design into an inclusive online training experience for every member of the team.
There's no sure thing when it comes to eLearning outsourcing. You won't know if custom eLearning content creation is worth the investment until the launch, and the metrics start to roll in. However, there are some corporate eLearning solutions that are considered a "safe bet." For instance, it never hurts to conduct a Training Needs Analysis to improve online training resource allocation. Or to broaden your microlearning online training library so that employees have all the JIT support they need. And eLearning companies help you achieve all these online training objectives for less, thanks to their niche expertise.
Custom eLearning content development can be fraught with obstacles if you don't get everything written and clarify your concerns. Download the eBook How To Find The Right eLearning Providers For Your Custom eLearning Content At The Right Price Point to discover all you need to know about custom eLearning content.