Explore And Compare The Top eLearning Authoring Tools
You might think that it's relatively easy to pick the best eLearning authoring tools. After all, there are so many options to choose from. However, the abundance of choice makes it even more challenging to create a shortlist. There's simply not enough time to vet all the vendors one-by-one or take test drives to see how they perform in the real world. Fortunately, our Top eLearning Authoring Tools List takes the stress out of software buying. All the vendors have earned their spot with stellar CX and standout features.
In fact, our list can help you determine which providers are RFP-worthy based on your evaluation criteria, such as which companies deliver all your must-have features and support services. This way, you can spend less time searching and more time implementing your new authoring tool solutions, as you should be. Below are just a few benefits our list can bring to your organization.
Check out eLearning Industry's Top List to:
Compile a shortlist of authoring tool vendors for your use case
Evaluate authoring software selling points
Analyze user reviews and ratings to establish social proof
Compare top authoring tool solutions to get top value for money
Check out pricing options to find the best software in your price range
Qualify vendors that specialize in your customer type
In the following list, we've gathered the top software for your needs. If you want to compare authoring tools side by side, go straight to our directory!
Top List: The Best eLearning Authoring Tools
Here Are The Top Authoring Software For eLearning
Find The Best eLearning Authoring Tool
Take a deep dive into eLearning Industry's niche directory to explore and choose the best platform for custom eLearning content development.
What Were The Criteria That Determined Which Vendors Made The List?
Globally recognized LMS experts, including C. Pappas, and our editorial team did a thorough review of each vendor's eligibility and relevant published content (articles, eBooks, webinars). Our committee ranked the best authoring tool software based on the following 9 criteria:
Customer support
Customer Experience
Software features
Software innovation
Customer reviews
Economic growth potential
Company's customer retention
Employee turnover
Company's social responsibility
After exploring this top list, make sure to read our tips on what you need to consider when opting for an authoring tool to create your training content.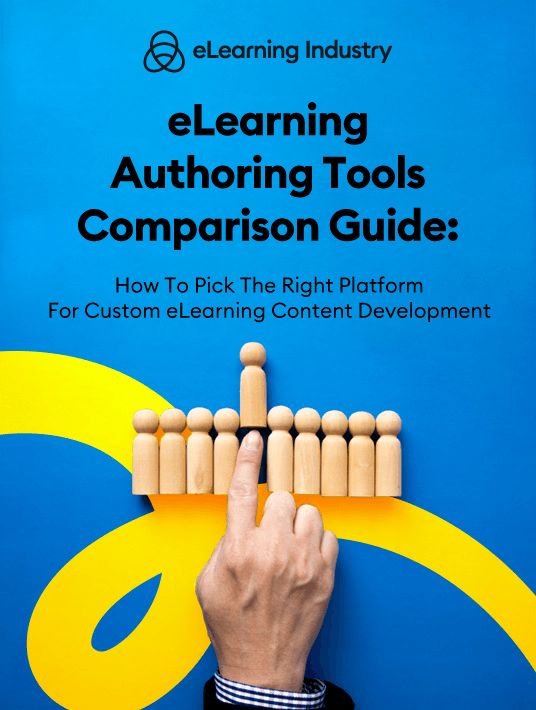 eBook Release
eLearning Authoring Tools Comparison Guide
Explore and discover how you can choose the best platform for custom eLearning content development.
What Is An eLearning Authoring Tool?
An eLearning authoring tool wears many tech hats in your organization. First and foremost, it allows you to develop content from the ground up. Or even use built-in assets to save time and resources. However, you can also use feature-rich authoring tool software to repurpose existing content and convert legacy resources.
For example, transform outdated Flash files into fresh HTML5 training tools. In some cases, LMSs have integrated authoring tools. But there are also standalone authoring platforms that enable you to generate content that's compatible with your current LMS.
Why Do You Need An Authoring Tool?
One of the most notable benefits of authoring tools is that they help you design courses that align with current gaps and goals. For example, you can develop JIT support tools or certification paths to build relevant skills. Every design element and online training activity aligns with your employees' preferences and L&D objectives.
Furthermore, you can quickly update content using pre-built templates to keep up with trends and policy changes, whether it's onboarding courses for new hires or compliance resources to mitigate risks.
Top Things To Consider When Choosing An Authoring Tool
The best corporate training authoring tools deliver all the features and functionality you need to maximize ROI. They should also come with support services and customer training resources to help you lower the learning curve. For example, online training tutorials and demos that walk you through the setup process.
First and foremost, all of this needs to happen within your budget. Here are the top things you need to consider when choosing an authoring tool for your business.
What Are The Key Authoring Tool Features That Fit Your Online Training Needs?
The tricky thing about software selection is that your organization has unique needs and buying requirements. A tool that might work for one L&D team isn't necessarily the best choice for an online training solutions company. However, there are a few features every organization should add to their must-have list to get top value for money. Look for these key selling points to pick the right authoring tool solution without regrets.
Intuitive UI
Unique features won't do any good if your team can't use the tool to create engaging content for online learners. For this reason, the best authoring tools are intuitive and user-friendly. Users can customize their dashboards and use built-in templates to cut development time. Plus, they can update existing content. The system should also feature the layout they're most comfortable with. For example, it might include a ribbon layout with different tabs that allow them to switch between screens quickly.
Branching Scenarios
Branching scenario authoring features include templates and predesigned branches that allow you to create immersive learning experiences. Another critical ingredient is the decision-making points. In most cases, these authoring tools have placeholders that you simply substitute with your own content. You can also change the theme, layout, and images to suit the subject matter.
Content Conversion
One of the most valuable authoring tool features is content conversion as it gives you the opportunity to turn all those Flash legacy courses into modern HTML5 training experiences. Thus, your learners can access the L&D library on any mobile device or browser. Some tools even include editing tools you can use to spruce up the final product. For instance, turn that hour-long webinar into a series of bite-sized JIT tools.
Drag And Drop
Drag-and-drop interactions transform static content into a dynamic online training resource. For example, you can develop a serious game wherein users must match policies to respective departments or products to their standout features and real-world benefits. The possibilities are endless. Simply put, this web authoring tool function boosts learner engagement and participation as it turns passive users into active participants.
Assessment Engine
You must be able to evaluate learners to see how far they've come as well as how far they need to go to achieve the online training objectives. An integrated assessment or quiz engine lets you create exams in a fraction of the time. You can use pre-built templates that support multiple Q&A formats—ranging from true/false to open response.
Another tie-in feature to look for is customizable grading options. For instance, you can assign points to every question and specify the feedback type.
Multiple Interaction Types
There are 3 common interaction types: open, linear, and passive. Passive involves no user interaction, while linear formats guide users every step of the way. On the other hand, open interactions are more interactive and dynamic, meaning learners can pave their own path. They can complete the course or activity in any order based on their needs. Different objectives call for different styles. Thus, you should look for authoring tools that support multiple interaction types.
Authoring Tool Comparison: Desktop Vs. Cloud-Based Vs. Open Source
Whether you're looking for locally installed or vendor-hosted platforms, there's course authoring software for every preference. The key is knowing which systems deliver the most profitable authoring perks for your organization. Below is a quick overview of the various deployment types and their benefits as well as a few downsides you should consider before making your final decision.
The Main Benefits Of Using A Desktop Authoring Tool
Computer-based training tools that are locally installed typically have more customization options. Many organizations also opt for this deployment type because of the security measures. By leveraging this option, you're in charge of the services and data protection protocols.
Another perk is that you don't have to rely on a steady internet connection. For example, you may have issues with the office WiFi. In this case, your employees can still log into the platform offline and design or revise existing content. However, this can be a double-edged sword as remote users may run into accessibility issues. Unless, of course, they have the software downloaded on their local device.
Desktop authoring tools are often associated with one-time licensing fees, as well. This means that you don't have to foot a monthly bill for subscription fees. You're locked in at that price. So, price fluctuations are no longer a concern. That said, you should still count on maintenance fees, add-ons, and new versions of the tool.
The Main Benefits Of Using A Cloud-Based Authoring Tool
Web authoring software that's based on the cloud is accessible anytime, anywhere. Collaborators simply need to enter their username and password to create or update content. All the information is stored on the authoring tool vendors' servers. Therefore, designers, admins, and SMEs can all work together remotely.
For instance, someone can log in and upload their part of the project, then get revision notes from instructors or facilitators. You also don't have to worry about lost content, since everything is backed up on the cloud.
Most cloud-based authoring tools are based on a subscription model (or SaaS). This means that you have to pay a monthly or quarterly fee to access the platform. That brings us to the most notable downside, which is price increases. For example, the vendor might choose to raise their rates next year and you must reevaluate your software budget or look for another tool if the cost is too steep for your organization.
The Main Benefits Of Using An Open Source Authoring Tool
Undoubtedly, one of the most significant advantages of authoring tools that are open source is creative control. You can modify every aspect of the software based on your L&D requirements. However, you do need some tech expertise to tackle the task.
For example, most open source eLearning authoring tools call for coding know-how. You must be able to dive into the back-end programming to make the necessary changes.
Open source platforms are typically free since you have to put in most of the work. So, there are no licensing fees or subscription plans to factor into the budget. However, you do have to make room for IT support, since they usually don't include vendor assistance or online training resources. Most platforms do have active user communities for DIY troubleshooting though.
Who Can Effectively Use Authoring Software?
L&D Managers
L&D managers can use eLearning authoring software to design online training resources for staffers and external partners. They're able to custom-tailor every aspect of the content to suit organizational objectives. Plus, they can also customize employee preferences and fix personal gaps. Another common application is onboarding training and certification paths.
Online Training Companies
Training companies that develop eLearning resources for clients use authoring tools to widen their profit margin, not to mention, improve client satisfaction scores. Rapid authoring tools are quite popular in this niche because they contain an asset library and templates. This helps reduce turnaround time and achieve the best results.
eLearning Freelancers
Freelancers are usually a one-person show or a small team of eLearning professionals. Thus, they need versatile tools that are cost-effective and packed with valuable features. Especially if they take on diverse projects that call for different activities, JIT resources, and course interaction types.
Cloud-based authoring is usually the best bet, as it allows them to bring remote collaborators on board, for example, consultants or external SMEs.
Our directory has plenty of authoring tools for freelancers.
SMB Owners
Start-ups or small business owners rely on authoring tools for in-house talent development. They may not have room in their budget to hire an L&D team. However, free self-authoring software makes it easy to design courses on a tight time frame and budget so that they can deploy online training to mitigate risks ASAP.
Corporate eLearning Instructors
Another group that benefits from web-based authoring tools is instructors and facilitators. It gives them all the assets, templates, and interactions they need to develop memorable online training experiences, even if they have no prior experience designing content. Especially if the platform has advanced customer support resources to help them master key functions.
Nonprofits
Charities and other non-profit organizations implement authoring software to educate volunteers and expand their reach. For example, design certifications and online courses to raise awareness for their cause, as well as attract new volunteers and donors.
What Defines A Top eLearning Authoring Tool?
Top authoring tools stand out from the tech crowd by building a solid track record. Users give them high marks and they handle constructive feedback with professionalism. Here are just a few ways to evaluate authoring tool vendors and compare top authoring tools:
Industry Expertise
Your new authoring tool vendor must stay ahead of trends and learn about the latest eLearning technology. Namely, how it applies to your use case. For example, top-notch vendors update their tools regularly to include new functions or tech specs. Maybe there's a new mobile device or browser you need to support.
In many cases, these software providers are industry thought leaders who publish articles or social media posts with valuable insights.
Social Proof
Is the vendor active on social media? Do they have favorable ratings and reviews? It's crucial to establish social proof for your next authoring tool provider. They must have a track record and a positive online reputation to warrant your investment. A great place to qualify authoring vendors is an exclusive directory. Just make sure that there are fraud prevention measures in place to avoid sponsored reviews.
Support Services
The best authoring tool software is backed by reputable vendors who value CX. For example, they offer email and phone support as well as an online knowledge base or help center. Many vendors even have live chats and user communities where you can resolve issues on your own.
Get Even More Insights From This Top List: Authoring Tools Directory And Extra Tips
Even if you have a clear budget and implementation timeline in place, the selection process can be stressful. It's not an easy task to choose the best authoring tool type of deployment: cloud-based deployment, open source license, desktop.
That's why we compiled this Top Authoring Tool List to help you every step of the way. We've carefully selected each vendor based on our comprehensive evaluation criteria. This saves you the time and expense of conducting an exhaustive online search.
It features all the buying essentials to choose an authoring system that aligns with your specific needs. After you put the platform through its paces, we encourage you to submit an authoring tool review to our niche directory.
We also welcome authoring tool vendors to create a free listing in our top authoring tool directory. In just a few minutes, you can set up an account and launch your product landing page. With thousands of visitors every month, your software gets maximum exposure for minimal investment.
Last, but not least, a test drive is always necessary in order to evaluate authoring tools firsthand. Take a look at our eLearning authoring tools with a free trial. After all, trials and demos are the best way to assess the UI, features, and functionality before taking the plunge.
I hope this comprehensive list gave you a better idea of the best eLearning authoring tools in the market.
Looking For More eLearning Development Resources?
There's the matter of finding a tool that has the ideal pricing models and specification support, not to mention, customer type and must-have features. Simply put, there is a variety of factors to consider. So many tools and so little time.
That said, if you're in the market for a new LMS or a training outsourcing partner, we have eLearning Top Lists for those as well. See which vendors made the cut and how they can help you develop more effective online training for your team.
Whether you need a new Learning Management System for mobile users or an eLearning content provider to help you translate content, we've got you covered.